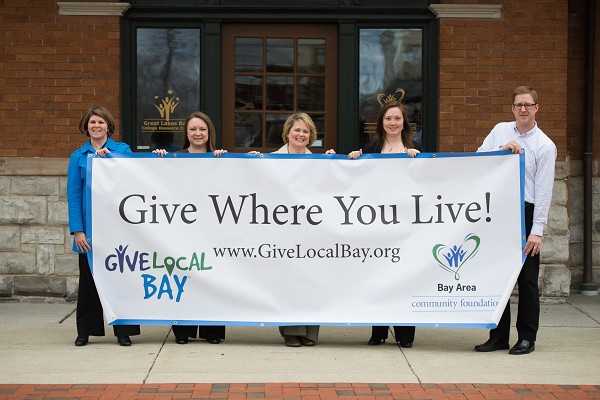 Over 500 donors, scholarship recipients and their families will gather at the DoubleTree Hotel-Bay City Riverfront, to celebrate the students' accomplishments.
---
STUDENTS WIN: BACF to Award Scholarships to 238 Students
The Bay Area Community Foundation (BACF) has announced that 238 students will receive a total of over $264,000 in scholarships on Monday, June 6, 2016, at 5:30 p.m.
Over 500 donors, scholarship recipients and their families will gather at the DoubleTree Hotel-Bay City Riverfront, to celebrate the students' accomplishments.
Carolyn Wierda, Executive Director of the STEM@SVSU program and Co-Director of the SVSU Gerstacker Fellowship program, will be the keynote speaker. Prior to her work with SVSU, Wierda had a distinguished career in K-12 education, moving from classroom teacher to elementary school principal and assistant superintendent before being named superintendent of Bay City Public Schools, a position she held for five years.
Wierda is also a member of the Bay Area Community Foundation's Bay Commitment Scholarship program Steering Committee.
Molly Fogg will be the evening"s second speaker. She will speak from her unique perspective as a past scholarship recipient, a parent of scholarship recipients and, most recently, a scholarship donor. When her son passed away in 2008, her family created the Trevor D. Leser Memorial Scholarship fund to help other students the way she and her children had been helped.
"The Class of 2016 recipients will be awarded 309 separate scholarships totaling more than $264,000," stated Eileen Curtis, President & CEO of the Bay Area Community Foundation. "These scholarships are made possible by generous donors who have created endowed funds at the Bay Area Community Foundation. Our donors recognize the value of education and understand how financial obstacles can often prevent achievement of educational goals.
We are very proud that the Foundation serves as the facilitator of financial assistance to Bay and Arenac County students. Over 85% of the students who receive Foundation scholarships attend college within 100 miles of Bay County."
The 2016 Bay Area Community Foundation scholarship recipients are: Adrianna Ackerman, Haila Ackley, Alisha Adkins, Lindsay Alarie, Libby Amley, Jared Anderson, Morgan Anthony, Loren Appold, Leia Archangeli, Autumn Arsenault,
Timothy Bailey, Christopher Barnes, Paige Beffrey, Bethany Bender, George Berg, Lauren Beson-Garcia, Tyler Beyett, Kimberly Bishop, Meredith Bishop, Bryce Biskupski, Sarah Bladecki, Brooke Bli, Logan Blossom, Hannah Boettcher, Destiny Bolda, Ashley Borysiak, Rachel Bowker, Katie Boyd, Quintin Brown, Kimberly Browning, Luke Bruzewski, Janelle Bublitz, Julia Bublitz, John Bublitz, Rachel Butch, Storm Butler, Shantel Butterfield, Alana Byington,
Sabrina Charbonneau, Mackenzie Childs, Nicholas Christie, Chandler Cogan, Erin Conachan, Shannon Conachan, Rebecca Conger, Nathan Conner, Olivia Connors, Mathew Courtney, Zachary Czinder,
Rebecca Davidson, Kevin Deary, Angela DeMott, Thomas DeOpsomer, Tayler Donaldson, Megan Donnelly, Kayleigh Doyen, Jessica Duncan, Jamie Dycus,
Jena Eckerd, Alison Eilf, Alexis Elliott, Holly English, Gillian Farver Brooke Fenner Katherine Filsinger, Kevin Foco, Andrea Fogelsinger, Sawyer Forton, Tabitha Frakes, Alex Fryzel,
Rocky Gainforth, Madeleine Gallagher, Keely Gallagher, Michaela Garcia, Natalynn Gentle, Nicole Gerhauser, Jerome Gifford, Jarrod Givens, Luke Givens, Taylor Goulet, Adam Greenhoe, Joshua Grimmer,
Megan Hecox, Jessica Hegenauer, Paige Heintskill, Aaron Hendry, Owen Herner, MacKenzie Hubert, Joel Hugo, Joseph Hunter, Jessica Hurley,
Joan Idzior, Zachary Ireland, Austin Jacobs, Meghan Jeske, Alianna Johnson, Miranda Johnson, Lisa Kaplenski, Trystin Kayner, Megan Keen, Julia Klida, Adam Kloha, Matthew Koenig, Austin Koin, Jaret Koin, Audrey Kopec, Katelyn Kopec, Madeline Kosecki, Zachary Kraut, Bryan Kreifeldt, Abby Kroczaleski, Kristen Kuehne, Stacie Kussro,
Faith LaFramboise, Alexia Lalonde, Justine LaPlant, Will Laughner, Madison Lefevre, Jared Leonard, Dawn Little, Alexander Lore,
Graham MacBride, Stone Manczak, Alexandra Marter, Reilee Martin, Jessica Mata, Morgan Maxson, Samuel McCarthy, Noah McInerney, Nicholas McKinley, Rachael McLellan, Stephanie McMall, Thomas Meier, Courtney Mellios, Alyssa Meylan, Baylee Middleton, Brandi Middleton, Aubrey Mielens, Alexandria Miller, Christopher Minnis, Kenneth Mochrie, Justine Morris, Sarah Mowbray,
Olivia Nicholas, Sunni Nix, Brooke Norton, Kristin O'Kon, Sydney Owczarzak, Taylor Pajak, Adam Pelletier, Bryant Pero, Cole Pero, Mark Peterson, Courtney Pike, Dakota Pine, Jessica Pityer, Taegan Pletzke, Benjamin Poirier, Laura Poirier, Kelsie Popp, Stephen Poppe, Ellie Potts, Raegan Price, Raychel Prime, Samantha Pritchard,
Megan Rabideau, Justin Racey, Brianna Ramey, Sara Ramey, Elisabeth Randall, Noall Redwitz, Evan Reeves, Madeline Reyes, Mallory Rivard, Isaac Robbins, Madison Roberts, Molly Rodda, Brooke Rosebrock, Krislyn Rozek, Erica Rudy, Emilee Russell, Noah Ryan,
Dylan Sauer, Carmen Schepeler, Maria Schiavo, Timothy Schlagel, Alexander Schlatter, Nicole Schnettler, Cameron Schott, Jessica Sebastian, Melyssa Secor, Christine Senk, Dominic Sevilla, Eric Sevilla, Paul Sevilla, Darin Shillair, Kristen Smale, Holly Sova, Jacob Sova, Megan Stecker, Rachel Steih, Charlotte Stewart, Sergio Strawn, Sara Suchodolski, Sarah Sujkowski, Breanna Summers, Lindsey Summers, Alexa Sumption, Nadia Swiecicki, Joseph Switala,
Craig Tacey, Melanie Thomas, Autumn Thompson, Marie Thompson, Trevor Thomson, Amber Tilley, Nicole Tomaszewski, Emily Urban, Gavin VanOoteghem, Ryan Vincent, Blake Watson, Julia Weller, Melissa Westran, Megan White, Katiana Wight, Devanne Wilcox, Alec Williamson, Nathan Williamson, Hailey Windiate, Adam Wohlscheid, Larry Wood, Ryan Wood, Ashley Wrubel,
Benjamin Yagiela, Kelly Yagiela, Dominic Zanotti, Haley Zerkel, Keaton Zvara
###
---
---

Dave Rogers




Dave Rogers is a former editorial writer for the Bay City Times and a widely read,
respected journalist/writer in and around Bay City.
(Contact Dave Via Email at carraroe@aol.com)

More from Dave Rogers
---
Send This Story to a Friend!
Letter to the editor
Link to this Story
Printer-Friendly Story View
---
--- Advertisments ---