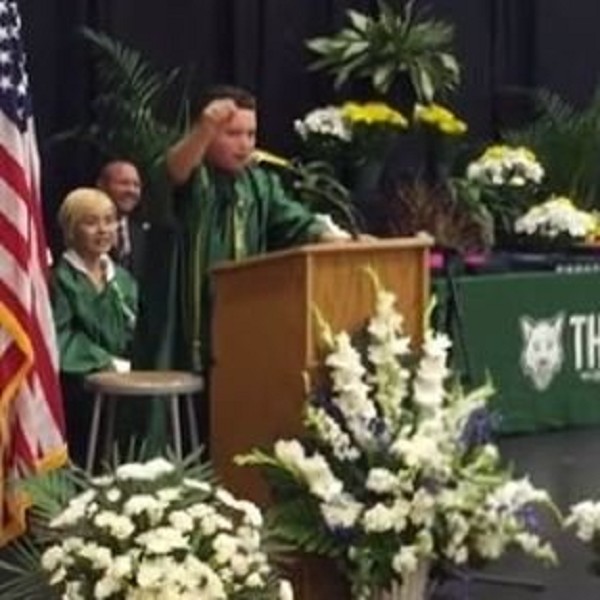 Fourteen-year-old Jack Aiello
---
YES, JACK - Cinnamon Rolls, Health Care & College Should Be Free
June 17, 2016 2 Comments
By: Dave Rogers
We've finally found the perfect Presidential candidate for this insane year -- a Chicago-area middle school student, a graduate no less.
Watch Video Here . . .
Fourteen-year-old Jack Aiello has set America a-twitter, and a facebook page "blow up", with his 8-minute comedy rant sweeping the Internet and, first time we know of, making an elementary schooler more famous than some candidates who have spent millions.
And his media introduction to the vast unwashed masses of the land hasn't cost his parents a dime.
The Arlington Heights, Illinois, lad's hilarious impersonations has made him an all-time legendary character among the students of the Midwest.
Not only that, he has put the words "Thomas Middle School" on the lips of every student, educator, and parent in the nation, perhaps the globe. Take that! Haaahvard!
The world will be beating a path to 1430 N. Belmont Ave., Arlington Heights, Illinois, for decades because of one earth-shattering eight-minute "graduation speech."
Surely Saturday Night Live or Hollywood will come calling soon to meet the public demand for hilarity, especially as a contrast to the somber mood and caterwaulings of the political candidates on television every day.
The best thing Jack has done is to make us look at our politics with the humor it deserves, since most of the gibberish spouted by the candidates is, well, basically funny, and never should, or could, be taken seriously.
This election cycle will live in human memory because a 14-year-old with supreme courage and candor saw fit to brand our politics exactly what it has become -- a massive joke.
No, more than just show business is in Jack's future. His call for a Cinnamon Roll Revolution, ala Bernie Sanders, will surely resonate among the legions of the impoverished and homeless to whom a free cinnamon roll would be a welcome feast.
Hello, Cops and Doughnuts! you have a ready-made promotion. The Thomas Middle School Cinnamon Roll. It should sell in the millions of dozens.
With communication skills like this kid has even Congress would roll over and pass the free health care Hillary has always wanted and the free college dangled by Bernie Sanders. No doubt Jack could get it done.
Today free cinnamon rolls! Tomorrow world peace!
###
---
"The BUZZ" - Read Feedback From Readers!
sitamcompton Says: On June 20, 2016 at 05:20 PM

On of the best graduation speeches I've heard!!
tennis1960 Says: On June 22, 2016 at 07:08 PM

This school in about 5 minutes from where I live and he will be on the Tonight Show tonight. This has gone viral and the school is now famous because of it.
---

Dave Rogers




Dave Rogers is a former editorial writer for the Bay City Times and a widely read,
respected journalist/writer in and around Bay City.
(Contact Dave Via Email at carraroe@aol.com)

More from Dave Rogers
---
Send This Story to a Friend!
Letter to the editor
Link to this Story
Printer-Friendly Story View
---
--- Advertisments ---