RADICAL CHANGE!: Working Class Party Joins Michigan Ballot
Bay County Among Jurisdictions to Get New Voting Machines
September 10, 2016 1 Comments
By: Dave Rogers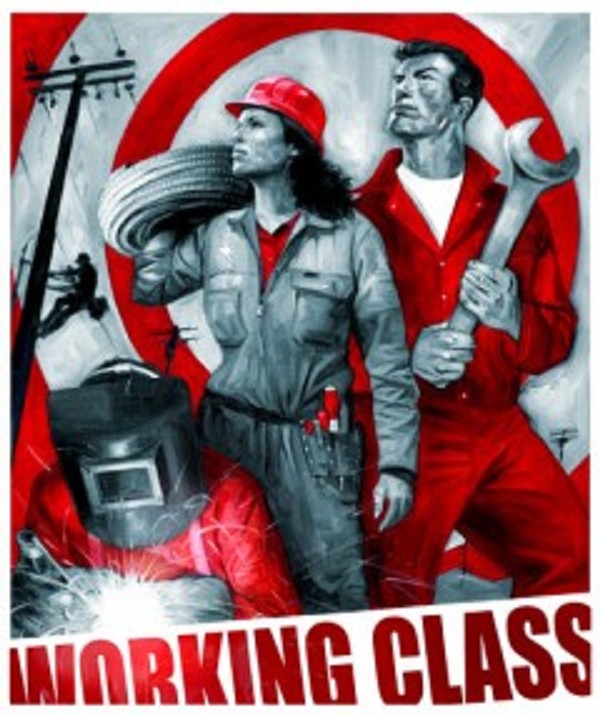 The working class has now organized its own political party, and the Working Class Party will be a new "face" on the Michigan general election ballot in November.
Polls showing two-thirds of Americans want "radical change" have sparked the return of political movements associated with the social turmoil of earlier days, especially the Great Depression years.
The working class has now organized its own political party, and the Working Class Party will be a new "face" on the Michigan general election ballot in November.
Communists and Socialists purported to represent the working class at various times in history, but those movements have waxed and waned, mainly following economic trends, over the years.
The 2016 election will be the first to include the Socialist Party's presidential nominees on Michigan's ballot since 2004. In the last two presidential elections of 2012 and 2008, the Socialist Party's ticket was limited to certified write-in status in this state.
Michigan's Natural Law (Peace) Party's nominations recently have gone to the independent campaigns headed respectively by Rocky Anderson and Ralph Nader. No independent third party has gained a substantial vote since John Anderson got about 7 percent of the vote in 1980 and Ross Perot's 19% and 8% in 1992 and 1996, respectively).
Anderson's finish was still the best showing for a third party candidate since George Wallace's 14% in 1968 and the sixth best for any such candidate in the 20th century (trailing Theodore Roosevelt's 27% in 1912, Robert LaFollette's 17% in 1924.
Bay City figures in Presidential political history through the start of TR's Bull Moose Progressives at the Republican Party state convention here in 1912 and James G. Birney's 1844 Liberty Party Presidential candidacy launched while he was a Bay City resident.
For an outstanding example of an anti-slavery/peace party impacting the Presidential election, we must go way back to 1844 when Bay City pioneer Birney headed the Liberty Party. Birney's 15,000 votes (of a total of 70,000 nationwide = 3%) in New York were credited by political analysts as having denied war hawk Henry Clay the victory that went to James K. Polk.
There has been little laboring class political action for many years, most of the working class having been involved with the Democrats, especially since the Great Depression and the election of Franklin D. Roosevelt in 1932.
The environment that has produced this new independent political action is examined in a 2009 book by Theresa Amato, entitled: "GRAND ILLUSION: The Myth of Voter Choice in a Two-Party Tyranny," published by the New Press, New York.
The Working Class Party was approved for the Michigan ballot after more than 50,000 people signed petitions. The Secretary of State's office certified that 38,974 signatures were valid, more than the 31,566 signatures required by election law.
Mary Anne Hering of the Working Class Party told Michigan Public Radio's Stateside online report:
"We are a party of laboring population -- whether we're retirees, teachers, autoworkers, students, people on Social Security, people who are struggling to live with part-time jobs or contractual jobs or two-tiered jobs," she said. "Two years ago some of us decided to let the voice of the working class be heard in the election. We don't have to look any further than the crisis we see in the state of Michigan -- Flint and the Detroit Public Schools."
The organizers of the new party say that the capitalist class has two parties, the working class has none -- and that it's time for working people to build their own party, defending their own class interests.
The new party has chosen its candidates for the 2016 elections: Gary Walkowicz for U.S. Congress, district 12; Sam Johnson for U.S. Congress, district 13; and Mary Anne Hering for the State Board of Education.
The Working Class Party states: "We say that the wealth of this society must be taken and used to pay for emergency measures protecting the health, lives and well-being of ordinary people."
It adds an element of caution and a note of urgency:
"Putting a party on the ballot won't change our situation, we know that.
"It will take a fight of the working class to put its hands on the wealth that is today hoarded by a handful of banks, a couple hundred large companies and a tiny wealthy capitalist class.
"A vote for the Working Class Party can show that there are thousands of people who say:
*That they are fed up with Democrats and Republicans, who both represent only the big companies and banks, the capitalist class;
*That they are convinced the working class needs to speak for itself, putting forward its own answers.
And those thousands of people can begin to change the situation!
Meanwhile, Bay County is among voting jurisdictions in the state that will get new voting machines through the Help America Vote program, although it is not likely the new machines will be installed for this election cycle.
The machines will be an improvement in that they will now allow voters to verify their votes and make corrections if needed before the ballot is cast and counted.
It will provide an auditory and visual notification to the voter that the ballot has been cast.
The new system also will provide for tabulation of votes cast in split precincts where all voters are not voting the same ballot format.
It will also include a visible public counter that displays the number of ballots processed.
---
---

Dave Rogers




Dave Rogers is a former editorial writer for the Bay City Times and a widely read,
respected journalist/writer in and around Bay City.
(Contact Dave Via Email at carraroe@aol.com)

More from Dave Rogers
---
Send This Story to a Friend!
Letter to the editor
Link to this Story
Printer-Friendly Story View
---
--- Advertisments ---