EDUCATION GAP: Delta College "Responsive to Needs," President Goodnow Says
Focus Sharpening on How to Educate Area's Legions of Unschooled "Orphans"
September 27, 2016 1 Comments
By: Dave Rogers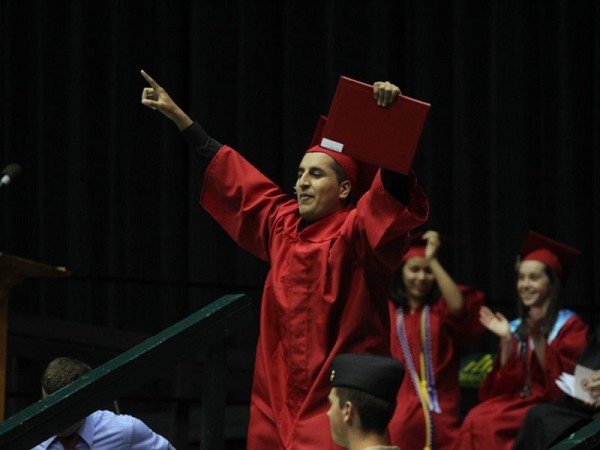 Michigan has an education gap, a serious one, that will take all the resources -- human and financial -- to solve.
"As always, any time Delta is asked by community members to be involved in supporting the educational needs of our District, we are responsive."
That was the answer given by Delta College President Jean Goodnow when questioned by Karen Lawrence-Webster, a former trustee, via e-mail about the college's involvement in a meeting about Saginaw charter schools aiming to serve so-called "orphan students" who are without diplomas.
And, it was the correct answer! in the opinion of this columnist.
President Goodnow explained in an e-mail: "I hosted a meeting at Delta College and invited many leaders from Saginaw including the Superintendent of Saginaw schools the ISD Superintendent and many judges, business people and ministers from the African-American churches in Saginaw. In addition representatives from the Muskegon Covenant Board and the Superintendent of schools from Muskegon attended. It was clear from the presentation by Sam Joseph and his Board that this was NOT to be in competition with the Saginaw schools but to serve many individuals up to the age of 22 who are not now currently being served with a high school education in Saginaw."
Michigan has an education gap, a serious one, that will take all the resources -- human and financial -- to solve. More than that, it will take extreme courage to brave the wrath of the supporters of the status quo. Delta deserves high credit for exploring solutions.
Our community college, supported by property taxes from the three counties, should be smack in the middle of any discussion about how to educate the more than 37,000 young people (ages 18-24) in the Delta district who don't have a high school diploma.
Michigan has 141,277 of young people in this cohort: non-graduates age 18-24.
Without a diploma, these education orphans can't even apply for most jobs and we risk having them become involved in crime and enter the Incarceration Nation at a cost of up to $30,000 a year. The stream of fatherless children and single parent families mainly comes from this cohort of school failures.
I purposely say we risk their criminal involvement. We have failed them! And ourselves!
Ok, we all need to consider how this could happen. Broadly, youth who don't "fit in" or just can't cope with the higher level curriculum of today either drop out from frustration, are shoved out by peers and bullies, or are kicked out by school administrators for rules violations.
So the bottom line is that one student in every five in Bay and Midland and one in four in Saginaw leave school without diplomas, according to U.S. Census statistics. That's a near 20 percent dropout rate in Bay and Midland and about 25 percent in Saginaw.
One orphan group the charter proposals fail to consider are those students who are not allowed, by law, to attend school. In Michigan, a student expelled for serious violations may not attend regular schools and can enroll only in a strict discipline academy, none of which exist in this area. Latest statistics from 2011-2012 show 132,949 students suspended or expelled in Michigan.
According to the Mackinac Center for Public Policy, strict discipline schools were created to "reform at-risk students without endangering others." Many of the students that are referred to these schools are placed by the courts or as a result of Michigan's Zero-Tolerance policies.
As we have observed before in this corner, those statistics re the unschooled are the red flag that tells the world we don't have it all together in setting our children on a path to success or in preparing our workforce for the global economy.
Eventually, it may be the anchor that drags the State of Michigan under, economically. Without a competent workforce, jobs will go elsewhere. With a growing underclass, welfare and corrections costs will sink the state budget. Already signs of this decline show up -- look at the condition of the roads in Michigan. We have no money to fix anything, especially the glaring problems like the Flint Water System, and of course the more visible potholes in the roads.
Charter school operators like Sam Joseph in Saginaw are providing a huge service to the public by raising the issue through proposals for additional and innovative high school completion programs. Locally, a group of community development activists, myself included, have initiated a proposal for a strict discipline vocational school connected with the USS Edson. This would involve military veterans as mentors and would seek to upgrade the unemployed and under-employed who make up most of the non-graduate cohort.
Mr. Joseph makes the point that his proposed school would enroll only those students not served currently and would not compete with existing schools. He was among Saginaw and Muskegon school and community leaders who met recently at Delta to discuss the issue.
Opposing Luddites who cry "do we really need another program?" are living in the past and are not helpful to the pressing needs of our society.
Obviously, the deadly silence that has greeted several of my columns outlining this monumental problem reflects either total misunderstanding about the issue or fear of offending the public school establishment by even suggesting attempts to solve it.
Delta College is somewhat in the same position; President Goodnow and college officials know about the problem but risk offending a swarm of public school establishment figures if they make any attempt to address the issue.
The college has a problem: there is currently no funding mechanism to rehabilitate those 37,000 lost souls who represent the bottom rung of the social pyramid. With no diploma, and even the GED unattainable in most cases, they are bound for the oblivion of the underclass. Few jobs today are open to a person without a high school diploma or at least a GED.
The orphan students need remediation to enter Delta, but who is going to pay for that extra schooling to bring them up to speed? Delta could enroll the non-diploma horde but faces a dilemma because most would have little chance of success. Besides, few non-graduates would have the chutzpah to enter college without first jumping the high school or GED hurdle.
That's why Sam Joseph's idea of a welcoming and love-centered environment to help these folks achieve is so appealing. He even got the state to extend the age of admission to a charter program from 19 to 22, a stunning departure by Lansing bureaucrats.
Gov. Rick Snyder wants to build a world-class education system. But he has a host of downfield tacklers who rise up to knock him down -- the Michigan Legislature, corporate lobbyists and the status quo school establishment.
We have made the case that the Michigan School Aid Fund has been hijacked by corporate Goliaths like Pearson, K-12 Inc., Connections Academy and others. Cyber schools, the much-touted online education, appear to largely be a massive scam and a money bonanza for profiteers. Up to 250 students are supervised by one part-time teacher online, according to a scathing report by a former teacher in Education Week magazine.
An exception seems to be the nonprofit Michigan Virtual University run online high school headed by Jamey Fitzpatrick.
However, a survey by Evergreen Education shows eighty percent of respondents agreed that traditional classroom programs offer a higher quality academic experience."
The charges that Michigan legislators are bought and paid for by corporate lobbyists need to be investigated by the attorney general, the state police and perhaps the FBI. Attorney General Bill Schuette's on-duty action is vitally needed.
One of my readers from the Chicago area, a former Bay Cityan, suggests the teachers' union should launch a class action lawsuit against the state in order to bring the matter to a head.
One washed-up newspaper editorial writer raving online as I am doing probably is not going to get action by any establishment.
But a band of tough lawyers with determined clients might act as the Biblical David and bring down the Corporate Goliath and help rescue the State of Michigan from disaster.
What the state needs to do is to empower Delta College with funding to remediate the education orphans -- 37,000 of them in this area according to the census. Or the local community needs to empower the local charter schools to enroll all those up to age 22 and help them get diplomas.
The time to start is now!
---
"The BUZZ" - Read Feedback From Readers!
tennis1960 Says: On September 30, 2016 at 09:18 AM

Mr Rogers......thank you for the mention of Chicago in this article. Education and not mention "The social inner-action" that takes place when taking part in learning is paramount to this entire experience. If you don't have education then you have anarchy. Great piece Dad.
---

Dave Rogers




Dave Rogers is a former editorial writer for the Bay City Times and a widely read,
respected journalist/writer in and around Bay City.
(Contact Dave Via Email at carraroe@aol.com)

More from Dave Rogers
---
Send This Story to a Friend!
Letter to the editor
Link to this Story
Printer-Friendly Story View
---
--- Advertisments ---