HOW TRUMP CAN WIN: Low Turnout May Snatch Victory From Jaws of Defeat
White College-Educated Women Said Key by Michigan Pollster Richard Czuba
October 7, 2016 1 Comments
By: Dave Rogers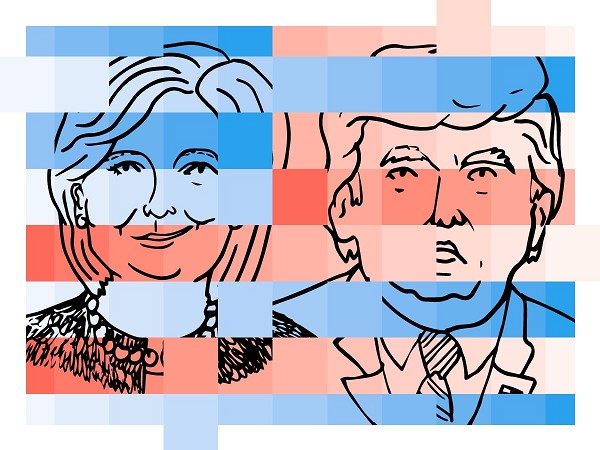 Disliked candidates do worse as the number of voters increase.
It seems it's not the people who vote who will elect our next President, sadly, it's those who don't vote.
More and more I hear: "I'm so disgusted, I'm not even going to vote in this election."
If there are too many people of that mind, Donald Trump will be our next President, so-called Christian conservative pollster Scott Elliott predicts:
"Most elections, Donald Trump would get clobbered. But this isn't a normal election. As such, I'm convinced Trump could actually prevail. However, for that to happen, one thing must be true come November: Voter turnout must be low. Mathematically speaking, the only way Trump can overcome historically high unfavorables is to have a suppressed turnout.
Elliott blogs under the nom de plume "The Blogging Caesar" (http://www.electionprojection.com/blogging-caesar/) and has made some startlingly accurate predictions in the past. He opines about his prognostication Trump could win if turnout is low:
"Here's why. Disliked candidates do worse as the number of voters increase. Trump's limited, albeit fanatical, support will grow some as time passes, but he'll probably never be liked by a majority.
"Therefore, a Trump victory will require a smaller turnout. The fewer votes cast, the greater influence his rock-solid support will have on the outcome. If more voters turn out, the likelihood is high that Trump's share will decrease. So, what will the turnout look like in November? I sense a low turnout election is precisely what we have in store."
A Michigan pollster, Richard Czuba, of the Glengariff Group that polls for the Detroit News, predicts college-educated white women are the key to the Presidential outcome.
Czuba's latest poll, which was released Sept. 30, found that Clinton was leading Trump in Michigan by 7 points, 42 to 35 percent. He comments:
"The biggest reason for Clinton's lead: Only 27 percent of women respondents said they were supporting Trump compared to 44 percent of men.
"This is a historic gender gap in terms of a Republican candidate's standing with women," Czuba said. "You can't win Michigan if you're getting only 27 percent of women voters."
Here is how the amazing Elliott sums up Republican chances in the Senate and governor's races, as reported by the Free Republic: "His site projects a net loss of 3 Senate seats, -6 House Seats, and -5 Governor seats. A VERY interesting site."
Election polling has become the latest mystery occupation, with all variety of sooth-sayers, geeks and medicine men/women. Mark Glaser, who runs "Your Guide to Political Polling Sites," observes:
"Baseball numbers geek Nate Silver took his statistical analysis from baseball and transferred it into the world of politics with this blog named after the total electoral votes, 538. He does more than parse the latest polls; he runs 10,000 simulations per day and uses a complex, evolving six-step process to give a daily snapshot and projected winner.
"As of Oct. 15, 2008, he had Obama winning in 95.1% of the simulations, with 353.9 electoral votes. Though Silver is an Obama supporter, his numbers have swung with the momentum of the race, and the simulations favored McCain after the GOP convention.
"He bested the polls in predicting primary races in Indiana and North Carolina, according to Newsweek. What makes this site a winner is a simple design, the lively blog posts and the uber-geek stats and simulations that don't overwhelm the novice number freak."
Silver talks about this year's race, which as of today he is calling for Clinton with 80.1 percent and Trump at 19.9 percent. "We think probabilistically. Our probabilities are based on the historical accuracy of election polls since 1972. When we say a candidate has a 30 percent chance of winning despite being down in the polls, we're not just covering our butts. Those estimates reflect the historical uncertainty in polling."
Silver lists seven states that have a possibility of tipping the election, with Michigan at 8.2 percent smack in the middle of them.
See-- http://projects.fivethirtyeight.com/2016-election-forecast/?ex_cid=rrpromo
However, Liberal college professor Alan Lichtman, who claims to have his own foolproof method of predicting elections, also asserting he has never been wrong, sees a Trump win.
Lichtman made his first presidential prediction in 1984 and has gotten them all right ever since. He credits this prophetic success to a scientific model which never fails. And this model indicates that come January, Donald Trump will be moving to the White House.
The only thing that may upset Trump's applecart is the mass of scandals plaguing the controversial orange-topped candidate, says Lichtman. Forward.com news comments: "The Jewish history professor from American University in Washington is adding a measure of caution to his forecast. Not because the idea of his prediction coming true is too "frightening," as Lichtman put it, but because Donald Trump is such an unusual candidate, he may defy even the most scientific of prediction models."
Oy Veh! Let the games begin!
###
---
"The BUZZ" - Read Feedback From Readers!
ebmspang Says: On October 31, 2016 at 03:34 AM

All those in favor of erasing our borders, sending more jobs south of the border, replacing the Constitution with a new hemispheric trade agreement and EU style government, an surrendering our sovereignty over to the United Nations, say AYE...

All those opposed to this and who still love America, our Constitution, our individual freedoms, our freedom of speech and our once-revered sovereignty, say NAY...

Looks like the AYES have it!
---

Dave Rogers




Dave Rogers is a former editorial writer for the Bay City Times and a widely read,
respected journalist/writer in and around Bay City.
(Contact Dave Via Email at carraroe@aol.com)

More from Dave Rogers
---
Send This Story to a Friend!
Letter to the editor
Link to this Story
Printer-Friendly Story View
---
--- Advertisments ---