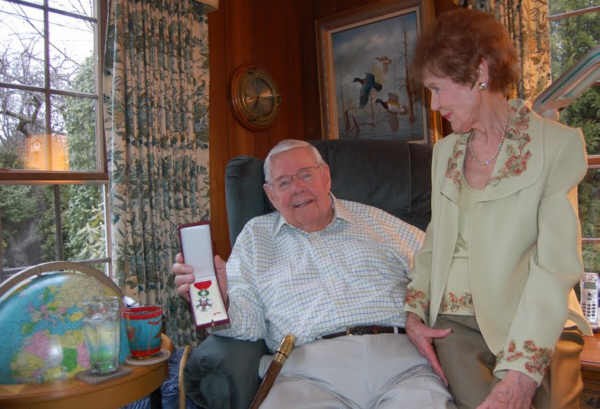 Kirk Timm and his wife Ardath show off the French award Knight of the Legion of Honor for his service in France in World War II.
---
KIRK TIMM: One of Bay City's Top Old Soldiers Finally Fades Away
October 23, 2016 1 Comments
By: Dave Rogers
Few Bay Cityans throughout history have had the military history that Kirk E. Timm experienced.
Mr. Timm, who died this weekend at age 94, wrote his recollections of World War II, which my wife Dolores and I edited, a few years ago with amazement.
Kirk did what a lot of old soldiers don't do -- he wrote his reminiscences, mainly for his grandchildren.
Born in Bay City in 1922, Timm attended Howe Military Academy in Indiana, a high school, where he completed two of the four years of R.O.T.C. (Reserve Officers Training) needed for a second lieutenant's commission. The 19-year-old was training at the Infantry School at Fort Benning, Georgia, when a date "that will live in infamy," as FDR called it, arrived that no one alive can forget: 7 December 1941 -- and the war was on.
Landing at Omaha Beach during the first day of the Normandy Invasion, slogging through the Ardennes and Germany in the Battle of the Bulge, capturing and holding the Port of St. Malo in Brittany, and, perhaps the worst -- as Sergeant Major facing down Gen. George Patton and getting "busted" over a payroll dispute.
Timm recalled in his book about Normandy: "We started off with about 230 souls from Company B, 330th Infantry in the LCI. We landed in (as I remember) waist high cold, very cold, water. Later on, that night when we regrouped if I remember correctly there were 18 of us standing.
"Thank God one's mind only recalls partial memories."
The scope of "Operation Overlord," as the Normandy Invasion was called, was almost beyond comprehension, as Timm recalled."There were 4,000 transport ships and over 800 warships; over 11,000 airplanes were in the air. Crowded in all of the ships, planes and gliders were 3 million soldiers, sailors, and airmen. The initial assaults were fierce, relentless and unimaginable."
"Our opposition was battle hardened SS veterans and we were rookies. It is amazing we weren't thrown back into the sea that day. The SS German troops knew how to fight and they did ... but we learned quickly. That afternoon we stopped being boys and became combat soldiers."
"On the Normandy beaches, I must admit for the first few minutes I did not fire my rifle. I was scared...no, I was really petrified. I couldn't find anyone to shoot at. The Germans were on the top of the cliff and when I thought I had a target, my target would shoot at something on the beach and disappear. I watched people die from the artillery and mortar fire that the Germans threw at us. They were shooting down at us from about 100 yards.
Later, in Luxembourg, Timm's jeep was hit by a mortar round or ran over a land mine, and he was wounded. The driver was killed. He was patched up in an EVAC hospital and returned to duty a few days later. He earned the Purple Heart for wounds suffered in that action 22 November 1945. "Al Cederberg (later Bay City mayor and a Member of Congress), hearing I had been hit, brought me a good bottle of whiskey which (a few of us, a nurse a medic too) finished then and there."
Attacking from Carentan to relieve elements of the 101st Airborne, "we attacked every day for 23 straight days from dawn to dark. We became exhausted, both physically and mentally. We lost a lot of our closest friends. Reinforcements became veterans in a few hours if they lasted.
"We were opposed by the 17th SS Panzer Grenadier Division, one of Hitler's best. We literally destroyed them in this series of intense actions from one ruined Norman village to the next. We measured our progress by the number of hedgerows we took, one at a time."
Fighting Germans holed up in French chateaus by Bricqueville, Timm recalled: "The rate of return fire was spasmodic and not too well timed. It became obvious that the shooters were not too accurate and they exposed themselves when they took positions in the window frames. We resorted to sniper tactics and that worked pretty well. Soon we realized we were no longer being fired at and in a matter of a few minutes German soldiers began appearing in the front door with their hands up, surrendering. We were surprised at this, but happy that our first firefight had such successful results."
The Battle of the Bulge was another story. "It was Valley Forge edition 1945. Clothing froze on bodies and weapons failing to function. Those of us who lived through it will never forget this very tough battle."
Soon the Russians were in the fight and large numbers of Germans began to be captured. The enemy "resistance was spotty and varied from crack Panzer troops and fanatical Hitler youth to old men in the uniforms of the Volkstrum (home guard). Timm recalled letting his guard down and being surprised by an old man (about sixty years old) with an armband printed VOLKSTRUM and armed with a shotgun. He pulled the trigger. Thank God the ammo was old and faulty and the gun only 'clicked.'" (I still have that shotgun.)
Fifty years after the war Timm and his wife Ardath were invited to the anniversary of D-Day. They returned to Normandy and found the chateau where he and his comrades had confronted the Germans. A young man now the owner of the farm said he and his family were hiding in the cellar during the fight. They later joined the French resistance, blew up railroad tracks and mined roadways the Wehrmacht would use.
Then they had a glass of good French wine, just for old times sake.
The French government made Timm a "Knight of the Legion of Honor" to go with dozens of U.S. honors. The French Counsel General from Chicago sent a letter signed "Merci beaucoup for all you did!"
After all these years, all we can do is echo those sentiments. Thank you, Mr. Timm, and Godspeed.
###
---
"The BUZZ" - Read Feedback From Readers!
wallsopp Says: On October 24, 2016 at 01:57 PM

Dave

great story. I obviously have known Mr. Timm for many years at SBYC but hadnt heard his WW II experience.
Very interesting and amazing. Glad you got the story and this is why you need to keep writing.

Bill
---

Dave Rogers




Dave Rogers is a former editorial writer for the Bay City Times and a widely read,
respected journalist/writer in and around Bay City.
(Contact Dave Via Email at carraroe@aol.com)

More from Dave Rogers
---
Send This Story to a Friend!
Letter to the editor
Link to this Story
Printer-Friendly Story View
---
--- Advertisments ---