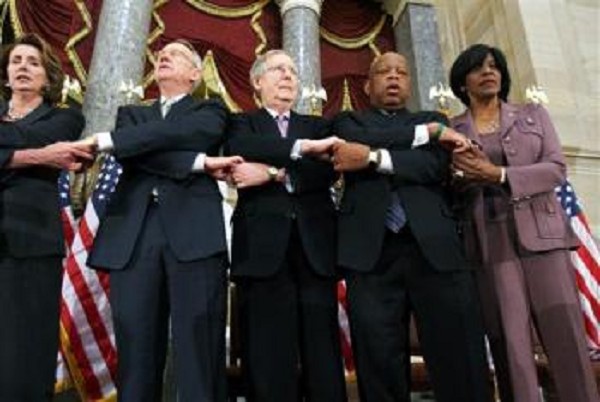 Congresspeople need to show some solidarity for the people like this startling picture shows.
---
SAVING SOCIAL SECURITY, MEDICARE: Why Not Impeach or Recall Opponents?
January 14, 2017 1 Comments
By: Dave Rogers
Social Security and Medicare too are on the GOP hit list early in the Congressional session.
But why, for God's sake, why?
Nancy Altman, co-founder of Social Security works, has a column in the Huffington Post calling for an all-out war against the destructive Republican plans, a move we heartily endorse. She writes:
"Because Social Security and Medicare are government programs that work so well, the Republican elite -- with its seemingly religious belief that the private sector is always the best -- hates them. So obsessed are the Republicans in their desire to eliminate these effective government programs that the very first action that House Republicans took in the new Congress was to adopt a rules package that included a new rule that amounts to a stealth attack on Social Security and Medicare."
As we expounded in a previous column, Republicans have adopted the counter-intuitive idea that government should not help the people. This Ayn Rand inspired insanity is a total about-face from the reason governments --and the Republican Party itself -- were formed in the first place-- for the common good!
I think the roots of the issue lie deeper, in the black hearts of racists and elitists who have lost touch with their fellow men, who are so protected by gerrymandering and party funding they have no feeling for serving their fellow citizens. In Washington, they are in a world of their own arrogance -- and no one can touch them.
We have come a long way from Ronald Reagan's "welfare queens" condemnation to the verge of the most self-destructive approach of any political party in history, save perhaps Adolf Hitler's National Socialists of Nazi German in the 1930s.
Yes, I really am drawing a comparison with Hitler and Himmler's excoriation and extermination of the Jewish people (mostly good Germans) and today's Republican pogrom against poor people, the aged, minorities and the middle class in the United States, through Social Security and Medicare cuts -- because that's what it appears to be.
There seems to be a strain of thinking in some Republican circles that Barack Obama's eight years in office were a failure, despite copious facts to the contrary, that our economy is below acceptable levels and that he is to blame: that is like the expressing "waving the bloody shirt" (that never happened) but was used to inflame Southerners in the run-up to the Civil War.
So why was Obama so bad? I asked a conservative friend: "government regulation," he memed, as though there are no government regulations under Republican administrations.
Make no mistake, this latest assault on the people is just as race and ethnic based viciousness as the Nazi attacks on the Jews. In a way, they are lining up the boxcars now and the fences are being erected at the camps. What else could be a reasonable person's conclusion of why politicians would want to throw millions of people off health insurance? Do they really want the sick to storm the doors of emergency rooms to get treatment? Some, perhaps many, will die there for lack of health insurance.
The elderly, who paid hard-earned dollars into Social Security, will find their stingy incomes short of bread and milk money under the GOP plans. This is not good, folks, it's inhumane.
Only one country in the industrialized world does not offer its citizens universal health care. You guessed it, the United States of America, the Land of the Free and the Brave.
No one will pay any attention, but I call for impeachment or recall of all the Members of Congress who vote for any measure destructive to Social Security and Medicare. Neither program has anything to do with the federal budget since they are independently and securely funded. Any threat to those programs can only be motivated by class hatred, and that's not what America is supposed to be about.
One problem, even if there was a public consensus to remove Members of Congress, it can't be done: "The Constitution grants the House the power to impeach "The President, the Vice-President, and all civil Officers of the United States." It has been suggested that members of Congress are not officers of the United States. Others, however, believe that members are civil officers and are subject to impeachment."
The second problem, impeachment can only be initiated by the legislative body itself: in other words, Congress would have to vote to impeach its own members -- a highly unlikely occurrence given the makeup of the body at this time.
In other words, Congress is self-governing. So they can do anything they want and no one can do anything about it; some suggestions are even to restrict criticism, like the "Gag Rule" on slavery in the 1830s and 1840s.
Democracy is fast slipping away, as will our Republic, as Benjamin Franklin warned. The oligarchy funded minions of regression are in full sway, riding roughshod over the huddled masses yearning to breathe free.
So the only recourse the public has is the one we learned as junior journalists--print the news and raise hell! So let the hell begin. And hope good men and women prevail.
Ms. Altman writes:
"Historically, Social Security and Medicare have been winning issues for Democrats. They can be now, as well. In addition to expanding, not cutting Social Security, Democrats should forcefully advocate expanding, not cutting, Medicare. Furthermore, Democrats should challenge Republicans when they claim the programs are in need of 'saving.'
"Republican claims that they are simply seeking to save Social Security and Medicare is the same Orwellian language used during the Vietnam War when a military officer claimed that a village had to be destroyed in order to save it. Similarly, when today's Republicans talk of 'saving' Social Security and Medicare, their plans are to destroy both programs.
"And when Republicans talk about "fixing" Social Security and Medicare, Democrats should point out that Republicans are using the word "fix" the same way veterinarians do when they talk about neutering dogs and cats. The reality is that Social Security and Medicare don't need fixing. They can and should be expanded, but they work fine, having stood the test of time.
"And, most assuredly, neither Social Security nor Medicare needs saving. Indeed, both programs are solutions to a looming retirement income crisis, a broken health care system, and income and wealth inequality. Expanding them would allow them to be even better solutions to these and other challenges facing the nation.
"If Democrats are successful in making the American public aware that the Republicans desire to steal their earned Social Security and Medicare benefits, Social Security and Medicare could well be a potent issue in 2018 when seniors vote in disproportionately large numbers. If in 2018 and 2020, seniors and others vote for progressives who champion expanding, not cutting, Social Security and Medicare, we will be in a position to expand these vital programs. Moreover, we will have elected champions of the environment, civil and human rights, and so many other important causes that those who support expanding Social Security and Medicare also support.
"For that to happen, Democrats must be united in their fight against all Social Security and Medicare cuts." To that admonition, I would add "reasonably minded Republicans and Independents."###
---
"The BUZZ" - Read Feedback From Readers!
mac Says: On January 16, 2017 at 11:05 AM

Give 'me hell, Dave. This is your best column in quite some time, IMNSHO. It gives like-minded people something to be "for", not "against".

You should consider joining the new Progressive Democrats group Pat Race and other former "Sanders-ites" are scaring up. Main focus will be on consistent badgering of local goverecent officials and congressmen from Bay, Saginaw and Midland counties to adopt a progressive agenda---and resist cuts---with threas of being run out of office, challenged in primaries by progressives, etc. Seems to me that geezer-rabble-rouser Dave Rogers might become an effective candidate in such a movement locally. The guy knows how to string words together and he doesn't hold back.
---

Dave Rogers




Dave Rogers is a former editorial writer for the Bay City Times and a widely read,
respected journalist/writer in and around Bay City.
(Contact Dave Via Email at carraroe@aol.com)

More from Dave Rogers
---
Send This Story to a Friend!
Letter to the editor
Link to this Story
Printer-Friendly Story View
---
--- Advertisments ---