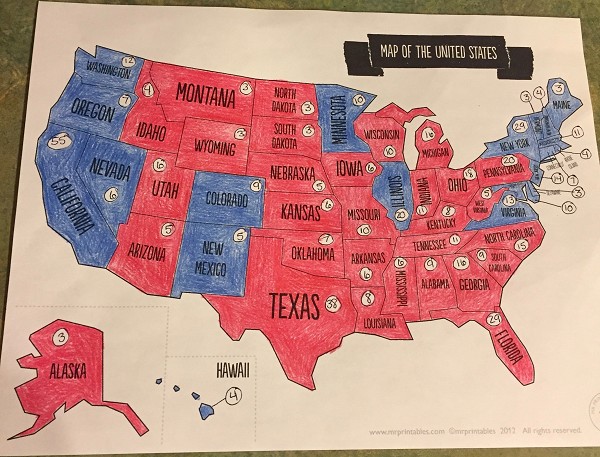 Despite the voter uprising, status quo supporter Hillary Clinton actually won the popular vote nationwide by nearly 3 million votes.
---
POPULAR VOTE: National Drive to Change Electoral System Gaining Favor
January 28, 2017 1 Comments
By: Dave Rogers
The movement to abolish the Electoral College and use the national popular vote to determine the winner of the Presidency is not moving fast enough for many citizens.
For example, Michigan adopted the National Popular Vote plan in 2008, yet this state was one of the keys to the Electoral College win of Donald Trump by under 10,000 votes.
In recent Presidential election campaigns, candidates have ignored most of the country while spending most of their time in a handful of so-called "battleground" states.
Nationwide, Trump ended up with 306 electoral votes to Clinton's 232, with three Midwest swing states accounting for the decisive 46 electoral votes gained by under 80,000 votes.
The Cook Political Report, a Washington-based newsletter, reported that according to official sources, Trump won the state by less than 1%, a margin of 9,528 votes out of 4,794,326 votes cast by Michiganders.
Trump's margin of victory was just three-tenths of one percent, yet he garnered all of Michigan's 16 electoral votes.
In normally Democratic Wisconsin, Trump won by 23,000 votes and got the state's 10 electoral votes.
Trump carried Pennsylvania by 44,000 votes which brought the state's 20 electoral college votes into his total.
Without Trump's narrow margins in those three industrial "Rust Belt" states, Clinton would have won the Electoral College 278 to 260.
The Washington Post commented: "Voters anxious about the economy, convinced that the system was stacked against them, fearful of terrorism and angry about the rising gap between rich and poor, gravitated toward Trump. In him, they saw a fearless champion who would re-create what they recalled as an America unchallenged in the world, unthreatened at home and unfettered by the elitist forces of 'political correctness.'
"It's a movement comprised of Americans from all races, religions, backgrounds and beliefs who want and expect our government to serve the people, and serve the people it will," Trump said in his victory speech.
Yet, despite the voter uprising, status quo supporter Hillary Clinton actually won the popular vote nationwide by nearly 3 million votes.
Less than 80,000 votes in Michigan, Wisconsin, and Pennsylvania were the difference, according to election observers. Those relatively few votes gave the Electoral College win to Trump.
But a process -- painfully slow as it is -- continues toward the goal of eliminating the Electoral College and picking the President through the popular vote.
The National Popular Vote (NPV) plan guarantees election of the presidential candidate who receives the most popular votes in all 50 states and the District of Columbia.
The NPV plan is a state statute in the form of an interstate compact. It creates an agreement among states to award all of their electoral votes collectively to the presidential candidate who wins the national popular vote.
This agreement takes effect only once the participating states together hold a majority of electoral votes (270 of 538)--guaranteeing that the winner of the national popular vote will win an Electoral College majority.
Passing NPV will guarantee the election of the national popular vote winner once the compact has been joined by enough states to make it decisive for determining the outcome of future elections. Until that point, a state's current rules apply.
State legislators have introduced NPV legislation in all 50 states and the District of Columbia. NPV legislation has now been enacted by 11 jurisdictions possessing 165 electoral votes, or 61% of the 270 electoral votes needed to activate the compact.
On December 11, 2008, the Michigan House of Representatives passed the National Popular Vote bill (HB 6610) by a 65-36 margin.
A survey of 800 Michigan voters conducted on December 2-3, 2008 showed 73% overall support for a national popular vote for President. Support was 73% among independents, 78% among Democrats, and 68% among Republicans.
By age, support was 77% among 18-29-year-olds, 67% among 30-45-year-olds, 74% among 46-65-year-olds, and 75% for those older than 65. By gender, support was 86% among women and 59% among men. By race, support was 75% among whites (representing 82% of respondents), 64% among African-Americans (representing 14% of respondents), 64% among Hispanics (representing 2% of respondents), and 69% among Others (representing 2% of respondents).
Based on whether the respondent or someone in the respondent's household is a member of a labor union, support was 77% of union households and 72% of non-union households. The survey had a margin of error of plus or minus 3 1/2%.
The bill has passed a total of 33 state legislatures in 22 states -- most recently by a bipartisan 40-16 vote in the Arizona House, a 28-18 vote in the Oklahoma Senate, a 57-4 vote in New York Senate, and a 37-21 vote in Oregon House.
The current system of electing the President are dictated by state winner-take-all statutes -- state laws that award all of a state's electoral votes to the candidate receiving the most popular votes in that state). The national popular vote organization states:
"Because of these state winner-take-all statutes, presidential candidates have no reason to pay attention to the issues of concern to voters in states where the statewide outcome is a foregone conclusion."
The change to a National Popular Vote will guarantee that issues important to Americans in all parts of the country are addressed. It can't happen fast enough for many citizens, including this columnist.
###
---
"The BUZZ" - Read Feedback From Readers!
sunbeamf Says: On January 30, 2017 at 06:51 AM

Can't happen soon enough. When other candidates won by electoral college and not popular vote they lost the popular vote by a small margin. 3 million votes???
---

Dave Rogers




Dave Rogers is a former editorial writer for the Bay City Times and a widely read,
respected journalist/writer in and around Bay City.
(Contact Dave Via Email at carraroe@aol.com)

More from Dave Rogers
---
Send This Story to a Friend!
Letter to the editor
Link to this Story
Printer-Friendly Story View
---
--- Advertisments ---