BAY CITYANS IN HISTORY: Ties to Sugar Trust Doomed Warren's AG Nomination
Great Back Story Involves Vice President Dawes's Untimely Nap
February 12, 2017 Leave a Comment
By: Dave Rogers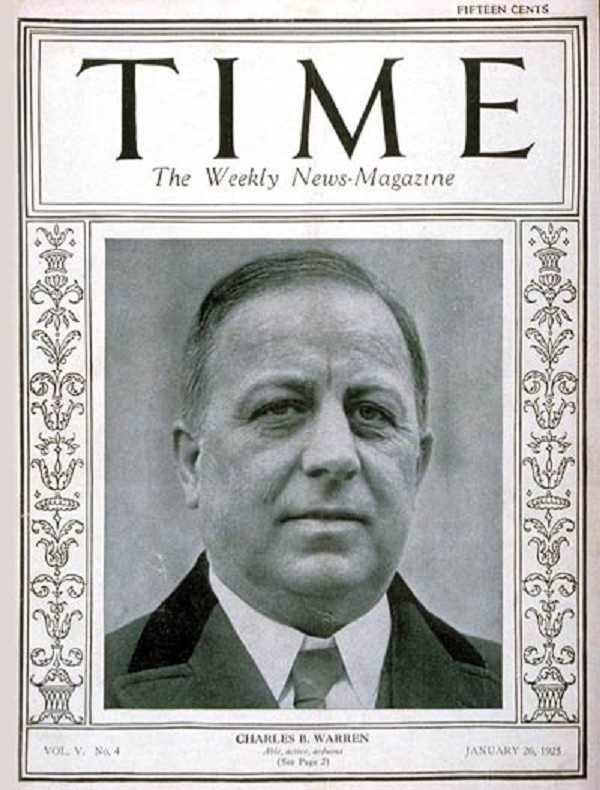 Charles B. Warren, on Jan. 26, 1925, was the only native of Bay City featured on the cover of Time Magazine until Madonna on May 27, 1985.
The only Bay Cityan ever nominated for a Presidential cabinet post made history -- well, sort of.
Retired Delta College Social Studies professor Larry Glynn messaged MyBayCity.com about the fact that Bay City native Charles B. Warren, a Republican, was one of nine nominees in history to be rejected by the Senate.
Not only that, he was rejected twice, which puts him in an even more rarified historical category.
But the way the first rejection happened was the most remarkable aspect of the story.
Warren served as U.S. Ambassador to both Japan and Mexico in the Woodrow Wilson administration, and in 1925 was tapped by Republican Calvin Coolidge to serve as Attorney General.
However, nervousness about government corruption lingering from the Teapot Dome Scandal under President Warren G. Harding and Warren's ties to the "Sugar Trust" (a Michigan connection) generated concern over his fitness to enforce antitrust laws, caused his defeat on a 41-39 vote.
The year 1925 was notable for flappers of the Roaring Twenties, the Great Gatsby of F. Scott Fitzgerald, bathtub gin during Prohibition and the rise of Mussolini, who proclaimed himself "Il Duce" that year.
Bay City was a hotbed of sugar production, with three of the state's 19 companies: the Michigan Sugar Co. at Woodside and Scheurmann in Essexville, the West Bay City Sugar Company at Roy and Prairie, and German-American (later Columbia) Sugar Co. at South Euclid and Kelton.
The nomination really went into the Washington legends category because of publicity about Vice President Charles G. Dawes, who, bored by the stodgy discourse on the floor, repaired to his room in the nearby Willard Hotel to take a nap.
Dawes supposedly was poised to cast the tiebreaking vote to put Warren over the top and into the AG job. In his absence, a Democratic senator decided to become a hero by voting against Warren. Thus, our Bay City bid for national fame went down in flames.
President Coolidge, who had been counting on Dawes to break the tie, was of course, furious at sleepy-eyed Dawes. And the newspapers found a goat they could pillory until the cows came home -- Dawes.
Newsweek summarized in 2008: "The Senate rejected Warren for his interest in the "sugar trust" -- a conglomerate of sugar companies that had been investigated by Congress. In the early 20th century, Warren had been instrumental in consolidating smaller Michigan refineries and later became president of the resulting conglomerate.
"Missouri Sen. James A. Reed was particularly hostile to the idea of Warren's appointment. "I trust there are enough [senators] left to vote against delivering the Department of Justice into the hands of the sugar trust," he said in an impassioned speech on the Senate floor. "Warren is owned in advance."
The Dunbar-May Michigan History notes: "Michigan Governor Alex J. Groesbeck, who Coolidge had also considered for the position, was active in trying to undermine Warren's acceptance."
"Congress was especially sensitive to cabinet members with backdoor connections after the bribery scandals of the Harding presidency. Warren was rejected 41-39. Upon hearing the news, Coolidge stubbornly resubmitted Warren's name, saying in a statement that he hoped "the unbroken practice of three generations of permitting the president to choose his own cabinet will not be changed." The Senate, its sovereignty challenged, rejected Warren again."
By all accounts, Warren would have been an outstanding attorney general, as he was a noted lawyer and had written the Selective Service Act that conscripted American boys in World War I as well as serving as a colonel in the Army.
He was chief of staff to General Enoch H. Crowder, the Provost Marshal, and was in charge of forming the U.S. Army from draftees. He was awarded the Distinguished Service Medal by the U.S. and decorations from the French, Belgians, and Serbia for his work with international charities before the war.
Warren, according to a 1922 biography posted on bay-journal.com, was born to journalist and newspaper publisher Robert L. Warren and his wife Caroline Beecher Warren April 10, 1870, in Bay City.
After spending his boyhood in Bay City, the Warrens moved to Albion where Charles attended Albion College, and, as his biography notes: "was prominent in college circles as president of the freshman class and managing editor of the college newspaper."
Finishing up at the University of Michigan with a BA in Philosophy, Warren got his law studies in the office of Don M. Dickinson in Detroit. He also studied at the Detroit Law School which awarded his L.L.B. degree in 1893.
In 1896, at age 27, Warren was appointed associate counsel for the U.S. before the Joint High Commission adjudicating the claims of Great Britain in the Bering Sea.
"This great honor gave him a high standing in his own state and at once placed him in a foremost position among the younger lawyers as well as gaining for him an international reputation," states his biography.
"In 1909 he was appointed by President Roosevelt and Elihu Root, then secretary of state, as one of the counsel for the United States in the controversy with Great Britain over the North Atlantic waters and fisheries."
Warren died in Grosse Pointe, Michigan, on February 3, 1936. He is buried at Elmwood Cemetery in Detroit.
###
---
---

Dave Rogers




Dave Rogers is a former editorial writer for the Bay City Times and a widely read,
respected journalist/writer in and around Bay City.
(Contact Dave Via Email at carraroe@aol.com)

More from Dave Rogers
---
Send This Story to a Friend!
Letter to the editor
Link to this Story
Printer-Friendly Story View
---
--- Advertisments ---