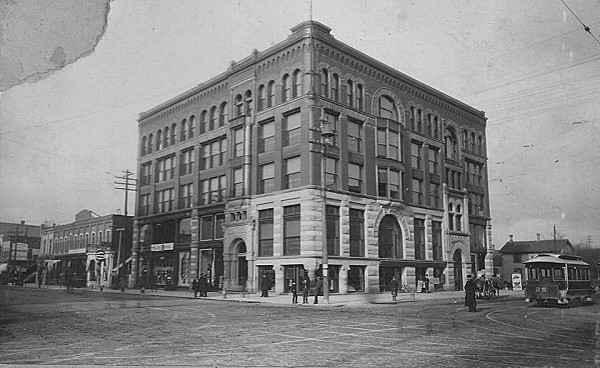 Developer Jenifer Acosta is on the verge of a major historic triumph by saving the Crapo Building (lately Bay City Bank) for downtown housing.
---
BUSY, BUSY: Bay City's Hotel Rooms Jammed Before Tourism Starts
Cleaner River Helps Attract Waves of Visitors, Riverfront Dwellers
May 1, 2017 2 Comments
By: Dave Rogers
Bay City's 300 hotel rooms were fully booked last Friday night, April 28, 2017, fully a month before the tourism season hits full stride.
And, this is without a major attraction like Tall Ships and preceding the June opening of the new City Market at Center and Adams.
I know because a relative stopping for a day got the last downtown room Friday night at the new Marriott Courtyard at Uptown.
And no doubt the housing accommodations in outlying areas were booked, too.
This is great news for city fathers and promoters, besides hotel owners, and tourism businesses.
And for everybody who lives and pays taxes in the city because a thriving business community raises values and brings in more revenue from that sector, hopefully offsetting high residential taxes.
TripAdvisor logged hundreds of reviews of Bay City accommodations, led far and away by the 843 for the DoubleTree Hotel-Bay City Riverfront. "Excellent" topped the list at 553 with 198 at "very good."
Typical was the following: "Hotel was lovely, staff friendly and my room very clean. Loved that this hotel is on the water and just a couple blocks from restaurants, pubs, and shops. The third visit to this property for a business meeting and the service is consistent."
The strategy of leadership groups like Downtown Bay City, the Bay Area Chamber of Commerce, the Great Lakes Bay Regional Alliance and Tourism Bureau and others who have pushed for a kinder, gentler, people-friendly atmosphere appears to be bearing fruit after decades of uncertainty.
The number of people living downtown is soaring and new condos and rental units are proliferating, notably the Times Lofts, Uptown, Jennison Place, the Boathouse and scattered buildings like the brownstones, Antrim Place, Breakers Cove, etc.
The City Market is gearing up for a new downtown attraction that bids fair to be a sensational transformation of an old J.C. Penney store into a tourism destination.
By September, the Bay Veterans Foundation, president Keith Markstrom, and project chairman Dr. Tim Eckstein, will cap another downtown revival, that of Battery Park, with the addition of the state's first Gold Star Monument, for which ground was broken last Saturday. Miracles do happen, even 100 years after the park was initiated in the wake of World War I.
We hope that City Manager Rick Finn's idea to move the Depression-era city service building and other facilities from the waterfront south of 15th Street to Lafayette will not die with his departure in June. The city would stand to profit immensely by sale of this land for housing and provide a vast stretch for new residents to enjoy.
The transition from a heavy commercial/industrial riverfront has been enhanced by dredging of the Saginaw River, that was complemented by an unintended consequence -- disposal of polluted soil from the river bottom in confined disposal areas at the river mouth and upstream near Saginaw.
Fishers now can haul in catches with much more assurance the fish are safe, or at least much safer, to eat. Confirmation of this is the fact that the wily sturgeon and picky mink have returned to the river after nearly three-quarters of a century.
You can watch Tom Mills of Bay City haul in a 64 inch (5.33 foot) sturgeon through the ice on the Saginaw River on Jan. 30, 2016, on this YouTube video posted by MLive.com. After a long battle, Mills hauled in the prehistoric monster on a six-pound line.
https://www.youtube.com/watch?v=5XmA3TxYc28
In the late 1940s, as I conducted my boyhood occupation, trapping muskrat, I recall taking a mysterious animal with shiny fur to the Ginsburg & Lazarus fur house, run by bearded, avuncular Myer Lasarus at 105 Litchfield. I was shocked when the iconic dealers, last of their breed along with Jack's Fur House on Saginaw Street, gave me $5 for the furry creature. Muskrats usually brought a dollar or two, still big money for a 10-year-old boy who ran with a group known as "the River Rats."
We also shot carp with bow and arrow and sold strings of the slimy fish to workers at the body shop at Reed Draper Chevrolet at Adams and Sixth. It seems some folks considered them an irresistible delicacy, something I never was quite able to stomach.
At that point, the heavy industrial pollution of the river from Saginaw, Flint, and Midland that escalated during World War II was just beginning to impact the quality of the water. We River Rats could jump off the Third Street Bridge and swim in the B.A.B. at the former Davidson Shipyard in what is now Veterans Memorial Park without much fear, of which we had little anyway at that point in our lives.
So, have we come full circle in those intervening 70 years of my lifetime spent mainly in Bay City? It appears so, and as an Irishman would say to local folks "good on ya!"
###
---
---

Dave Rogers




Dave Rogers is a former editorial writer for the Bay City Times and a widely read,
respected journalist/writer in and around Bay City.
(Contact Dave Via Email at carraroe@aol.com)

More from Dave Rogers
---
Send This Story to a Friend!
Letter to the editor
Link to this Story
Printer-Friendly Story View
---
--- Advertisments ---