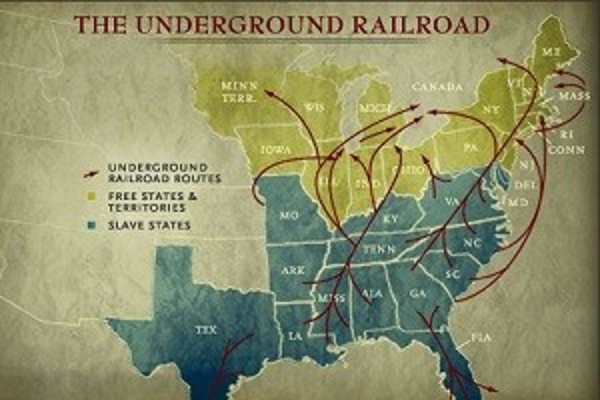 Some historians trace Underground Railroad routes through Bay City as slaves were enroute to Canada, as this Harriet Tubman map indicates.
---
TRUMP & CIVIL WAR: President Essentially Right, Press Shaky, on Jackson
May 2, 2017 1 Comments
By: Dave Rogers
President Donald Trump didn't explain his statements fully enough, but he was right that Andrew Jackson may have been able to stop the Civil War had he not died 16 years previously.
In fact, President Jackson did stop a Southern uprising over a tariff nearly 30 years before the Civil War started in 1861.
All this does nothing to minimize the facts that Jackson was a slaveholder, an Indian killer, and a murderer himself. But we can give him credit for defusing an intersectional conflict back in 1832, an incident Trump could have clarified had he the command of facts as he should have as President.
Why the national press and eminent "Presidential historians" like Douglas Brinkley have not dug into this issue and explained the rationale behind Trump's meaning is beyond us. They are taking the easy route joining the chorus condemning Trump, who attracts much condemnation on many issues, but not deservedly on his view that Jackson may have foiled the Civil War had he been in office in 1861.
Of course, Trump's "brain trust" and spokesmen like Sean Spicer in the White House has not rushed to his defense with amplification of the President's statements on the Civil War. That reveals a serious lack of competence in the White House staff, doesn't it?
Jackson did foil a dispute over the "Tariff of Abominations" that may have escalated into war in 1832. Upset that Northern business interests had promoted the tariff -- to the detriment of the South -- South Carolina began arming and preparing to oppose the federal government.
The doctrine of nullification had been advocated by Thomas Jefferson and James Madison in the Virginia and Kentucky Resolutions of 1798-99, explains Encyclopedia Britannica.
In their attempt to mollify Southerners over slavery, Madison and Jefferson created a time bomb by suggesting in the resolutions that claimed the right of states to reject/nullify federal power not specifically described in the Constitution. James G. Birney, about whom we write frequently, "was among those who held that the judiciary, rather than the states, should make decisions on constitutionality," I write in "Apostles of Equality," my biography of the Birney family. "Birney was among those firing the first verbal shots of the ongoing philosophical battle that eventually ended in the Civil War."
"On December 10, 1832, Pres. Andrew Jackson issued his "Proclamation to the People of South Carolina," asserting the supremacy of the federal government and warning that "disunion by armed force is treason." Jackson warned that federal troops would march to South Carolina and enforce the tariff if necessary."
So Old Hickory was indeed at the epicenter of averting what might have flamed into conflict pitting the North against the South.
Congress on March 1, 1833, passed both the Force Bill -- authorizing Jackson to use the military if necessary to collect tariff duties -- and a compromise tariff that reduced those duties. The South Carolina convention responded on March 15 by rescinding the Ordinance of Nullification but three days later maintained its principles -- in principle -- by nullifying the Force Bill.
The nullification crisis made President Jackson a hero to nationalists. But Southerners were made more aware of their minority position and more aware of their vulnerability to a Northern majority as long as they remained in the union.
It took three more decades of smoldering resentment -- and the election of abolitionist Abraham Lincoln -- for the firebrands of the South to whip their confederates into one of the most deadly and destructive civil wars (actually uncivil to say the least).
The Apostles book documents Michigan's little-known part in fighting off Southern slaveholders who invaded this free state to reclaim fugitive slaves who had sought refuge here through the Underground Railroad. Those actions began as early as 1809 and continued into the 1840s, culminating in the "Cassopolis Outrage" and other raids by Kentuckians into southwestern Michigan. These mini-conflicts ended with slaveholders thrown into Michigan prisons and sparked the strengthening of slavery laws by Birney nemesis Henry Clay and other Southerners in Congress and the more stringent Fugitive Slave Law of 1850.
And, of course, the seeds of that war had been planted not only by the unholy compromise on slavery that made the Union possible in the first place but by the misguided Virginia and Kentucky Resolutions of 1798-1799 that were opposed by Birney and like-minded constitutionalists.
###
---
"The BUZZ" - Read Feedback From Readers!
Ebmspang Says: On May 09, 2017 at 03:12 AM

Nice story. I will add though that often it is easy for us to look back in hindsight and judge people for their actions in an earlier time in history. It is true that Jackson was a slave holder, an Indian killer, etc., etc. just as it is true that every president, perhaps with the exception of Jimmy Carter, all have other men's blood on their hands. However, although by modern standards, these are totally heinous, unacceptable behaviors, in Jackson's day, his lifestyle, like that lead by many others of his time, was the general norm. What I would find interesting is if Jackson were to somehow be teleported into the future that we currently live in, how he would judge his countrymen for the vast empire that we have built around the world meddling in other countries affairs, how we are currently fighting 7 wars simultaneously, how we have created a huge welfare class totally dependent on government handouts, provided by an Unconstitutional personal income tax system, unsustainable debt created by a out of control private central banking system, which he personally took a bullet for trying to defend the country against, and how our socialist-leaning government system has literally replaced our once great Constitutional Federal Republic! I suspect Old Hickey would be so upset by what he'd found today, he would personally organize another revolution. Jackson was a man's man and a true patriot who believed in individual freedom and liberty. We need more like him today, strike the slavery and the Indian killing of course!
---

Dave Rogers




Dave Rogers is a former editorial writer for the Bay City Times and a widely read,
respected journalist/writer in and around Bay City.
(Contact Dave Via Email at carraroe@aol.com)

More from Dave Rogers
---
Send This Story to a Friend!
Letter to the editor
Link to this Story
Printer-Friendly Story View
---
--- Advertisments ---