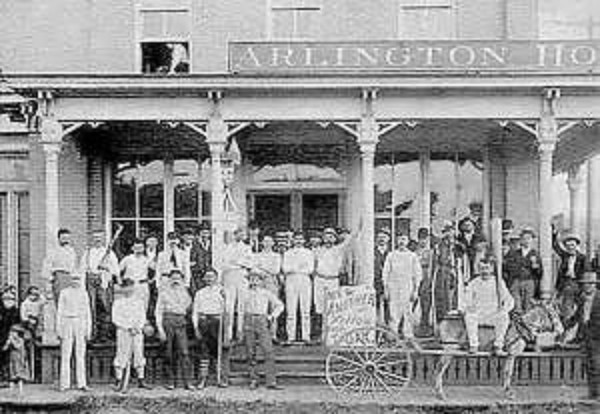 The Arlington House, built in 1868 for $17,000 and known as Bunnell House, Rouech House and Wells House until 1882, was the principal hostelry of West Bay City.
---
WEST SIDE STORY: History of Bay City's Iconic Neighborhood
May 17, 2017 5 Comments
By: Dave Rogers
It's heart-warming, at least to me, every now and then to recall the history of the neighborhood where I grew up --Bay City's West Side.
The images continue to flood my mind when I drive down Vermont and recollections flicker of the long-gone factories of the Evenknit Hosiery Mills that once occupied the parking lots from Midland to Walnut.
The mystery of how liquid was spun into nylon has never resolved itself in my understanding, but I can still see rows of women minding the equipment winding spools of yarn for fabric, the liquid rising from trays in the machines to miraculously become thread.
Across Vermont Avenue, in what is now the parking lot of an ice cream parlor, was a shabby, unpainted clapboard building we young boys were sure was a gangster hangout. After all, what else could the men who filed in there periodically be carrying in those long bags but machine guns?
It took many years before the realization hit home: those were cases for squash rackets! Not machine guns. Some of the denizens of the West Side Racquet Club were partners when I played the arcane game of squash myself at the YMCA in the 1960s.
Besides the mysteries of nylon and squash racquets, the neighborhood was a place buzzing with business activity. Except for Engine, Hose and Chemical Company No. 8 at Linn and Vermont, of course, where I made the mistake of innocently asking a fireman leaning back on a chair outside when he ever worked. Only the fact that I delivered papers to the fire barn saved me from a good thrashing. That fireman, Ed Glaza, later became a good friend who thankfully had a short memory.
Another public servant with whom I became acquainted was genial Sgt. Ed O'Hare, a juvenile officer of the Bay City Police Department. Thankfully, through his counsel during infrequent visits to my classroom at St. Mary School, I avoided any residence in the Bay County Juvenile Home, the old Boutell Mansion at Fifth and Madison.
The cornucopia of occupations was represented on Linn Street south of Midland in 1929; shoe shiner James Tanney, contractor Charles Paquette, barbers Frank Luibrand and Louis Robinson, shoemaker John Gwizdala, furrier John Karpis, butcher George Behmlander, printer F.E. Lutzke, grocer Eustache Brisbois -- all in one block.
Trainmen's Hall was there, at 110-114 Linn, gathering place for the scores of workers on the Michigan Central that had a roundhouse, yards, and depot between State Street and Marquette Avenue. Upstairs also were Sylvia Rebekah Lodge No. 113, Brotherhood of RT, Orangemen's Lodge, and Olive Lodge No. 54. No TV in those days, you went to meetings for entertainment.
Later, in the 1940s, the Vaughn Baking Company occupied space behind the Lumberman's State Bank on Linn, where young boys like me could see the loaves of bread being wrapped in waxed paper and smell the bakery ovens that produced those golden loaves.
Much later, after those boyhood years, I became aware of the history of that West Side area, first known as the Village of Wenona. The history of West Bay City is more romantic than the days of railroads, knitting mills and bakeries.
Wenona of old was said to be one of the most beautiful spots in the Saginaw Valley. Indian trails from the south converged on pine and oak groves there. Originally known as Lake City, the name came from Henry Wadsworth Longfellow's poems "Hiawatha" and "Evangeline." Wenona means "first born," and was given to Longfellow's beautiful young mother of Hiawatha who died at his birth.
In the epic story of Evangeline, the sorrow-stricken maiden seeks her loved one, Gabriel, through woods and plains to the shores of the Saginaw River where he has built a lodge. Although she fails to find her lover, she is soothed by the peaceful aspect of the country around her.
The ubiquitous James G. Birney and his brother-in-law Dr. Daniel Fitzhugh had purchased most of the government lots obtained from the Indians in 1819 by Gen. Lewis Cass in the Treaty of Saginaw. The price for 6 million acres? A pittance of $3,000 down and $1,000 a year "forever." Well, forever lasted about 18 years until the deal was renegotiated and reservations for the Indians were established in Isabella County on cutover land.
The first resident of Wenona was reputed to be "Jolly" Jack Hayes, rope ferry operator in the days before the Third Street Bridge.
The 116 acres from the river west to Wenona Avenue were bought by Birney and Fitzhugh in 1842 for $725, some for $5 an acre and some at $1.25 an acre. The duo then sold to Henry Sage and John McGraw in 1864 for $21,000 or $181 an acre.
Wenona, Banks, and Salzburg all were platted by New York legislator turned land speculator, Dr. Fitzhugh. In 1851, Joseph Trombley purchased 25 acres and platted it as Bangor, named by sawmill owner Thomas Whitney, of Bangor, Maine.
After building the mill at Wenona, the remaining land was subdivided into 1,024 lots, Sage and McGraw sold them for $200 a lot, for a total of $205,000, equivalent to $1,765 an acre.
Wenona fit the definition of a "boom town" to a T, especially after Sage and McGraw spent $1 million on the world's largest lumber mill, roughly on the site of today's Hooter's.
The giant mill, built in 1864, employed 120 men and cut 33 million logs in a season. Nearby was a two story company boarding house and tenement 400 feet by 24 feet with 25 apartments, each having a back yard and wood shed. A forerunner of today's public housing no doubt.
The Jackson, Lansing and Saginaw Railroad soon laid tracks and served the mill, carrying its timber bounty to the world. Wenona was also the northern terminus of the Michigan Central Railroad.
In 1862, a great Indian tribal meeting was held at Wenona. Ottawas, Hurons, Potawatomies, Menominees and Ojibwa camped along the river for more than a mile. A chief was elected for each tribe.
Whites living on the West Side were alarmed by the vast number of natives. Some women and children went to the East Side to sleep and pickets guarded the city.
Finally, a delegation of leaders, pioneers Joseph and Mader Tromble and Father H.J. Schutjes of St. Mary Church visited the chiefs and asked if they were going to be massacred. "No, certainly not," the Indian sages replied. "We're just here to collect the annual payment due us from the treaty."
Soon, the horde of Indians was gone and the river flowed placidly as it has for thousands of years past the Village of Wenona.
Next: Mounds, shipbuilding, and mines on the West Side.
---
"The BUZZ" - Read Feedback From Readers!
keyboardkid4 Says: On May 19, 2017 at 12:52 PM

Thank you for the excellent article; I look forward to the next installment. Having grown up in the Salzburg area many years ago it brought back vivid memories of steam engines and the west side depots, men walking home from work after the plant whistle blew, the 24/7 fires burning at the middlegrounds dump ... and did you know that back in our day a true "mixed marriage" was that of a west sider and an east sider? The old folks told us that those marriages seldom lasted ...
Babbadick Says: On May 19, 2017 at 07:03 PM

An excellent article of the history of West Bay City. I was born in the village of Salzburg 88 years ago and currently live on Wenona Street. My entire family have lived in the Salzburg area for more than 150 years. I look forward to more articles regarding the history of West Bay City. Thank you Dave.
Mkg46 Says: On May 21, 2017 at 08:32 AM

My father, John Volk, had a grocery store on the corner of Henry and South Union. It was called Johnny's Food Shop. I worked there when I was a kid. The building is still there on the corner. I think of dad every time I drive by. I grew up in the Banks area by Trombley School and attended Visitation School.
mac Says: On May 22, 2017 at 06:46 AM

Too bad you never really learned how to use those rackets, Dave.
DEMARABGRETIRED Says: On May 22, 2017 at 04:26 PM

HI DAVE,,I READ A LOT BUT REALLY ENJOYED THIS ARTICLE.
WE, WHO LIVE IN THE BAY CITY AREA DO NOT APPRECIATE WHERE WE LIVE,, I ENJOY THE ARTICLES AS THEY GIVE
US AN IDEA HOW LUCKY WE ARE TO LIVE HERE.
THANKS AGAIN DAVE..
---

Dave Rogers




Dave Rogers is a former editorial writer for the Bay City Times and a widely read,
respected journalist/writer in and around Bay City.
(Contact Dave Via Email at carraroe@aol.com)

More from Dave Rogers
---
Send This Story to a Friend!
Letter to the editor
Link to this Story
Printer-Friendly Story View
---
--- Advertisments ---