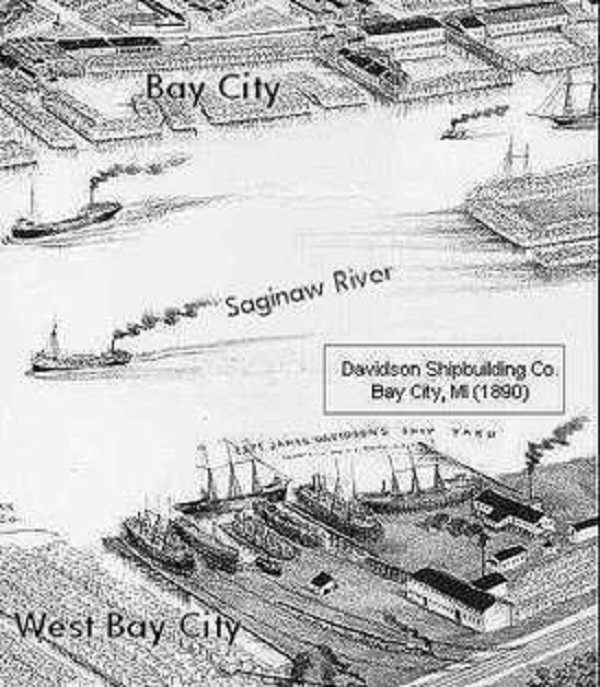 The Davidson shipyard built the largest wooden ships on the Great Lakes on the Saginaw River in West Bay City. (Art courtesy bay-journal.com)
---
MORE WEST SIDE REVERIE: After Boarding School, A Stranger in Paradise
May 29, 2017 2 Comments
By: Dave Rogers
Memories were launched the moment I arrived on the West Side of Bay City as a 10-year-old fifth grader and began attending St. Mary School in 1947.
After four and a half years with the Dominican Sisters at the Holy Rosary Academy boarding school, answering bells for classes and meals, singing Latin hymns early mornings at the chapel, I was suddenly a stranger in paradise. And that paradise was the West Side of Bay City.
I learned the streets and the names of residents from peddling newspapers with my friend, Paul, who also lived on Linn Street. We had one of the largest routes in the city, 160 homes as I recall, and pickup point was the southwest corner of Midland and Henry. Heavy Sunday papers of 100 pages or more brought a heads up from Frank Robison, circulation director. "Be ready boys, big paper this Sunday," he would caution from his car as we folded papers on the corner.
One of our favorite exploits was hooking cars and buses on the icy winter roads, riding for a block or two and running off laughing without realizing how dangerous it had been.
Hanging out "down by the river," sometimes swimming across to St. Laurent Brothers, running out on the Third Street Bridge, diving off and swimming back was another favorite pastime.
The old boats abandoned on the bank of the river in the former Davidson Shipyard were a magnet for young boys. Later I learned their names and their historical significance as among the longest wooden boats ever made, at least on the Great Lakes. The huge rudder of the Chieftain stands as a tribute to the 100 leviathans built by Capt. James Davidson on that site. The river sloshes around the bones of others depicted on a display in Veterans Memorial Park.
I fell from the deck of the Montezuma when a spike in the side came loose, saving serious injury because my friend Paul was just getting up on a piling and we hit back-to-back, cushioning my fall.
Only the ghosts of men remain atop scaffolds on the frames of giant schooners and the hulls of smaller pleasure craft constructed from the 1850s on at Tripp's, Crossthwaite's, Ouelette's, Huskins', Kaunitz's and larger steel builders like Wheeler and Defoe on the West Side riverfront.
Walking on the frozen river one day, I kicked at a 7-Up bottle stuck near a piling. Instantly I was under the icy water plunging down feet first. Luckily, I bobbed straight back up to the surface and my friend Jim was close enough on the solid ice to pull me out. I lit a fire with my last match and danced around in my underwear until my clothes dried off, sort of, and was able to walk home.
Beutel's Cannery in the fall had baskets of tomatoes awaiting processing into ketchup. What a temptation to grab a few, chomp on some and toss the others at each other or perhaps at cars. Thank heaven we never yielded to that kind of activity!
Beutel's also had fields of pickle barrels where, I learned later, the Sage and McGraw lumber mill, largest in the world at the time, had been located. How we ever resisted grabbing half-cured pickles out of the barrels for a tasty, salty, treat I'll never know.
Climbing to the steeple of the old Westminster Presbyterian Church, overlooking the iconic Sage Library, we West Side River Rats never knew until much later in life the dramatic history of the library, and the nearby West Bay City High School (on the site of today's Allen Medical Clinic), whose Cowboys, challenged Bay City Eastern's Indians on gridiron and hard court from the 1880s until 1922.
A major turning point in my life came when I dis-enrolled in St. Mary after the sixth grade and signed up for the new Linsday Middle School building in Banks. We got a three-month vacation when a strike held up the school's opening until after Thanksgiving. The path to school led through the old St. Joseph Cemetery at State and Elm; it wasn't until many years later when I found out that Fabian Joe Fournier had been buried there in 1876. And I theorized -- with much evidence to support it -- he was the main model for Paul Bunyan.
Another fateful experience was meeting my future wife, Mary Dolores, when Paul's dad pulled his Nash into her grandfather's gas station, Barron's Service, on Henry at Mosher. Her smile that lit up the neighborhood has never left me since that day when she waited on the drive while her father and grandfather were at lunch.
The first column on this subject drew perhaps more comment than my usual writings about history, including the following:
"Having grown up in the Salzburg area many years ago it brought back vivid memories of steam engines and the west side depots, men walking home from work after the plant whistle blew, the 24/7 fires burning at the middle grounds dump ... and did you know that back in our day a true "mixed marriage" was that of a west sider and an east sider? The old folks told us that those marriages seldom lasted ... Tom Miller"
We often played on or near the Pere Marquette railroad bridge, never having a clue that the Birney Mound had been located there until it was leveled long before we arrived. According to old histories, the mound had contained skeletons of a race of Paleo-Indians about 7 feet tall. The bones were sent to a member of the Jennison family in Philadelphia but they crumbled before an academic evaluation could be made.
Did those stories of huge skeletons discovered here in ages gone by inspire me to write a book about the roots of the Paul Bunyan legend after my newspaper career was over? Certainly, just as the name James G. Birney, his pioneering abolition of slavery crusade and his connection with Bay City's early days led to the book "Apostles of Equality," published by Michigan State in 2011.
Of course, there is more. What happened in West Bay City in the 1800s and 1900s is a microcosm of life in industrial cities across the country. I'm reliving my slice of life there from a nostalgic view that never quits projecting a panoply of history from the facades of old buildings, the idle tracks of trains that ran much more often in the old days, and the Masonic and Woodmen of the World lodges whose remnants still exist in second stories. Time capsules still captivating.
As Tom Miller recalled, men streaming to the factories in response to the plant whistles, plus the coal mines on North Union and in Monitor and Frankenlust. Tales persist of mine shafts running from Bangor Road for miles under Saginaw Bay and the intrepid workers who scrabbled those depths for a living.
Is there a novel in the Tales of old West Bay City? Absolutely, my imagination whispers.
There is unfinished business, of course. So many stories to tell, so little time.
---
"The BUZZ" - Read Feedback From Readers!
tennis1960 Says: On June 01, 2017 at 01:36 PM

Yet again your article hits home even here in Chicago. I am always fascinated with the topics you continue to find historically related items to keep me close to home. See you in August !!!
mdoloresbarron Says: On June 02, 2017 at 04:38 PM

Your columns are very interesting, especially when mentioning people with whom I am familiar.
---

Dave Rogers




Dave Rogers is a former editorial writer for the Bay City Times and a widely read,
respected journalist/writer in and around Bay City.
(Contact Dave Via Email at carraroe@aol.com)

More from Dave Rogers
---
Send This Story to a Friend!
Letter to the editor
Link to this Story
Printer-Friendly Story View
---
--- Advertisments ---