WARBLERS THRIVE: Once Endangered, Kirtland's Grayling Tours Show Comeback
June 17, 2017 1 Comments
By: Dave Rogers
Bryant Eddy, bird specialist, points to Kirtland's Warbler habitat near Grayling.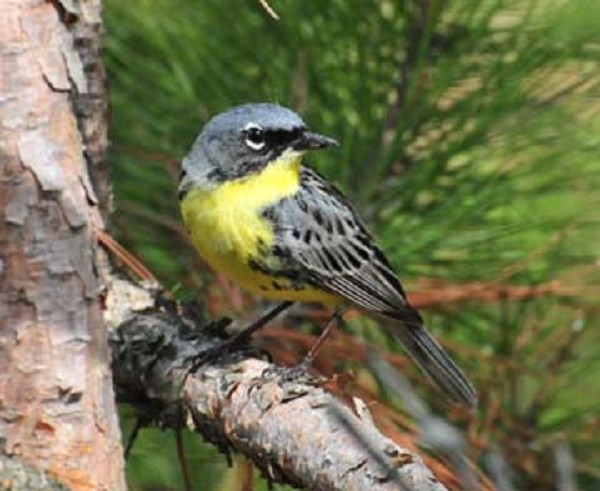 Colorful Kirtland's Warbler travels from Michigan jack pine forests to Bahamas each year.
(Joel Trick, U.S. Fish & Wildlife Service)
One of Michigan's favorite birds, the Kirtland's Warbler, is the feature of popular early morning tours at Hartwick Pines State Park, Grayling.
But if you are a birding enthusiast and want to see the Kirtland's, you must act quickly: the tiny (1/2 ounce) birds head for the Bahamas soon, thus causing tours to end July 4.
"Come prepared, wearing sturdy shoes, and ready to spend about two hours walking," said Bryant Eddy, aviary biologist with the Michigan Audubon Society who was interviewed Thursday at his temporary home at historic Camp Wa Wa Sum, a Michigan State University facility on the AuSable River.
"There is no cost for the tour, although you must have a Michigan Recreation Passport to enter the park," said Eddy.
An intense 22-year-old biology student, Eddy will be moving on from Grayling to Washington State for more study after the warblers depart. He has been staying at Wa Wa Sum since May and conducting the daily warbler tours.
According to the Michigan Department of Natural Resources (DNR), scientists did not describe the species until 1851 when a male was collected at Dr. Jared Kirtland's farm on the outskirts of Cleveland, Ohio. That first specimen was sent to the Smithsonian Institution in Washington, D.C.
The species eventually was named in honor of Dr. Kirtland, (1793-1877) a physician who authored the first lists of birds, mammals, fishes, reptiles, and amphibians of Ohio.
Connecticut-born, Yale-educated, Dr. Kirtland was one of the nation's leading naturalists and also served six years in the Ohio Legislature. He was an advocate of prison reform and was called "the father of the new penitentiary system.
"A rare bird of the Michigan jack pine forests, the Kirtland's Warbler is dependent upon fire to provide the small trees and open areas that meet its rigid habitat requirements for nesting," states the Cornell Lab of Ornithology.
In other words, the Kirtland's Warbler only reproduces in jack pines that have been burned over. A pair of Kirtland's warblers requires at least eight acres of dense young jack pine forest to nest, but often 30 to 40 acres is needed to raise their young.
The warblers return to Michigan from the Bahamas in early May, raise their young and head back the 1,200 miles to the West Indies island in July.
According to the Michigan DNR, in 1903 that Norman A. Wood discovered the first nest in Oscoda County. Until 1996, all nests were found within 60 miles of this site. Since then, a small number of nests have been found each year in Michigan's Upper Peninsula. Nesting also has occurred in Wisconsin and the province of Ontario.
Habitat difficulties, as well as nest predation by cowbirds, were perhaps the main reasons the bird's numbers dropped to less than 200 singing males in 1975-1977. In recent years estimates place the number of singing males at about 1,400.
Since 1972, the DNR has removed about 4,000 cowbirds per year from warbler habitat in northern Michigan. The state's goal is to maintain some 36,000 to 40,000 acres of suitable nesting habitat for the Kirtland's warbler on a sustained basis. This will be done through planned rotation cuttings on 140,000 acres of jack pine stands within designated management areas.
"The jack pine requires fire to open its cones and spread its seeds. The warbler first appears in an area about six years after a fire when the new growth is dense and is about 1.5 to 2.0 meters (5.0-6.5 feet) high. After about 15 years, when the trees are 3.0 to 5.0 meters (10.0 to 16.5 feet) high, the warbler leaves the area.
"The female Kirtland's Warbler is more selective than the male in her choice of habitat, and the best areas attract more females than males. The last residents of a tract that is getting too old are always unmated males.
"The oldest recorded Kirtland's warbler was a male at least 9 years old when he was recaptured during banding operations in Michigan in 1949."
###
---
---

Dave Rogers




Dave Rogers is a former editorial writer for the Bay City Times and a widely read,
respected journalist/writer in and around Bay City.
(Contact Dave Via Email at carraroe@aol.com)

More from Dave Rogers
---
Send This Story to a Friend!
Letter to the editor
Link to this Story
Printer-Friendly Story View
---
--- Advertisments ---