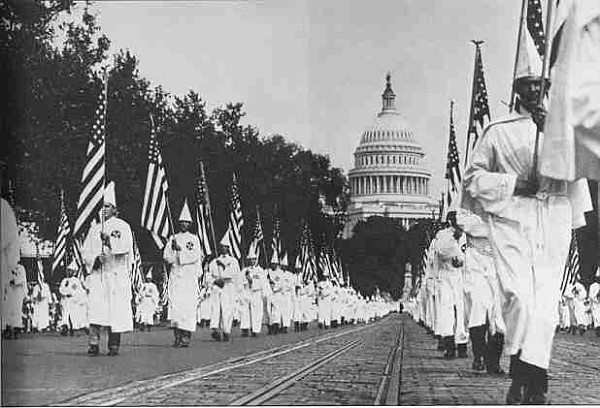 About 40,000 Klan members paraded fully robed Aug. 8, 1925, calling for immigration restrictions based on race.
---
POISON ON TWO FRONTS: Klan Targets 'Pigmented Americans," Catholics, etc.
November 24, 2017 1 Comments
By: Dave Rogers
(NOTE: This is the sixth in a series of semi-fictional articles dramatizing events in this area during World War I. The local names have been changed to protect the innocent or the guilty, as the case may be.)
The main instrument of the Kaiser's war might have been unleashed at Ypres, Belgium, on 20 July 1915 -- poison gas. Observed Dodge: "We have stayed out of the war for about three years. Now, after the sinking of the Lusitania, we're in the war and our boys are marching to their deaths or dying in trenches alongside our neighbors the Canadians, the British Tommies, and the French Frogs."
Addressing the young chemical firm founder he queried hopefully: "Whit, do you have the capability of making it -- poison gas I mean? I was at the Press Club in Washington last week and Mr. Wilson said his military men need at least 1,000 tons of mustard oil a week, but nobody in this country can figure out how to formulate it."
"Well, I tend to believe the story that Winston Churchill deliberately allowed the Lusitania to be sunk to draw the U.S. into the war," said Barnes. "But now we're committed and we must make the best of it and stop the Kaiser in his tracks. I plan to get Doctor Adams up to Brinewell Center from Case and figure out how to make the stuff Mr. Wilson needs, although I don't much like the idea."
A sickening total of 1,195 passengers, including 123 Americans, had gone down with the RMS Lusitania when it was sunk by a single torpedo from a German U-Boat (Unterzeeboot) on May 1, 1915, off Queenstown, Ireland.
Churchill had written a letter to Walter Runciman, president of Britain's Board of Trade, saying: --It is most important to attract neutral shipping to our shores in the hope especially of embroiling the United States with Germany. For our part we want the traffic -- the more the better; and if some of it gets into trouble, better still." Those words echoed eerily because they had had the effect the former First Lord of the Admiralty Churchill had desired: embroiling the pacifistic United States in the world conflict.
American public opinion immediately turned hawkish after the sinking but no troops were sent overseas until early 1918.Woodrow Wilson had become President based on the campaign "he kept us out of war." But in early 1917, after Czar Nicholas had been deposed in Russia, Wilson was convinced "the world must be made safe for Democracy." Declaring his 14 Points, including a world free of war and a League of Nations to solve disputes before they escalated to bloodshed, Wilson also ordered the government to draft three million men for service. "Over There, Over There, the Yanks Are Coming," portrayed the change in attitudes as George M. Cohan's patriotic song became popular across the nation.
Pro-German feeling among the many German immigrants, especially those who were members of the German-American Bund, caused conflicts in towns small and large.
The Meridian County sheriff was looking for a German loyalist who had shredded and stomped with muddy boots on the American flag hanging from a farmer's flagpole out in the country near Brinewell Center; that was written up in the Republican. The German class taught by Miss Clara Schwartz at Brinewell Center High was canceled. Grocery stores around town changed their ads listing sauerkraut to "liberty cabbage."
Chief told me he had read that in Chicago a butcher was beaten by a crowd and arrested for hanging out a dirty apron on which the words "American flag" were written and in Indianapolis a German sympathizing doctor's home had windows broken and paint splashed on it. The paint spelled out t-r-a-i-t-o-r. We were in a war at home as well as Over There.
The Woodland chemical plant had attracted a number of foreigners, especially Germans who had experience with chemicals, to jobs in Brinewell Center.
The foreigners, in turn, attracted the super-American Ku Klux Klan. One of the Klan?s earliest organizing targets, therefore, was Brinewell, as I had found out, having to pay my Klan dues to keep my job in the Woodland lab.
"We need you to sign up, Iverson," said Aldridge, thrusting a paper at me after work in the plant one day. "The KKK, you know, everybody's in it -- all real Americans that is. Ten bucks gets you started but you have to buy your own robes, helmet, rings, all that stuff. Here's one of the cards you can sign right now."
"INVISIBLE EMPIRE KNIGHTS OF THE KU KLUX KLAN," the card read. "This certifies that the bearer, KL ____________________ whose signature appears hereon has been found worthy of advancement in the mysteries of KlanKraft and has been passed to K-Trio or KNIGHTS OF THE GREAT FOREST and is entitled to the rights and privileges of K-Duo, or Knights Kamellia."
Pleading lack of funds, I put Aldridge off, but I knew he would be back -- he had a hook into me as my boss. He could fire me or make my life miserable at work. Obviously, as a "pigmented American," Chief wasn't going to be offered the "honor" of being a member of Klavern 46, Brinewell Center, Realm of Michigan. He only wanted to stay as far away from the KKK as he could, especially after the close call at the circus.
I didn't consider myself really a Protestant, as Klan members were; my family from Canada belonged to the Lutheran leaning Swedish Evangelical Church of which there were no branches nearby. The closest mission was at Detroit, more than a hundred miles away. I guess you could say I was more of an agnostic than anything but I still have my old country Gustav Vasa Bible from home. I didn't hold to the Klan idea, stated on their recruitment literature: "FEAR THE CATHOLIC CHURCH which is hostile to Ideals and Spirit of the American Republic." Catholics seemed like docile people, priests, and nuns at St. Joe's walking around fingering their beads, mumbling prayers. What was there to fear?
Besides the Catholic Church, the Klan opposes abortion, reverse discrimination, and welfare for the unworthy, said Aldridge, noting that the Klan aims to outlaw homosexuality and inter-racial marriages to avoid "the imminent downfall of modern society." He read from a scathing article in the Toledo Times: "There is a book publisher with a home on Long Island who has given innumerable weekend parties with whites and blacks as house guests. He glosses it over with an air of intellectuality by having readings and much worldly and brittle conversation.
"In theater balconies on Broadway, there are often found white men with high brown girls and vice versa. They have even promenaded Fifth Avenue. The shuffling Negro roustabout type of the Harlem corners has been supplanted by the gaudy sheik type with gold teeth and a pearl derby. During the past winter, more than 200 sepia girls appeared in the choruses of theaters and cabarets below 72nd Street. They were for the entertainment of jaded whites."
To keep my job I had to give the ten spot, which was as much as I made a week, to Aldridge eventually; I paid him two bucks from each pay envelope until he wrote out my card. But he never could rope me into going to any of the Klavern meetings; I held out on that until finally, it was time for me to go to war. Besides, I knew some of them wouldn't forget that I was with Burt Harding when he pulled the gun on them at the circus while they were abusing the Chief.
"There is nothing secret about the Klan except its membership," said Aldridge, expounding on the benefits of the KKK to the community one day in the lunchroom. "Every Klansman, in a sense, is a secret-service officer, working for the re-establishment of law. Every Klansman takes an oath that he will help, aid and assist all the duly constituted officers of the law in their legal duties. Mingling with their fellowmen, they get hints and learn things that, when turned over to the authorities, result in the arrest and prosecution and punishment of those who do not obey the law."
(To be continued)
###
---
---

Dave Rogers




Dave Rogers is a former editorial writer for the Bay City Times and a widely read,
respected journalist/writer in and around Bay City.
(Contact Dave Via Email at carraroe@aol.com)

More from Dave Rogers
---
Send This Story to a Friend!
Letter to the editor
Link to this Story
Printer-Friendly Story View
---
--- Advertisments ---