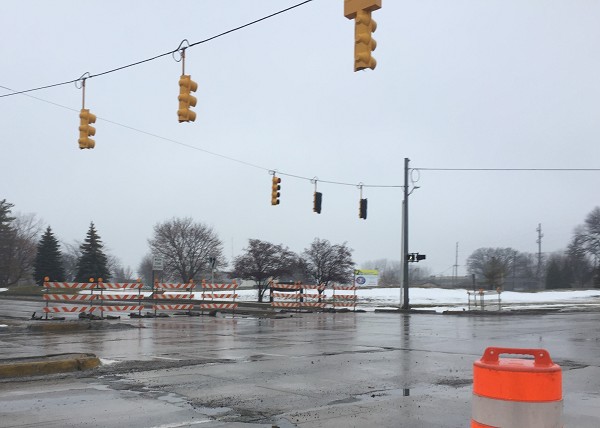 Barricaded Independence Bridge is shut for repairs for three months.
---
BRIDGE POSITION: Bay County Leadership Looks to City for Plan
January 11, 2018 1 Comments
By: Dave Rogers
(EDITOR'S NOTE: This letter states the official position of the Bay County Commission to date relative to a replacement/maintenance need for bridges over the Saginaw River located in Bay City.)
Letter to Bay City Commission Regarding City Bridges
December 18, 2017
Andrew Niedzinski
Bay City Commission President
RE: Independence Bridge
Dear Mr.Niedzinski:
The Bay County Commissioners and Bay County Executive strive to be good stewards of the County taxpayers? dollars. We remain committed to ensuring that any request for increased taxes is vigorously examined before it is placed on any County-wide ballot.
The Bay City Commission has not, to date, presented the County Board of Commissioners with any concrete proposal to repair or replace the Independence Bridge through either a county-wide millage or issuance of bonds backed by the County?s full faith and credit.
Construction of the $16 million-dollar Independence Bridge in the early 1970s was originally financed through a county-wide, voter-approved $7 million dollar bond, $3 million in City funds, and $6 million in federal grant dollars. The City agreed, as part of its contribution to the bridge project, that it would pay all costs of operation, administration, and maintenance of the bridge as costs were incurred once construction was complete and the bridge opened for traffic.
The County recognizes the financial difficulties faced by the City in its continued maintenance and operation of the Independence Bridge on an ever-tightening budget. However, this responsibility was voluntarily undertaken by the City in exchange for a sizable, multi-million dollar bond subsidized by Bay County residents.
The County may issue bonds or levy taxes on County residents only when specifically authorized by law to do so. There are many different statutes that govern the type of taxes the County may levy when it can borrow money, incur debt and issue bonds. This is a complex issue and the imposition of additional taxes on a County-wide basis will impact each and every Bay County taxpayer. It is not a request the County Board and Executive take lightly.
The Bay City Commission has a responsibility to conduct its own due diligence and present to the Bay County Board of Commissioners and the Bay County Road Commission a concise plan, proposal or request for financial assistance. It is not the Bay County Commission or Executive?s responsibility to research this issue or create a plan for removal, repair or replacement of the Independence Street Bridge.
Bay County remains available to discuss this project with the City Commission members and other potential stakeholders in this project, including representatives of the Road Commission, state, and federal government, and private entities that may also offer valuable input and offer options to resolve this very difficult matter. Absent such a dialogue, the County awaits a detailed proposal from the Bay City Commission identifying what statute it relies on to request that County tax dollars once again fund the Independence Bridge (or its replacement), as well as all of the details associated with the project.
Sincerely,
JAMES A. BARCIA
Bay County Executive
THOMAS M. HEREK
Bay County Commission Chair
MICHAEL J. DURANCZYK
Bay County Commission Vice Chair
###
---
"The BUZZ" - Read Feedback From Readers!
sunbeamf Says: On January 15, 2018 at 10:19 AM

I dislike taxes as much as the next guy but I realize that they allow us to exist in a civilized manner. If there were no taxes I would have to contract and pay for garbage removal, snow plowing, repairs to water mains and sewers, etc. This letter is a part of the dance that the county and city are engaged in about the bridges and Independence Bridge in particular. I am a resident of Bangor Township and I use the bridges almost every day but I don't pay a dime towards their maintenance. Where's the fairness in that? Just because the county commissioners negotiated a sweetheart deal back when the Independence Bridge was built doesn't make it right. If I have a choice--taxes or toll--I would certainly choose a tax. So stop all the posturing and get it done!!
---

Dave Rogers




Dave Rogers is a former editorial writer for the Bay City Times and a widely read,
respected journalist/writer in and around Bay City.
(Contact Dave Via Email at carraroe@aol.com)

More from Dave Rogers
---
Send This Story to a Friend!
Letter to the editor
Link to this Story
Printer-Friendly Story View
---
--- Advertisments ---