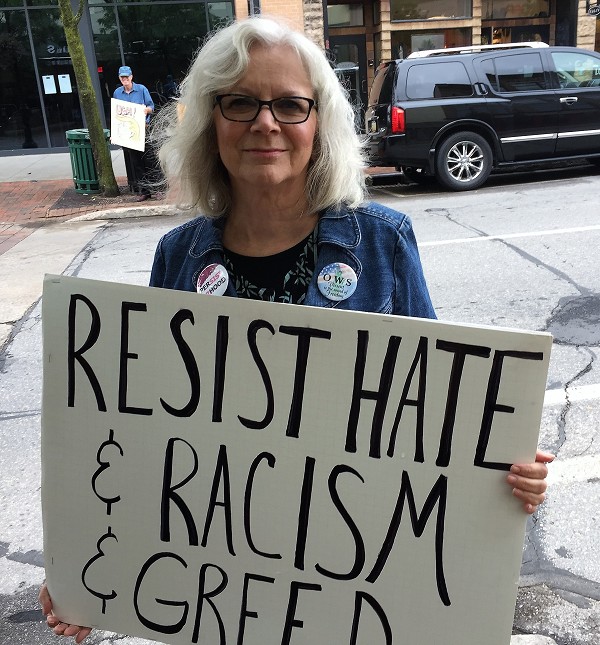 Donna Miller of Traverse City is among stalwarts who have protested injustice for seven years in Traverse City.
---
NORTHERN DILEMMA: Traverse City Group's Protest Ongoing for 7 Years
Street People Struggle to Live, While Well-Heeled Tourists Thrive
August 28, 2018 1 Comments
By: Dave Rogers
Flying under the news media radar, a grassroots group of activists have protested injustice every Saturday in Traverse City for the past seven years.
My wife Dolores and I, doing a "sit and sign" at Horizon Books on Front Street for my new book "Historic Tales from Michigan -- Up North" -- were surprised to see the street outside gradually fill up with people carrying signs.
They were a stark contrast to the Gucci shod Saks Fifth Avenue clad populace, mainly tourists we were told, crowding the upscale shops and milling about buying things they probably don't need.
(The book was a bestseller that week in TC bookstores, a bookstore manager told me via e-mail today to the publisher, The History Press of Charleston, SC, offering some solace for the long trip in heavy traffic on I-75 to get there.)
"What's going on?" I asked a woman carrying a sign who identified herself as Donna Miller.
"We've been out here every Saturday for the past seven years trying to bring attention to the injustice in the American economy," she stated. "This all started with the Wall Street corruption, and we've been going ever since."
That situation became more clear from recent headlines asserting that Traverse City and area businesses can't find workers because they can't afford the rent.
I talked to a young man at a store who looked very tired. "I have to work two jobs at $10 per hour because that's the only way I can afford rent that only a $15 per hour job would handle."
TC Mayor Jim Carruthers, writing in The Traverse City Record-Eagle, noted that about 6,000 Grand Traverse County residents, including some 2,250 children receive SNAP (Supplemental Nutrition Assistance, a federal government program that benefits those who struggle to feed themselves and their families. SNAP provides assistance to one of every 10 residents lets SNAP allows them to buy locally grown fruits and vegetables that they buy from local vendors at farmer's markets.
Local Rotary clubs and farmers are partnering to provide locally-produced, healthy food to neighbors in need, the Healthy Harvest organization commented. Rotarians head a team of volunteers that visit local farms and gather the fresh fruits and vegetables that would otherwise go to waste. Food Rescue then transport the donations to food pantries and community meal sites in the five-county area around TC.
As we left the bookstore after signing books, we met a street person named Steve, not part of the protest group, who engaged us in conversation.
Steve had a story that obviously he had told many times before. He ran on at length about his personal experience with a small timber wolf that apparently had been injured. The wolf was being sheltered in a barn by a farm family.
He crashed there one night after a heavy drinking session in a bar, Steve admitted. Sleeping on a pile of hay in the barn, he was awakened by the timber wolf. No, he wasn't in danger; actually, the wolf was picking up hay and piling it on him bit by bit. Was the animal aware that Steve could die of the cold? That was Steve's conclusion, as unlikely as it could be.
Steve was a writer for a little publication called "TC Street Voices" that the publishers used for fund-raising for the homeless, Steve no doubt among them.
"The vendors selling this magazine depend on this income for shelter, transportation, communication, food and other necessities," it continued.
"TC Street Voices is written and sold by people impacted by poverty in Traverse City, the magazine states. "We are concerned about food scarcity as the fall and winter are not so far off, the editor, Peggy, wrote.
"As people in Traverse City retreat to their houses on cooler days and resume their work/school/retirement routines, there are fewer people on the streets to shop for local products and purchase magazines from TC Street voices vendors," Peggy illuminated. "This begins the long season of limited income for those who depend on its sales. Please continue to purchase magazines and consider a donation to this non-profit organization."
So ended our sojourn to the land of plenty -- and poverty -- an enlightening experience about life in America that few of us in the mid-Michigan area experience regularly. We will return to TC for another signing session Oct. 13 at Brilliant Books, also on Front Street.
###
---
---

Dave Rogers




Dave Rogers is a former editorial writer for the Bay City Times and a widely read,
respected journalist/writer in and around Bay City.
(Contact Dave Via Email at carraroe@aol.com)

More from Dave Rogers
---
Send This Story to a Friend!
Letter to the editor
Link to this Story
Printer-Friendly Story View
---
--- Advertisments ---