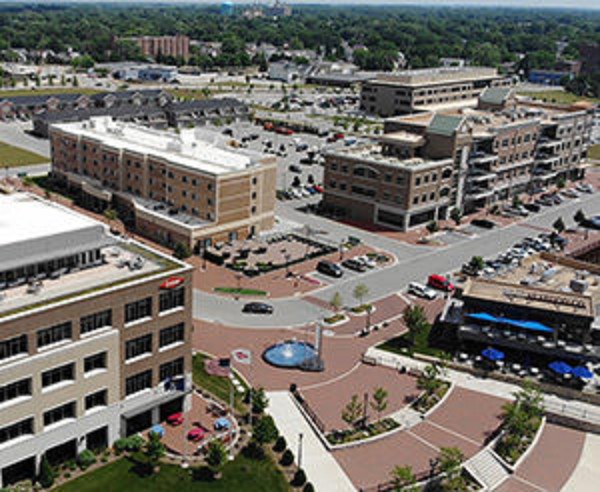 Aerial photo shows growth of Shaheen Development in Uptown Bay City.
---
UPTOWN SURGES: Shaheen Development Announces Expansion at Old I-B Site
$8.6 Million Building Now Going Up, Adding to Multi-Million Dollar Project
October 4, 2018 1 Comments
By: Dave Rogers
The rebirth of Uptown Bay City on a historic former industrial site is accelerating under the impetus of the leaders of Shaheen Development.
The firm has announced that construction is now underway on an $8.6 million, three-story mixed use building located at 101 East Main Street, on the corner of East Main Street and Saginaw Street, across from the Dow Bay Area Family YMCA.
The new building will further develop the 43-acre waterfront & modern urbanist inspired neighborhood that has proven to be a very successful addition to Bay City, the company states in a news release.
Trevor Keyes, President, and CEO of Bay Future commented: "When the Uptown Bay City Project was announced in 2012 this was the vision laid out by Shaheen Development: A place that was accessible to all, was a part of the community, full of energy, attractions, comfort, and commerce. Piece by piece, this monumental vision, and undertaking, has taken shape, catalyzing efforts in and around Uptown that translates into real economic growth, quality of life, sense of place, and jobs for our community. We are very fortunate to have that leadership and vision in Bay City and look forward to continuing to work together to build a robust future here."
The location was home to the Industrial Brownhoist Co., heavy crane fabricators, for more than a century. Springing from the small MacDowell Foundry at Saginaw and Columbus it acquired in 1873, the I-B went on to worldwide fame. Originally the Industrial Works, the firm acquired the Brown Hoisting Company of Cleveland, Ohio, in 1927.
In 1881, the firm built the first railroad steam shovel built in the United States. Its cranes were used in the construction of the Panama Canal, the Mackinac Bridge and other notable projects.
The new building will feature office and retail uses on the first floor, and thirty residential apartments on floors two and three. The first floor consists of 19,000 square feet of commercial space. Professional office, commercial and retail spaces are currently available for lease.
Currently, all the residential condominiums built in phase one have sold, according to the Shaheen firm. Uptown Bay City is home to Dow Chemical, Chemical Bank, McLaren Bay Region, Michigan Sugar Company, Raymond James, CMU RC, Uptown Grill, the Real Seafood Company, a Marriott Courtyard Hotel, Don Angelo's Aveda Salon, and many other fine independent retailers and small businesses.
The new building will feature one and two bedroom apartments appointed with stainless appliances, hardwood floors, and quartz counter-tops. One bedroom units will be approximately 900 square feet, and two bedroom units approximately 1,100 square feet. Rental rates will start at $975 per month for one bedroom units and $1,150 per month for two bedroom units. Residential units will be available to move in by the end of 2019.
The 101 E. Main Street development promotes walkability, supports residential living in downtown, increases the local tax base, and aligns with the City of Bay City's identified housing priorities.
"We are excited to have more people move into Uptown. More residents who will enjoy the outstanding quality of life that Bay City has to offer," says Pete Shaheen, Vice President of Shaheen Development, Uptown Bay City developer.
Residents will enjoy easy access to the Dow Bay Area Family YMCA, the Riverwalk, shops, restaurants, parks, and festivals.
The late Marvin Kuszmier, historian, wrote in his Bay-Journal.com: "During the post-WWII years, business began to decline. Faced with stiff competition, the Bay City operations were sold to the Penn-Texas Corporation in 1954, and five years later it was sold to a hotel group based in Miami Beach. Each of these acquisitions proved to be less than successful in revitalizing the company's business.
"By 1960, the Bay City operations employed only a skeleton crew of about 40 workers when the American Hoist Corporation(AHC) of Minneapolis took over ownership, and it became the Industrial Brownhoist Division. This change proved to be a positive move that brought in more work that helped to extend the life the Bay City plant for a few more decades."
###
---
"The BUZZ" - Read Feedback From Readers!
sunbeamf Says: On October 22, 2018 at 07:55 AM

This is, of course, a good thing but I have always wondered about the concentration of funds going into the downtown instead of into the neighborhoods. Are we going to see a city with a sparkling downtown but nothing else? We seem to be concentrating on housing and stores and development concentrating along the river. What about Banks? Columbus? Broadway? West Side? Shouldn't they share in the "Renaissance"? Many Bay Cityans complain about their streets, their taxes, the housing next door and down the street that's falling down, etc. but it seems the lions share of the money available goes downtown. People might say that the developments pay taxes but as I recall they got tax breaks for locating in the downtown. So they aren't even shouldering their share of the city's tax burden. How does that help the guy who lives on 4th street?
As a side note have you guys ever considered doing a piece about the Double Tree and the other hotels in town? What's the occupancy rate? Has the DoubleTree paid their loans to the city? Last time I looked they were behind on their payments. I tried to interest the Times in an article but they didn't answer.
Thanks
---

Dave Rogers




Dave Rogers is a former editorial writer for the Bay City Times and a widely read,
respected journalist/writer in and around Bay City.
(Contact Dave Via Email at carraroe@aol.com)

More from Dave Rogers
---
Send This Story to a Friend!
Letter to the editor
Link to this Story
Printer-Friendly Story View
---
--- Advertisments ---