Labadie Pig Gig 2008 Entertainment Announced!
Presented By State Farm, Co-Sponsored By Covenant Health Care And Meijer
June 5, 2008 1 Comments
By: MyBayCity Staff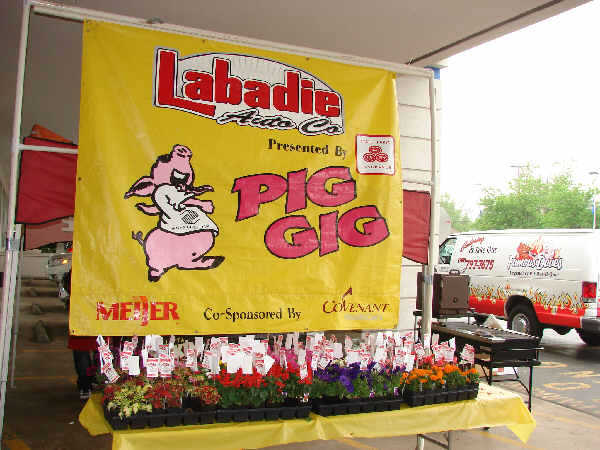 On Wednesday, Labadie Auto Company was host to the 2008 Labadie Pig Gig Press Conference catered by Famous Dave's of Saginaw!
(MyBayCity Photo by Julie Munger)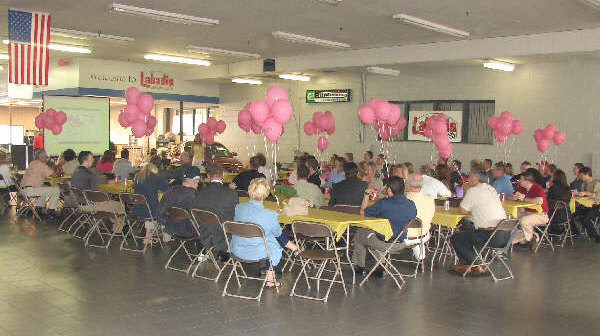 Hundreds of sponsors and volunteers turned out to show their support for the upcoming event and sank their teeth into some "barbecued bones!"
(MyBayCity Photo)
The Labadie Pig Gig, presented by State Farm is set to kick off July 31st through August 3rd in Veteran's Memorial Park in Bay City.
The question that has been on everyone's mind ...
WHO
will the musical entertainers be?
Thursday, July 31st:
"Hotel California" -- Eagles Tribute Band

Friday, August 1st:
Featuring Rock Legend Eddie Money.
Hits include "Two Tickets To Paradise", "Take Me Home
Tonight", "Shakin", "Baby Hold On" and more!

Saturday, August 2nd:
Country Star, Steve Holy will be on the Labadie Concert Stage!
Hits include "Brand New Girlfriend", "Good Morning Beautiful",
"Come On Rain" and more!

Sunday, August 3rd:
Oldies legends, The Grass Roots will entertain the Pig Gig goers!
Hits include "Midnight Confessions", "Temptation Eyes", "Sooner or Later",
"Let's Live For Today" and more!
Covenant Healthcare and Meijer have joined with Labadie and State Farm along with many additional sponsors to ensure that the Boys' and Girls' Clubs of Bay County and many other area charities will have yet another successful fundraising weekend this year!
Advance tickets are only be $5.00! Pig Gig organizers are offering an advance discount of half price tickets through July 29! Daily admission at the gate will be $10! Entire weekend passes are available for only $18! Children 12 and under are FREE! Tickets are on sale now at both Labadie Auto locations and participating State Farm agencies.
The Bay City Motor Car Company brought out their vintage vehicles for all that attended the press conference to enjoy!
(MyBayCity Photo)
This year's Championship Rib Cook-off is the setting for national competitors vying for the title of "The Best in the Midwest"! Competitors from around the world will head to Bay City to compete!
Meijer will be hosting the Michigan Lottery Booth. The HealthPlus Family Stage will again feature magic shows, clowns, dance and musical performances and more! A special appearance will be made by Ronald McDonald, courtesy of Larry and Diana Peters of Bay City McDonald's! Karaoke with Jay Samborn Entertainment will also be featured. Don't miss the pig racing and new this year,
Racing Hot Dogs
will make their first appearance here in Bay City!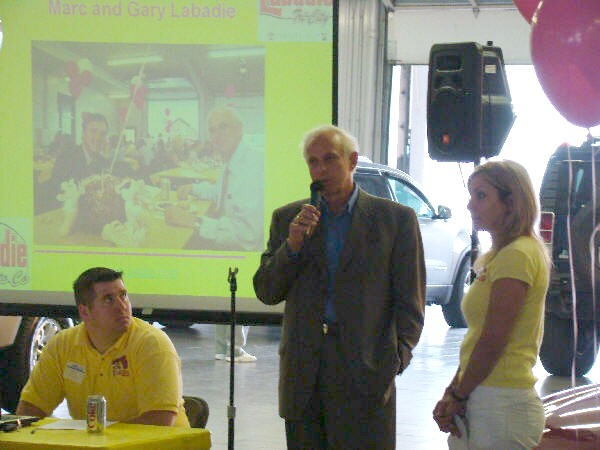 Gary Labadie spoke with sincerity about their passion to support this event each year.
(MyBayCity Photo)
The Dow Corning 5K race will also return this year! Log on to
Labadie Pig Gig
for more information!
A new addition to the Pig Gig this year will be a Classic Car Show. The Car Show is included in gate admission. From antiques to hot rods, there will be some great vehicles on display! The Car Show will be held down by the boat launch and there is no additional fee to check out the cars! Interested car exhibitors can register at
Labadie Pig Gig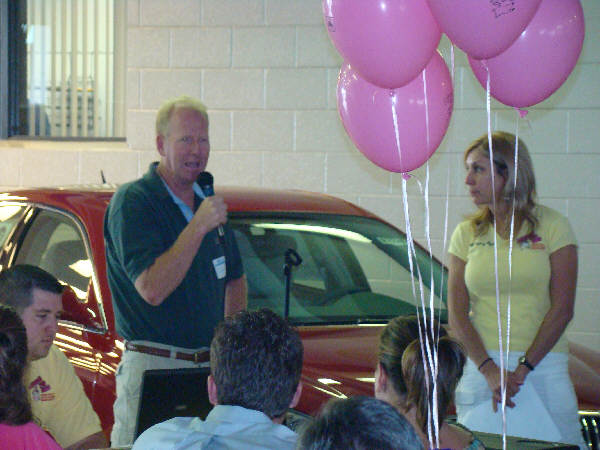 Jim Kruszynski from Pig Gig Sponsor, State Farm Insurance, spoke about State Farm's continued involvement with the Pig Gig. Wendy Dore is at the right.
(MyBayCity Photo)
The Pigalicious Tasting Tent, sponsored by Pioneer Sugar and The Bay City Times, was such a big hit last year, it's coming back for 2008!
Great Lakes Harley Davidson will once again sponsor the Teddy Bear Run to Covenant Health Care. Stuffed animal donations may be dropped off at Great Lakes Harley on M-13 in Bay City prior to the event.
Don't forget to stop by the Lowe's Kid's Clinic Center this year where kids can make and take home wood craft items FREE!
The Labadie Pig Gig will again this year host a "Celebrity Rib Challenge" in which local media personalities compete against each other with their own "special sauce" recipes! The general public can try these ribs and then vote for their favorite media celebrity! Proceeds from this competition will be donated to various charities throughout the area.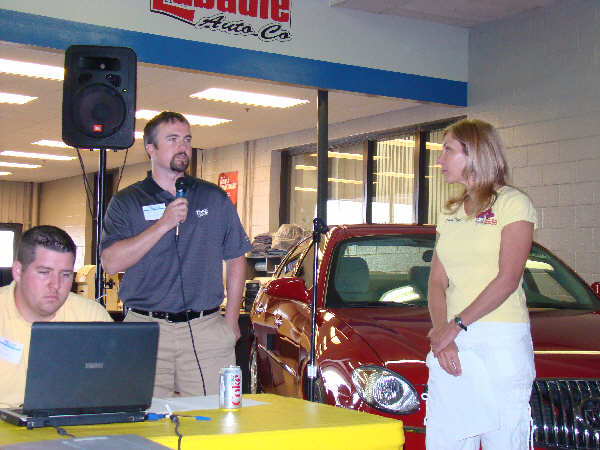 Shane Eddy from Coors/Molson geared everyone up for a cold one!
(MyBayCity Photo)
The youth event of the year is back as well ... 3rd annual Rock by the Dock, July 30th, sponsored by the Bay Area Community Foundation's Youth Advisory Committee! This event will feature American Idol Contestant, Beth Stalker and don't forget, the very best youth bands in the tri-cities as well! There will be an American Idol contest, judged by Beth Stalker, a youth hospitality tent, dance music, refreshments, youth related exhibits and more!
There are so many wonderful events at the Labadie Pig Gig every year such as a Jalapeño Eating Contest, Pig Calling "Oink Oink", Dunk Tank, Piggy Putting Green and the Piggy Parade led by the Labadie Pig Gig Piggy, you simply cannot miss it!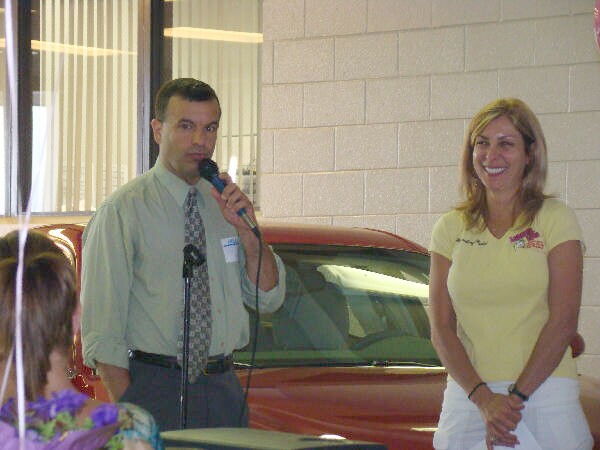 Joe Volk from Z93 had people "rockin" with laughter when he took Wendy Dore's cell phone that was ringing and spoke to the person on the other end -- explaining that Ms. Dore (Right) was quite busy at the moment.
(MyBayCity Photo)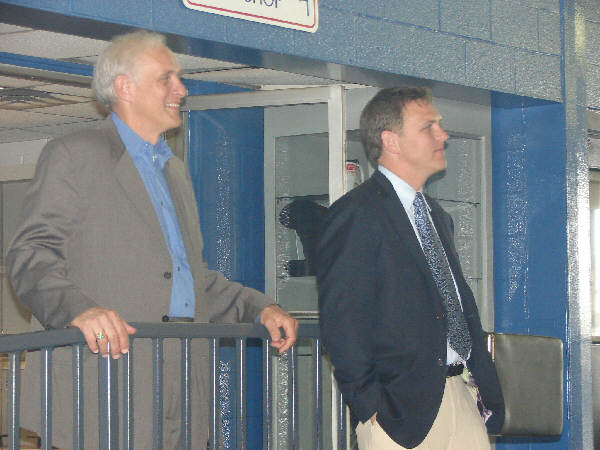 Gary and Marc Labadie are ready for another successful year.
(MyBayCity Photo)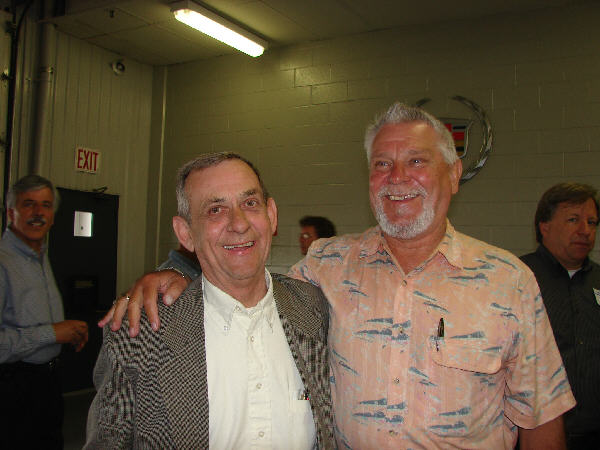 Kenneth "Pep" Peplinski, Sales Manager for Muelenbeck Distributing in Saginaw and Art Dore share a moment before digging into some ribs from Famous Dave's!
(MyBayCity Photo)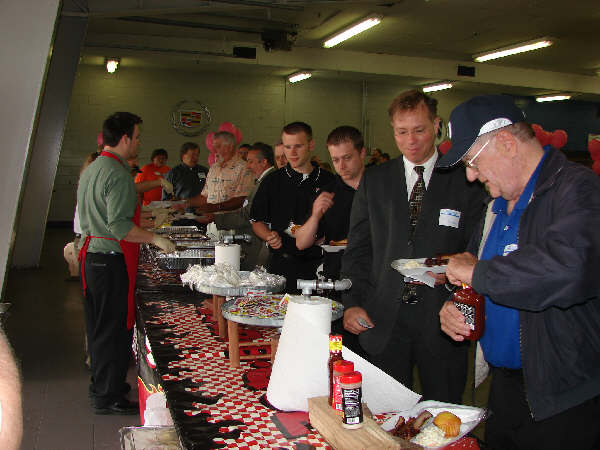 Al Eichorn from the Salvation Army and Commissioner Chris Shannon were anxious to sink their teeth into some meat!
(MyBayCity Photo)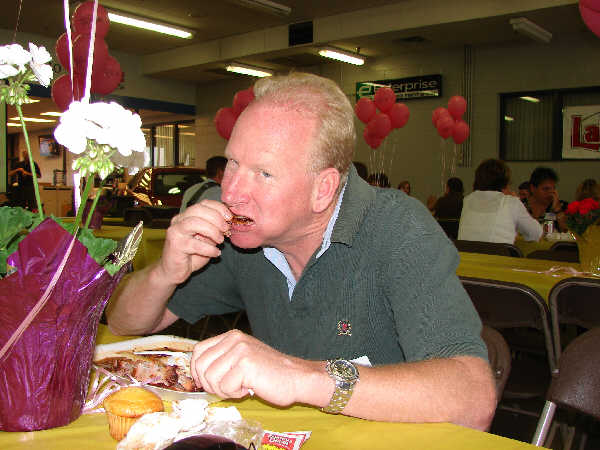 Jim Kruszynski leaves only the bones behind!
(MyBayCity Photo by Julie Munger)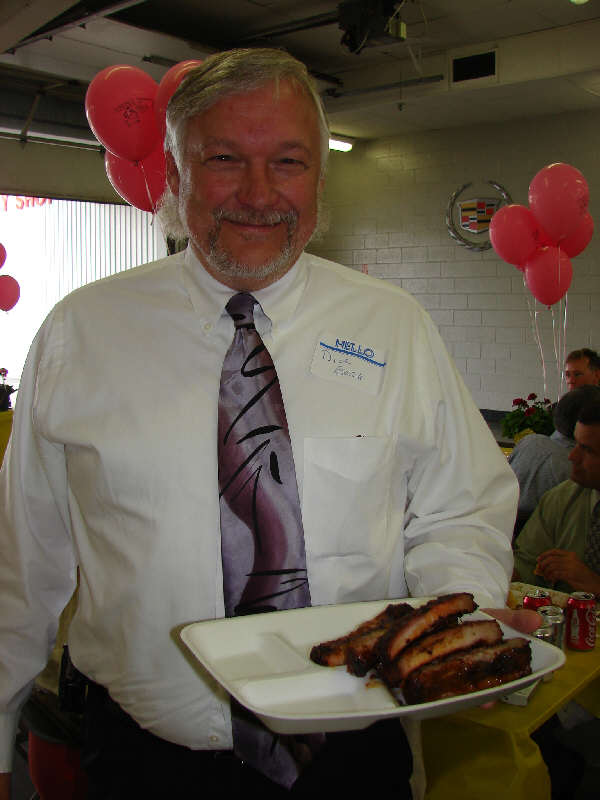 Dick Bork from Labadie prepares to feast on a plate of "Bork Pork"!
(MyBayCity Photo by Julie Munger)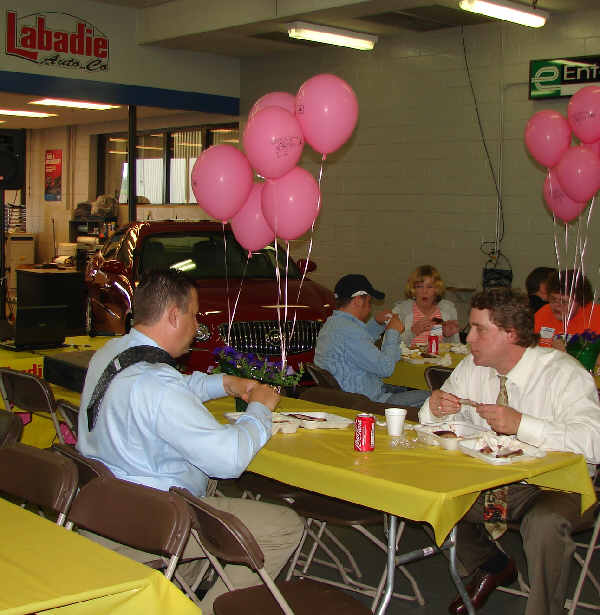 Labadie salesmen moved the ties aside to munch on yummy ribs!
(MyBayCity Photo by Julie Munger)
For additional Labadie Pig Gig 2008 information, visit Labadie Pig Gig
---
---
---
Send This Story to a Friend!
Letter to the editor
Link to this Story
Printer-Friendly Story View
---
--- Advertisments ---