Marty Stuart's Monday Night Show Kicks Off Auburn Summer Music Festival
Marty Stuart and His Fabulous Superlatives Rocked The "Tent"!
July 15, 2008 2 Comments
By: MyBayCity Staff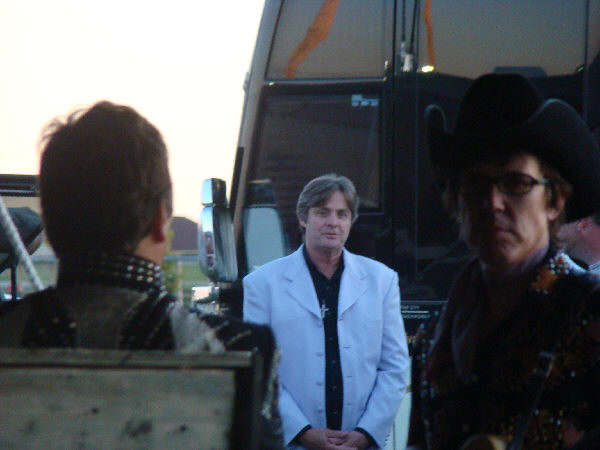 Marty Stuart band members Paul Martin, Harry Stinson and "Cousin" Kenny Vaughan exit the tour bus and prepare to hit the stage for Monday nights performance!
(MyBayCity Photo)
The Auburn Summer Music Festival began to the "twang" of Marty Stewart and His Fabulous Superlatives! This is the Auburn Summer Music Festival's inaugural year and was founded by Willis Wells and Greg Kimbrue, who are also co-owners of Kingfish and River Rock in Bay City.
Marty Stuart entered the business at the age of 12. Philadelphia, Mississippi, where he was born and raised, lies thirty-five miles northeast of Meridian, the hometown of Jimmie Rodgers. Locally, Stuart was known as a prodigy; by the age of twelve, his string-instrument playing had led him to a road gig playing mandolin with the Sullivan Family Singers. At a 1971 Indiana bluegrass festival, Stuart befriended Roland White, mandolin player with Lester Flatt's Nashville Grass. After Flatt -- who was one-half of Flatt & Scruggs, the most successful bluegrass duo in history -- heard Stuart play and sing, Flatt pulled the thirteen-year-old into his circle; not long thereafter, Flatt offered him a job as rhythm guitarist.
For six years, Stuart traveled with Flatt's band, where he played mandolin, having switched back to that instrument from rhythm guitar after White left the band. Stuart studied high school via correspondence classes. After Flatt died in 1979, Stuart stretched out stylistically, playing electric guitar with fiddle iconoclast Vassar Clements in the group Hillbilly Jazz, and acoustic guitar with the legendary Doc and Merle Watson. Then, before his twentieth birthday, Stuart was named a member of Johnny Cash's band.
Stuart recorded his first album as a band leader in 1977 for the Ridge Runner label; it was called Marty, With a Little Help From My Friends. But, playing with Doc Watson and Earl Scruggs and Cash, Stuart's 1982 Sugar Hill debut Busy Bee Café announced his actual arrival. After recording 1986's Marty Stuart and its follow-up Let There Be Country for Sony, Stuart moved to MCA. There, producers Tony Brown and Richard Bennett joined to produce Stuart¹s commercial breakthrough, 1989's Hillbilly Rock. The album¹s stinging twang and propulsive rhythm section blended glamorous honky-tonk with bluegrass virtuosity, staking out Stuart¹s signature style. The title track went top-ten, and Stuart's 1991 follow-up delivered hits as well with "Burn Me Down" and the title song, "Tempted." One year later, Stuart was invited to become a member of the Grand Ole Opry!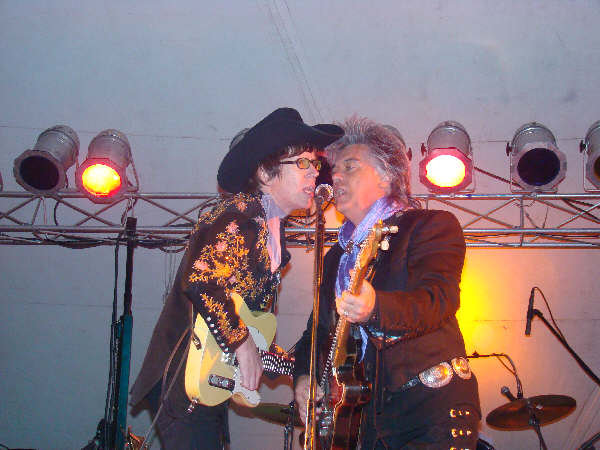 "Cousin" Kenny Vaughan and Marty Stuart serenade the crowd. In 2000 "Cousin" Kenny was named Best Guitarist in the Nashville Scene Music Awards!
(MyBayCity Photo)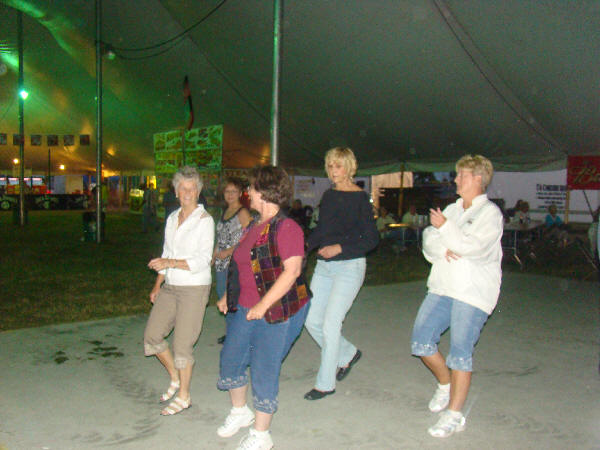 Concert attendees hit the dance floor and do the two step!
(MyBayCity Photo)
In the early 1990s, Stuart had struck up a friendship and working relationship with fellow rising star Travis Tritt. Stuart co-wrote and co-sang a deliciously plaintive honky-tonk lament called "The Whiskey Ain't Workin'," from Tritt's breakthrough It¹s All About To Change. The single soared to #2 and landed the pair a Grammy. A year later, Stuart and Tritt hit the road together on the sardonically named "No Hats" tour. Together, Stuart with his pompadour and Tritt with his mullet proved that Southern-fried, sanctified country music remained alive and popular. Tritt contributed blues-drenched vocals on Stuart's This One's Gonna Hurt You and Stuart contributed songs and searing guitar work on Tritt's three career-making albums.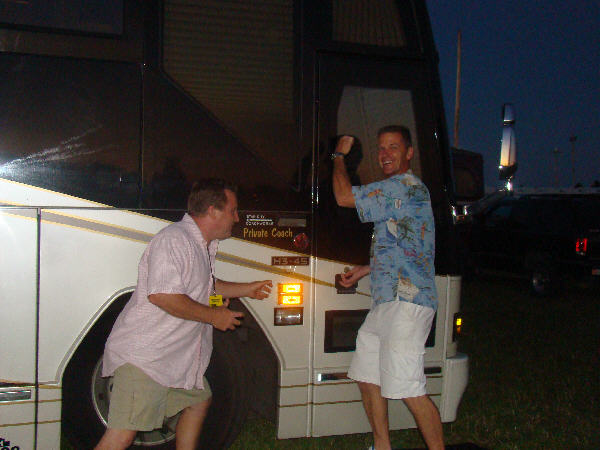 Willis Wells and Greg Kimbrue, founders of the Auburn Summer Music Festival (jokingly) attempt to enter Marty Stuart's tour bus while he performs!
(MyBayCity Photo)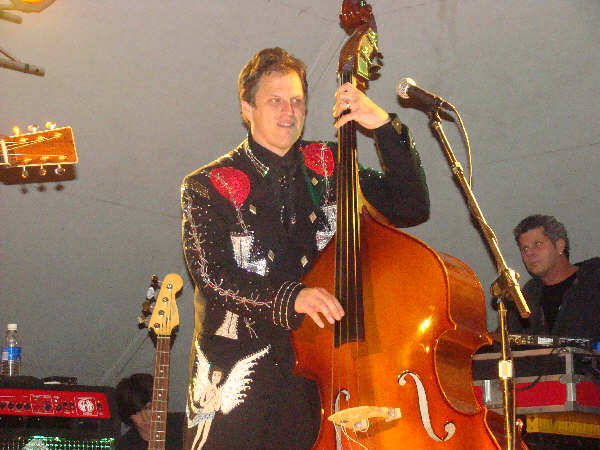 Band member, Paul Martin never ever stopped smiling throughout then entire performance!
(MyBayCity Photo)
An interesting fact is that Stuart did not record or tour during 2000, however the year proved no real hiatus. He worked harder than ever on a variety of creative projects. Pilgrims: Sinners, Saints and Prophets, a collection of his photographs, was published by Rutledge Hill Press. Stuart wrote songs for the Dixie Chicks, produced a recording for his friend Billy Bob Thornton and for his old colleagues the Sullivans, and an old-time country singer and showman named Leroy Troy. Stuart composed film scores including All the Pretty Horses which garnered a Golden Globe nomination. He arranged an exhibit by the painter Thomas B. Allen, who had contributed a number of Flatt & Scruggs album covers. Stuart continued his study of Native American culture, earning an honorary M. A. degree in Lakota Leadership from the Oglala Lakota College in South Dakota.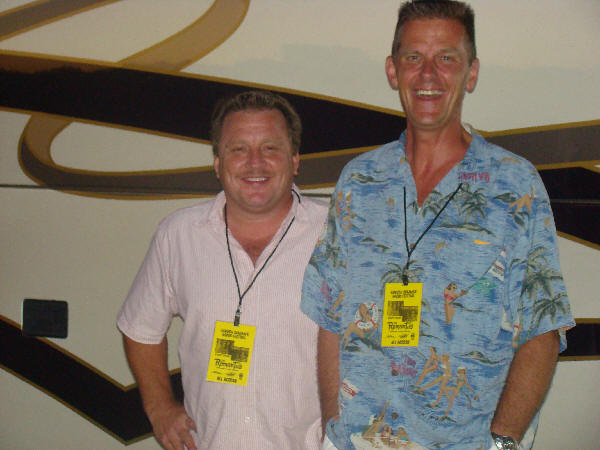 Auburn Summer Music Festival was founded this year by Willis Wells and Greg Kimbrue. "Proceeds from this week long event come in to Auburn and stay in Auburn, the money spent here, stays here, going to the Jaycees and the Chamber of Commerce," says Kimbrue.
(MyBayCity Photo)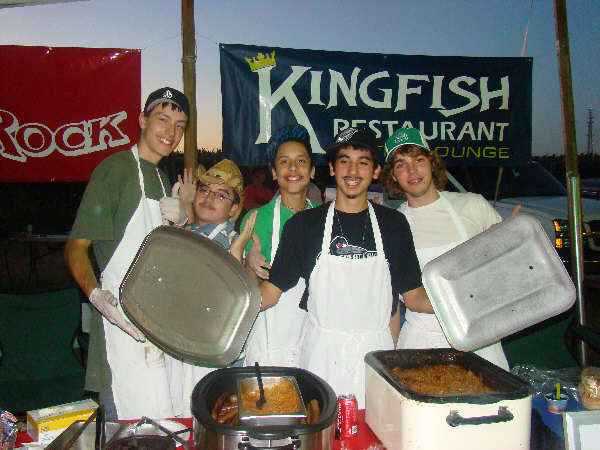 Pictured (L/R) are Kingfish employees, James Klass, Fernando Cantu, Lupe Gonzales, Nick Fica and Frederick Garcia
(MyBayCity Photo)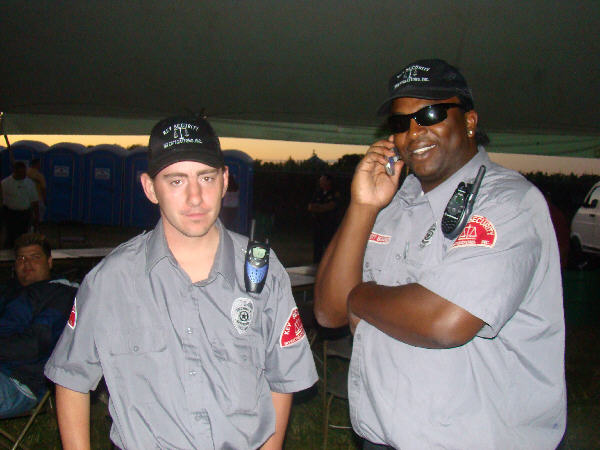 Security guards Brent Killey and Jerry Lee from Key Security take a moment to pose for MyBayCity camera
(MyBayCity Photo)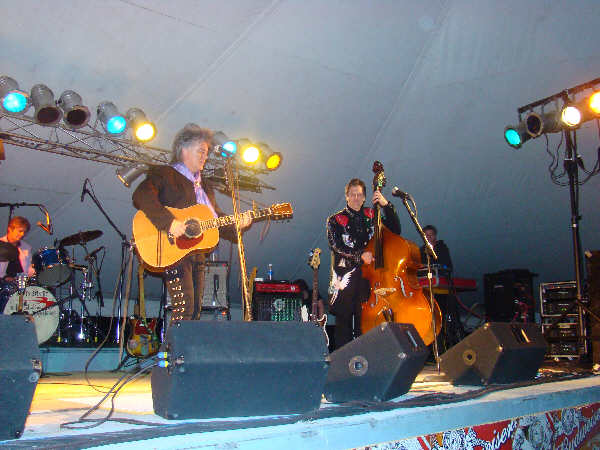 Stuart has produced records for some of the most distinguished artists working today, and many famous names have chosen to record his songs
(MyBayCity Photo)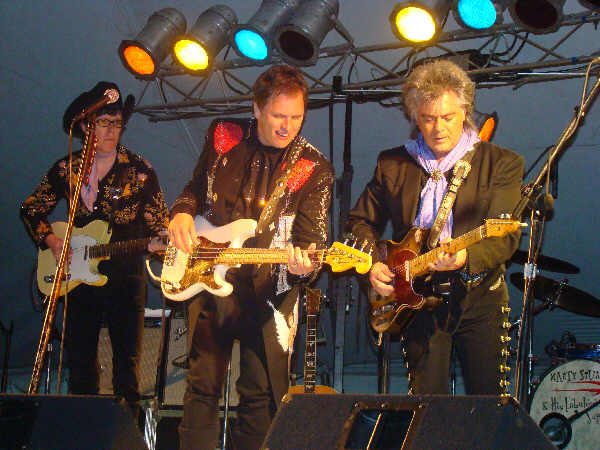 After almost a decade of simply being a husband and father, Paul Martin got the call that would change his life. Marty Stuart called Martin an said, "You've spent the last 10 years being a great father and husband, and now it's time for the world to enjoy that God-given talent of yours again." Martin replied, "Well, alright then, time for the next chapter!", and the rest ... is history!
(MyBayCity Photo)
There is more entertainment on tap for the rest of the week, to include the Battle of The Bands on Wednesday, National Recording Artist Jake Owen on Thursday, The Romantics on Friday, The Arc Band (Jimmy Buffet Style/Margaritavilla Party) on Saturday and Sunday features Ryan Pelton, in concert with full Las Vegas Style Band and Show. Ryan is considered one of the Top 3 Elvis performers in the USA!
Ryan Pelton stars in Dakota Fanning's new movie, Houndog, playing an Elvis role that premiers this Friday! The movie is about the trials and tribulations of a teenage girl, played by Dakota Fanning, in which, she utilizes the comfort of Elvis' music to get through life's tougher moments.
Visit
Ryan Pelton - YouTube
to see Ryan Pelton perform from Legends in Concert in Myrtle Beach, SC performs as Elvis Presley at the Potawatomi Casino in Milwaukee, WI!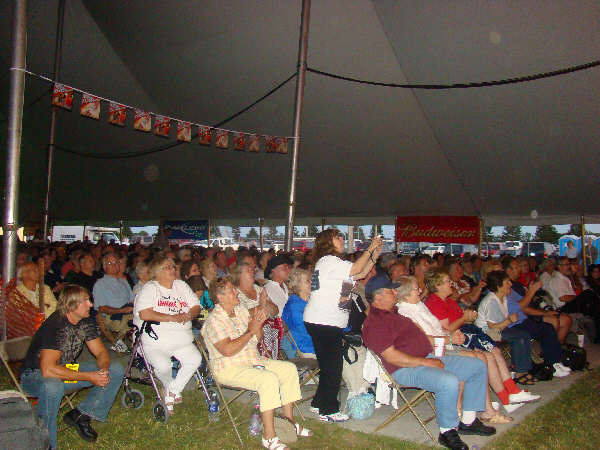 Marty Stuart heavily interacted with the audience and at times, had them mesmerized
(MyBayCity Photo)
Entertainment, food and beverages are served nightly! For more information or to order tickets for upcoming shows this week, visit,
The Auburn Summer Music Festival
For Information On How Your Business Or Event Can Be Featured, Call Sales & Marketing Director, O.J. Cunningham At ((989) 892-8501 Or Email OJ@MyBayCity.com TODAY!
---
"The BUZZ" - Read Feedback From Readers!
julieM says: On July 16, 2008 at 09:03 AM

'Rocked' the Tent??? This was a country band, wasn't it???? hhmmmm.. anyway... Those of you who Do like country music... The Stables, Bay City is the place to be tonight (Wednesday July 16, 2008)!!!!
genocummings Says: On July 17, 2008 at 03:45 PM

Hey as I have been watching these posted comments I'd like it to be known that I was told that I couldn't sing, well last night and once before the judges seemed to think that I could sing and that I sing pretty well too.
also i'd like to add that I just can't figure out why it is that it seems that when this thing started we had a few semi talented people than all of a sudden we got pro's in on top of us and also I never did get my Showcase like some others did on a Monday Night. I'd like that one explained by John or Mr. Dore himself.
---
---
Send This Story to a Friend!
Letter to the editor
Link to this Story
Printer-Friendly Story View
---
--- Advertisments ---