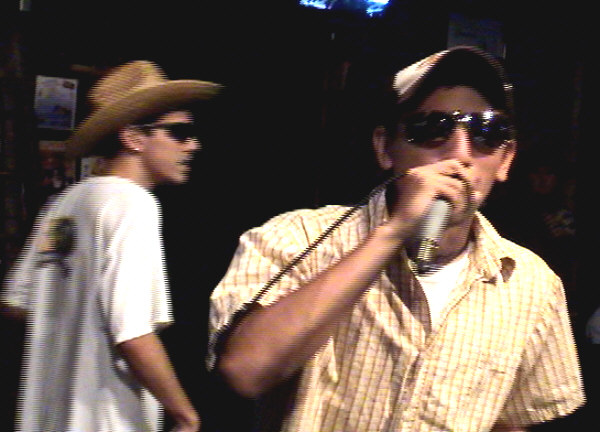 - TMA - TMA - TMA - TMA -
---
(V) YeeHaw! - It Was All Country at Stables' Talent Competition
What Can I Say... Except - 'TMA'
July 20, 2008 29 Comments
By: Julie McCallum, Entertainment Editor
Hats off to TMA last Wednesday at the Mid-Michigan's Got Talent Competition for their country 'performance' at the Stables Martini and Cigar Bar in Bay City.
What a come back TMA made... they did it their way.. and definitely captured the attention of the audience.
Next Wednesday is Mo-Town week.....Good Luck to competitors, because I don't know what that means or entails.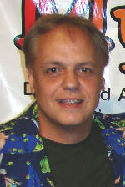 (Left)
Talent Judge,
Tom Anderson
said, ""I told myself that for the finals, don't start with high scores. It couldn't be helped. Right off the bat the contestants were giving their all. I had to make little side notes to differentiate each performance."
Anderson continued, "Most enjoyable was being witness to the highly entertaining and original tongue-in-cheek 'Country Rap' by TMA. Written just for the occasion, for all of us lucky enough to be there. That was a first for me."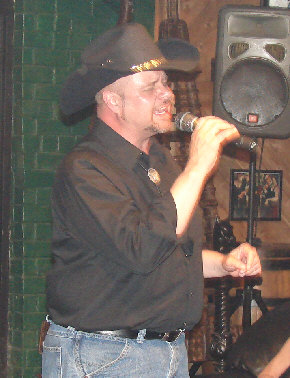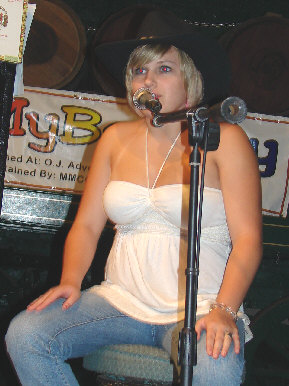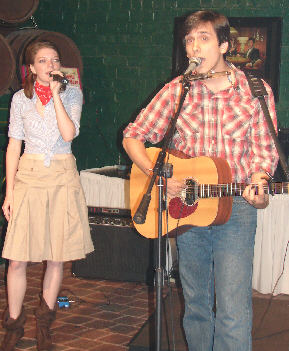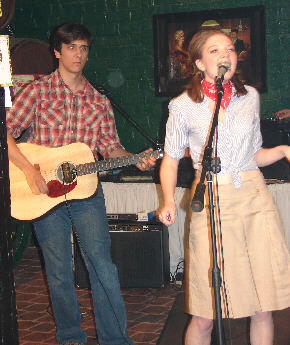 Voting Ballots were handed out to Stable patrons before the beginning of the competition Wednesday night. Ballots were collected after the competition, counted and added to the voting totals.
Ballots will be distributed at Stables each Wednesday.
Totals from July 16th only are as follows:
Steve & Steve = 21 votes (July 16, 2008 only)
Kirkbride, Chuck = 19 votes (July 16, 2008 only)
Kirkbride, Debbie = 19 votes (July 16, 2008 only)
Alto = 13 votes (July 16, 2008 only)
Cummings = 13 votes (July 16, 2008 only)
Brady = 12 votes (July 16, 2008 only)
Ballor = 10 votes (July 16, 2008 only)
Thomas = 9 votes (July 16, 2008 only)
Sackett = 8 votes (July 16, 2008 only)
Atchinson = 7 votes (July 16, 2008 only)
Rex = 6 vote (July 16, 2008 only)
TMA = 5 votes (July 16, 2008 only)
Di Marie = 4 votes (July 16, 2008 only)
Kelly = 3 votes (July 16, 2008 only)
Dipiero = 1 votes (July 16, 2008 only)
Video Performances From July 16, 2008
| | | |
| --- | --- | --- |
| Steve & Steve | TMA | Bridgette Ballor |

Kevin Sackett

ALTO

Joe DiPiero
| | | |
| --- | --- | --- |
| Chuck Kirkbride | Debbie Kirkbride | Mark Kelley |
| | | |
| --- | --- | --- |
| Lauren Thomas | Jessica Rex | Drew Brady |

Joe Atchinson

Di Marie

Geno Cummings


Sponsors for the 17-week program that make the on-line voting possible are: Starlyte Productions/Tri-City Party Rentals, Clock Doctor, Bay City Bakery, AP Sites, Dick Bork of Labadie New & Used Cars and Sheri Deardoff of Bay Area Real Estate.







---
"The BUZZ" - Read Feedback From Readers!
doctobe5678 Says: On July 21, 2008 at 12:18 AM

Once again, Di Marie delivers! WHY isn't she WINNING this contest Bay City???? No matter what the polls say, Di Marie, you are a STAR!!!!
GreenDog says: On July 21, 2008 at 08:40 AM

How many singers get to sing at PigGig? What night?
%OJ says: On July 21, 2008 at 08:45 AM

Five (5) singers will be selected on July 30 (Wednesday) to sing on Friday night (August 1) at PigGig. After Friday performances, a Grand Prize Winner will be named that night. That winner gets to "open" for the Grass Roots on Sunday August 3.
GreenDog says: On July 21, 2008 at 09:59 AM

Thanx for the info OJ. Can we post our top 5 favorites here as well as voting on the computer.?
%OJ says: On July 21, 2008 at 10:05 AM

I don't see why not, GreenDog. I won't be publishing mine (Smile) but certainly anyone else can.
GreenDog says: On July 21, 2008 at 11:56 AM

Heres my top 8 ---> theres NO WAY to pick only 5 but here goes nuthin (no particuar order) Steves, Lauren, Sackit, DiMarie, Alto, Drew, and DiPiero and Ballor (Sorry Geno, Sorry TMA - just not my thing)
cheriemich Says: On July 21, 2008 at 01:34 PM

Doctobe?? How do you know she isn't winning the contest? Just because she doesn't win the online voting doesn't mean she won't win the contest!! There are many other factors involved in the judges decision. Things like talent,appearance, stage presence, originality. You have to give the judges more credit! They know whats going on here, thats why they are the judges! Be positive!
Maggie May says: On July 21, 2008 at 09:12 PM

My top 5 picks are Alto, Joe DiPiero, Lauren Thomas, Marc Kelley, and Steve and Steve.
bluegirlie44 Says: On July 22, 2008 at 08:47 AM

My top five are Di Marie, Kevin Sackett, Alto, Steve's and Lauren.
%OJ says: On July 22, 2008 at 10:12 AM

The editor (me) reviews all comments before they are published.
truerock44 says: On July 22, 2008 at 11:28 AM

T.M.A. was fantastic! Originality was amazing and they are true entertainers. Great job to Ballor and Alto as well, solid performances by both.
lisaschram Says: On July 22, 2008 at 08:17 PM

I would like to say that Drew Brady has now kicked butt at Rock week and Country week! Can't wait for Motown/Funk! Great job Drew, everyone should be able to tell that you are putting all you have in this and are doing a fantastic job!!!
JohnStamos says: On July 22, 2008 at 10:58 PM

How many votes have come in at this point?
Top5Opinion says: On July 23, 2008 at 10:01 AM

(No Order) Bridgette Ballor, Alto, TMA, Steve&Steve, Kevin Sackit!!! Top 5!!
lilblondecutie says: On July 23, 2008 at 10:10 AM

The only reason Drew Brady has "kicked butt at rock and country week" is that he has brought in a professional band to save his act. Without that band, Drew isn't half as good as some of the other people in this competition. I don't think it's fair that he's been allowed to do so either. I bet half of them competitors could go get a professional band and sound just as good as schram thinks he does. If Drew wanted musicians with him he shoulda started with them from the beginning. There are a few people in the competition that play there own instruments and sing...now that's talent. I'm talking people like Marc and the Steves and TMA and DiPiero. And in my opinion, those are the ones who should make it to the finals because they have the whole package on their own-they don't need to hire a band to make themselves look good. I'm not saying the kid can't sing, but the judges shouldn't allow the band's performance to cover up Drew's actual performance, and they sure as heck shouldn't be giving him the extra points for the band. I won't be making it tonight, but I sure hope that the comments from the judges are about the performance of the actual PEOPLE, and their performance rather than their background music/musicians.
GreenDog says: On July 23, 2008 at 10:59 AM

That's a bunch of crap, lilblondcutie. Brady's voice is as good as anyones and betr tham most. I agree about bringing in the band - maybe a bad idea.but I think its about making a show not showing anybody up.
Fleeg says: On July 23, 2008 at 11:23 AM

omg.... Can't everyone just get along ....... have a good time.....have a few laughs........ this is supposed to be a fun thing...

(Circumstances are temporary but your character will last forever)
Cheesh44 Says: On July 23, 2008 at 01:29 PM

I was suprised TMA got credit for country night. They sang RAP! Not only did they rap, but they threw in the words Tim McGraw AND Gangster.
BobbyMcGee says: On July 23, 2008 at 02:24 PM

I agree with lilblondecutie. Bringing in a band is like allowing new acts to join the competition in my opinion. I think for the guys that play guitar, that shows even more talent besides singing to karaoke. Honestly, how entertaining of an opening act would it be to listen to someone sing karaoke for 20 minutes?
rockon Says: On July 24, 2008 at 08:18 AM

Wow?the amount of trash talk going on is quite ridiculous. I?m going to have to stick up for Drew Brady on the subject of having a band back him up. What is the difference between a cd with background music or musicians playing instruments? It?s the same concept! Drew is the one singing either way and to me that should be what matters. The band behind him proves he?s not just a ?karaoke singer?. I look forward to hearing Drew sing each week because he?s enjoyable to listen to. I personally would not want to listen to someone singing karaoke on the Pig Gig stage. Drew, keep up the good work! You?re a great performer and you deserve some credit for the past three weeks. It doesn?t matter the genre of music, you nail it each week. I?m looking forward to week number four!
captainjoe says: On July 24, 2008 at 04:01 PM

I also agree with lilblondecutie. Drew is a good singer and all, but this is supposed to be a singing/talent competition. He is turning it into a battle of the bands. If he can play an instrument and sing along with it, great. But he should not be allowed to bring in a professional band. I also agree with BobbyMcGee...it's like he's adding a new act to the competition during the finals week. If the band wanted to be in the finals, they should have tried out before hand. It bothered me that last night instead of just critiquing Drew, the judges spent the time introducing the band and critiquing them. I give his act one thumbs up and one thumbs down...he shouldn't be allowed to bring the band.
mustanggirl says: On July 25, 2008 at 12:07 AM

FYI Rockon....Drew Brady has been in this competition since the beginning and has done nothing but KARAOKE! If he had anything original don't you think he would have done something by now? He's been there almost every week since this started. Even with the different band he brings each week, it is still nothing more than mediocre. He shouldn't have been allowed to bring a band that late in the competition, let alone a new band each week. It seemed as though the judges hardly cared about his singing this week and were more concerned about the people that played for him.
RichardDawson says: On July 25, 2008 at 10:38 AM

It wouldn't be a problem to bring in a band if the band wasn't part of the judging. There IS a difference between bringing in a band and using karaoke because a performers karaoke doesn't get judged; however, if a performer brings in a band, the contestant gets credit for how well the band performed. Then there are people like Marc Kelley and Joe DiPiero who play their own instruments (guitar keyboard harmonica) and create their own background music. They don't bring in professional musicians to back them up-- it's all them, which shows way more talent and last I knew this competition was called MID-MICHIGAN'S GOT TALENT, not MID_MICHIGAN'S GOT FRIENDS. I'm not trying to put down Drew at all-I think he's a good performer and a very nice guy, I just think it's unfair that a performer can score extra points because they have musician friends when other contestants are doing the music on their own.
JessicaRex says: On July 25, 2008 at 01:49 PM

I would like to point out one of the past winners Micah Read who did not start out with a guitar when he started but then got a guitar half way through, and WON. it does not matter is Drew has a back up band (because that is what it is back up) with him. they judge him on his vocal talent and his stage presence.
altomusic Says: On July 27, 2008 at 10:01 AM

This has been great fun for me. I've met so many great people at the Stables! I've enjoyed the diversity of performances and learned a lot from all of you. Everyone has put a lot into this and it shows. I would like to propose that we all get together after the competition and go out to do a benefit for the Cancer Society. We could even do a couple of tunes together, like on American Idol... heck, maybe we'll even do a truck commercial (SMILE). If anyone's interested, please let me know. I could go through and tell you what I liked about each of your performances, but it would take forever! I would rather tell you personally. You're all Freakin' Great! Thank you to the judges, the staff at the Stables, MyBayCity.com, the sponsors and Doug. This has really been a gas!!! Keep up the great work and keep smilin'!!!!
Colleen_1959 Says: On July 27, 2008 at 02:00 PM

Ive been screening the opunions for the last couple months and my opunion is jealousy isnt getting anyone any where!All the contestants are doing a very good job i think !if i was a judge it sure would be hard for me to decide the top 5 on the other hand .Professionals that are popular to begin with have a favortizum with people i thought the contest was people without popularity like kaylav the little kid was good i enjoyed him hes not there to watch anymore.I talked to joe and he backed out cause nobody gave the guy a chance he sure does have a good voice. Kevin Alto ,Bridget and the others are all good work hard .Di just came in shes good too .Geno has alot of heart to play that hermonica , i sing karokee i was told to get into the contest but i wont. i will sing on nights i go out with my family of friends and leave it at that.Also I think that the rules should be posted about camers and videos If it was a law not to record then why do people bring there camers phones that do videos and stuff like that in the bar but never get told not to use them i seen geno got told about his cam but yet most people were using there phones to record and never got told they couldn't !Last i knew that you are suspose to ask the person for permission to take there pic in any way shape or form,This town has a ABUSE law that sucks about recording things or taking pics of people.Everybody has there own rights to do what they want for themselves.Steve and Steve keep it in the family Your Good like father like son Drew Too !TMA your good but you should sing the type of music your told too not rap it all!your good dont get me wrong . I think i've said enough for now i do have alot more to say but i will say more later Good Luck Everyone !
---
---
Send This Story to a Friend!
Letter to the editor
Link to this Story
Printer-Friendly Story View
---
--- Advertisments ---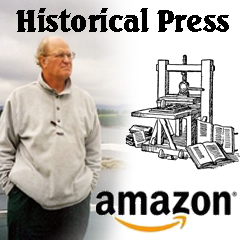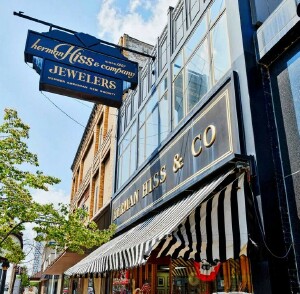 0200 Nd: 08-19-2019 d 4 cpr 0






SPONSORED LINKS
---
LOCAL LINKS
(Ads not affiliated with Google)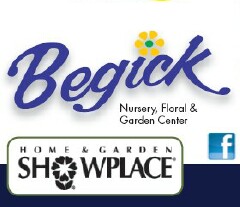 ---
---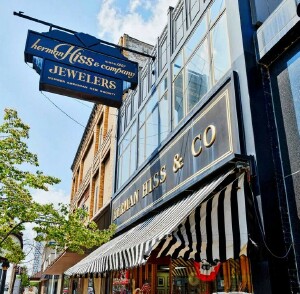 ---
---
Ads By MyBayCity.com
Historical Press - By Dave Rogers
Purchase Your Copy Today!


http://www.amazon.com/D.Laurence-Rogers/e/B001KCA8ZY/ref=ntt_athr_dp_pel_pop_1
---
Ads By MyBayCity.com
Bay Area Chamber of Commerce
Click Here to Visit Our Site!


Improving The Economic Climate, Business Environment & Quality of Living Throughout The Bay Area
---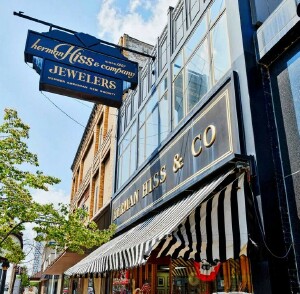 ---
---