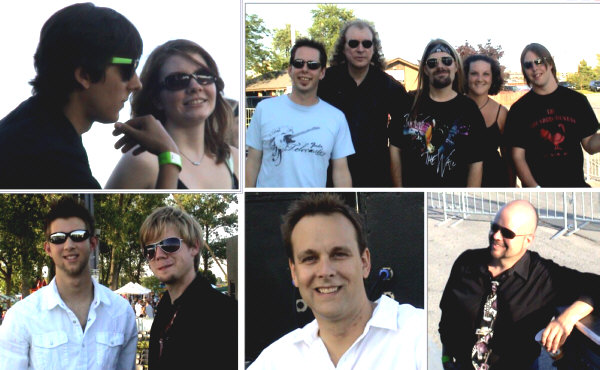 AT THE 2008 PIG GIG: (Clockwise From Top Left) Lauren Thomas with Mark Kelley, Drew Brady and his crew, Alto, Kevin Sackit and Steve Gould/Steve Solinski.
---
(V) Kevin Sackett Is Michigan's Got Talent 2008 Winner
August 1, 2008 15 Comments
By: O. J. Cunningham
"His voice is just amazing," is all that judge Tommy Anderson said after Kevin Sackett won the Michigan's Got Talent Competition at Pig Gig on Thursday night.
And there was no one around to disagree.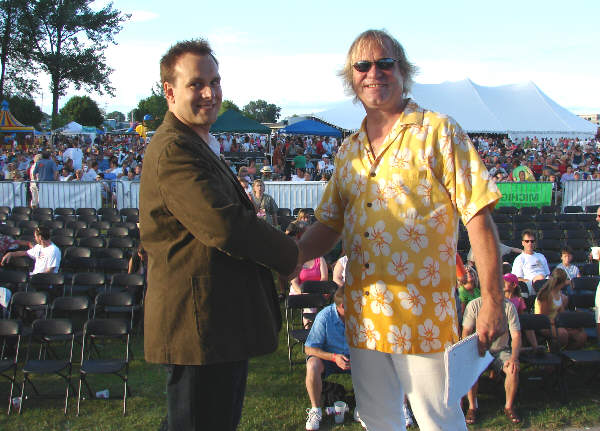 Talent Host, Doug Dore (R), congratulates Mid-Michigan's Got Talent winner 2008, Kevin Sackett.
(MBC Photos by Julie Munger)
Video Performances From July 31, 2008 on the Big Stage at Pig Gig
Click "Browse Video List" (Below) to see All Performers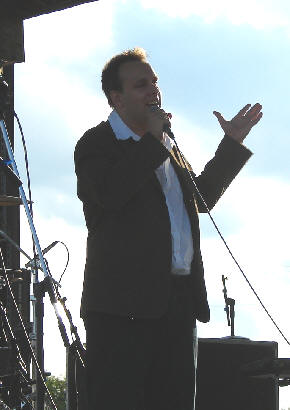 Kevin Sackett
sang the Josh Groban inspirational
YOU RAISE ME UP
on the Big Stage at Pig Gig in Vet's Park (Bay City) and filled the air with a voice that everyone at the 16-week Stables competition has come to know and admire.
Sackett's voice simply overpowered the song in classic Groban style and made the judging straightforward and relatively easy for head judge Dick Bork and his crew (Tommy Anderson and Kathy Lagalo.) "He (Sackett) just flat out nailed it," Bork said about Sackett's performance. "The decision was unanimous."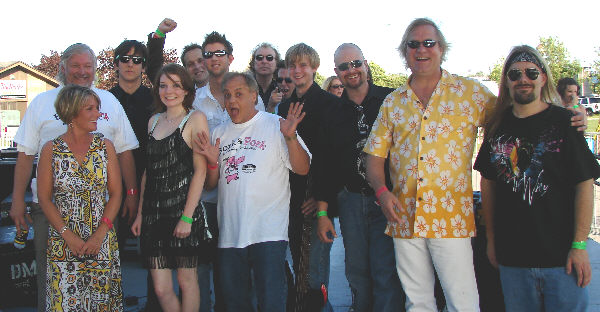 (MBC Photo by Julie Munger)
Drew Brady, Alto, Steve & Steve and Lauren Thomas all performed at the top of their game. These five had made it through 16 weeks of competition at the Stables to meet in this head-to-head competition on Thursday night at Pig Gig.
Brady's performance was right on; Thomas was beautiful, perky, flirtatious and performance perfect; Alto performed in his crowd-pleasing best style and the Steve's rocked.
But it was Sackett's voice that filled the sky above Vet's Park on Thursday night and it was Sackett's voice that had most in attendance buzzing about Sackett, his singing and his performance.
"Wow . . . What a voice!" said one lady in the first row.
"That was just unbelievable," said another concert-goer.
"I just loved his voice," said an older couple leaning against the fence, listening intently.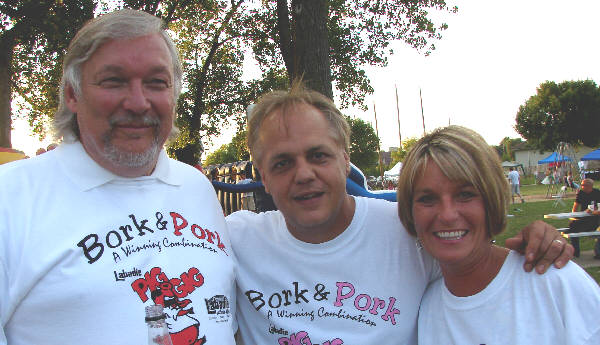 And the judges agreed unanimously and named Sackett the winner. (L/R) Dick Bork, Tommy Anderson, Kathy Lagalo.

For his performance, Sackett will receive an all-expense-paid trip to Las Vegas and will also sing a 10-15 minute set as the opening act for Grass Roots at Pig Gig on Sunday.

"This is just amazing," a beaming Sackett said immediately after the competition. Sackett went on to say that before he started singing in the competition at Stables, he had gotten away from singing. "This competition has brought me back to singing," Sackett beamed, as he was congratulated by everyone back stage.

"I think that's a good thing." Sackett smiled.

Sponsors for the 17-week program that make the on-line voting possible are: Starlyte Productions/Tri-City Party Rentals, Clock Doctor, Bay City Bakery, AP Sites, Dick Bork of Labadie New & Used Cars and Sheri Deardoff of Bay Area Real Estate.







---
"The BUZZ" - Read Feedback From Readers!
Lauren Thomas says: On August 01, 2008 at 01:08 PM

Comment:I just want to thank everyone-- the judges, O.J., Julie, all the contestants and the audience. I had so much fun performing each week and watching everyone else perform. There truly is a lot of talent in the area. I appreciate all the support I was given throughout the past 10 months I've been involved in Michigan's Got Talent. It's really been fun!
DrewBrady says: On August 01, 2008 at 01:16 PM

Comment:Let me be among the first to give my congrats to Kevin Sackit on an awesome performance and for taking the competition last night. Kevin, you won this competition with all the heart and soul that you put into to every song that you perform.... and I'm glad that the judges took notice of that. I look forward to seeing you on Sunday. Secondly, I'd like to say that this competiton has led to and awesome summer and given me memories that I will never forget.... thank to everyone that made it happen! I also hear that Alto is trying to set up a "reunion" show on August 20th.... count me in. Hope to see all of you there again! Thanks again for a great competiton and a great summer! peace.
GreenDog says: On August 01, 2008 at 01:19 PM

Lauren - You were great. Congrats to Kevin Sackit. MYBAYCITY's got it right. Sackit's got an amazing voice.
%OJ says: On August 01, 2008 at 01:22 PM

Congratulations to all 5 Finalists. It's been a pleasure getting to know each of you. Best of Luck in your singing/entertaining careers.
dickb Says: On August 01, 2008 at 02:16 PM

Hey everybody
What a great show put on by all 5 finalst. What more could you have ask for great weather, huge crowd and simply some great local talent.
Hard to belive it has finaly come down to the end.
What will I do on Wednesday night now. lol
To Drew, Lauren, Steve's, Alto and Kevin what a great group of people. Thanks to you all for showing Bay City what you had to offer and ROCK the town.
Thanks to all for a great time and the start of new freindships.
I have enjoyed every minute of it.
Hope to see you all again.
Please keep in touch at dickb@labadieauto.com.
Enjoy the rest of the summer.

Ridin' the wave!
Livin' the dream!
altomusic Says: On August 01, 2008 at 03:26 PM

Awesome performances by all!!! I didn't envy the job the judges had to do... all through the contest! Thank you for your time, dedication and honest appraisals. With every performance, by every participant, I felt even more honored to be involved with such a great pool of diverse talent. Each of you gave so much to this contest! It was phenomenal entertainment and a great place to make many, many new friends!
A great big congratulations to Kevin!!! You have such an amazing voice and presence, bro!! I hope to see you performing on a regular basis soon.
To all the people involved, I have officially set the date for our "Best of Mid-Michigan Reunion" benefit as Wednesday, August 20, starting at 7pm. We will be asking for a minimum donation of $5 at the door, which will all go to benefit the Cancer Society. I ask that all 15 semi-finalist bring their hottest performances for this great cause. It will be worth more than $5 for one of the greatest nights of entertainment you will ever see! If you'd like to collaberate with the other performers, this would be the venue for some amazing musical team ups. I'm still considering a finale, where all of us will sing together. I'm looking for something other than "We Are The World" or "That's What Friends Are For". If anyone has some suggestions, drop me a line at altomusic@live.com.
Maybe we can even do a commercial for Dick! Smile!
I can't express my thanks enough for O.J., Julie and Marlo... I really love you guys!!!
To John and all the folks at the Stables... THIS IS THE PLACE TO BE!!!! Every week, I saw someone eating your outstanding food and all I could do was drool! I don't eat before I sing, so it was sheer torment. NOW... I will certainly be out there to enjoy that wonderful cuisine and the greatest ambiance and staff in Bay City.
Finally,.....

"ARE YOU AWAKE OUT THERE!!!!?????"

This wouldn't have been half of what it was without the eerily energetic one; Dougy Dore! You never let the energy drop for a moment! The greatest host in the Tri-Cities!
Finally, a great big thanks to all the amazing people who came out to support the contestants. Heck! What fun would it be if we were singing to an empty house!? You people really sent the vibe, in person and online. You are what it's all about! Thank you! Thank you! Thank you!!!!
Thank you all again, SO VERY MUCH!!! I can't wait to see you on August 20th!

Love,
Alto
ksackett Says: On August 01, 2008 at 04:29 PM

Thank you everyone! What an amazing experience! I decided to start going to the Stables to make some friends in Bay City, and through The Michigan's Got Talent process, I did exactly that! So I may have won the contest, but I really won in freindship! Thank you Doug, Tommy, Kathy, Dick and the mbc staff, and the stable's staff, and eveyone else involved for making this ONE VERY FUN EVENT!!!

I am so impressed with all of the original talent from everyone. Again, many thanks to my new friends, and I do hope to see you Sunday (hard at work this weekend bringing something new to that event!) and I will definelty be there on August 20th. You all are the greatest!
diane212 Says: On August 01, 2008 at 05:27 PM

Kevin!!!
Congrats!!!
Beautiful job. You have a truly amazing voice! I really enjoyed listening to you sing for the past weeks. Keep on singing!!! Di Marie
Everyone says: On August 01, 2008 at 11:56 PM

Lauren Thomas should have won hands down. Poor choice judges.
LaurenThomas says: On August 02, 2008 at 12:11 AM

Congratulations to Kevin! He did a great job at the Pig Gig and was definitely deserving. I'm glad to have the privilege to have met you.
I also have to thank Doug Dore! I cannot believe I didn't thank you in my last post, but this whole competition wouldn't have been possible without you so thank you very much!
Can't wait to see everyone again on the 20th!
marlo Says: On August 02, 2008 at 09:59 AM

You are all beautiful people with tons of talent! Your proven perseverance and dedication to this competition was amazing! You're all winners in my book. Having had a son in an earlier competition, I know the frustrations some of you may have in not getting through to the finals...I do...The time and money spent into this competition can be overwhelming and not everyone can relate, but I can. Rock on, all of you! Keep us informed on the reunion!
---

O. J. Cunningham




O. J. Cunningham is the Publisher of MyBayCity.com. Cunningham previously published Sports Page & Bay City Enterprise. He is the President/CEO of OJ Advertising, Inc.

More from O. J. Cunningham
---
Send This Story to a Friend!
Letter to the editor
Link to this Story
Printer-Friendly Story View
---
--- Advertisments ---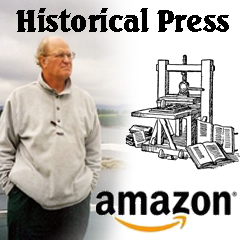 0200 Nd: 08-19-2019 d 4 cpr 0






SPONSORED LINKS
---
LOCAL LINKS
(Ads not affiliated with Google)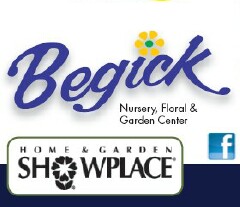 ---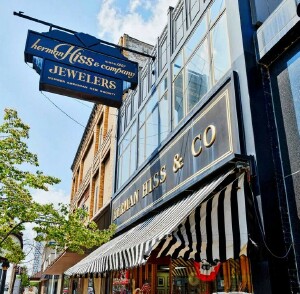 ---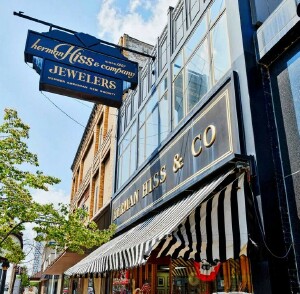 ---
Ads By MyBayCity.com
Historical Press - By Dave Rogers
Purchase Your Copy Today!


http://www.amazon.com/D.Laurence-Rogers/e/B001KCA8ZY/ref=ntt_athr_dp_pel_pop_1
---
---
Ads By MyBayCity.com
Bay Area Chamber of Commerce
Click Here to Visit Our Site!


Improving The Economic Climate, Business Environment & Quality of Living Throughout The Bay Area
---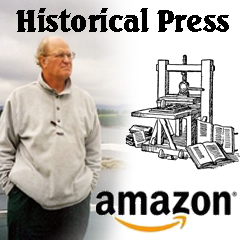 ---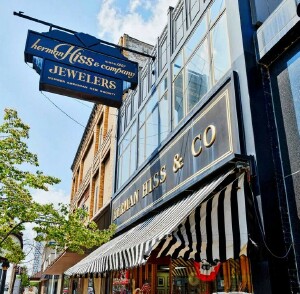 ---