Fantastic Fall Season Festivities
Tips And Activities That Are Sure To Help You Ease Into The Season!
August 24, 2008 2 Comments
By: MyBayCity Staff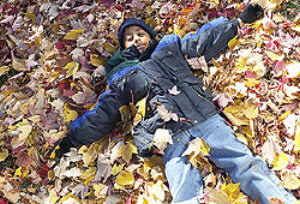 Fall Into Fall Season With Fun Activities
The Fall Season is quickly approaching, children are heading back to school, the summer gardens are on their way out and sweatshirts are on their way back into our closets!
Enjoy these Fall projects and tips to help you ease into the season and appreciate the beauty of living in Michigan! Sit back, relax, and let yourself "fall" ... into Fall!
FALL LAWN CARE CALENDAR:
September
Plant garlic.
Lettuce, kale, radishes and spinach can be seeded for a fall harvest.
Pull out dying annuals.
Plant mums, kale, flowering cabbage or pansies.
Divide day lilies.
Plant shrub roses. Slugs become active in cooler weather. Control with slug bait or stale beer in shallow pans.
Do not fertilize roses. If fertilized new growth will not harden off before winter.
Ripen green tomatoes indoors. Wrap individually in newspaper.
October
Pick Brussels Sprouts
Ripen green tomatoes indoors. Wrap individually in newspaper.
Remove plant debris from the vegetable garden to reduce insect and disease problems.
Cut up old plants after frost and spread over garden beds and dig in.
Add a 2-4" layer of organic matter to garden soil. Dig in 6-8" deep.
Mow lawn as long as the grass is growing.
Do not winter prune roses until leaves have dropped.
"MARLO MESSIPIES": FALL PROJECTS FOR THE ENTIRE FAMILY:
Now that the kids are heading back to school, the refrigerator will once again, become the "picture frame" for school projects and assignments! Make your own
leaf magnets
for hanging that precious artwork and those A+ papers with!
What you'll need:
Leaf shaped cookie cutters
Acrylic paint in red, yellow, green, orange and brown
Paint brush
Toothpick
Acrylic spray sealer, matte
1/2" round magnets
Hot glue gun
How to make it:
Preheat the oven to 250 degrees. Mix together, salt, flour, and water until a dough is formed. Knead the dough on a floured surface until the mixture is elastic and smooth. If dough is too sticky, sprinkle with flour, continue to do so until stickiness is gone. Do not add too much flour, this will dry out the dough and will cause it to crack before you get a chance to bake it.
Roll out the dough to about 1/4" thick with a rolling pin that has been dusted with flour. Use different sized cookie cutters to create as many shapes and sizes of leaves that you want.
For smaller children, use a single shape to make it easier at painting time. For older children, you can double up and even triple some of the leaves for a 3D affect as we did (see photo). If desired, use the toothpick to draw lines in the leaves. Place all leaves onto an non-greased cookie sheet and place into the preheated oven. Bake for two hours. Remove from oven and allow to cool completely. Paint with acrylic paints and spray finished leaves with acrylic sealer. Hot glue a round magnet to the back of each leaf and hang on the fridge!
This
melted crayon 'stained glass' window
amazes kids because the finished project is so beautiful. From simple materials you can craft something extraordinary.
What you'll need:
Black construction paper
Waxed paper
Crayons or crayon pieces in fall colors
Glue
Scissors
Iron (requires adult supervision)
How to make it:
Take black construction paper and cut it into 5" x 5" squares. With two pieces of paper together, trace a leaf on the top square and then cut out the leaf with the two pieces together. The squares will be solid around the edges with a leaf pattern cut out of the center. Next shave crayons using the colors of fall leaves. Using a warm iron, melt the crayon shavings between two pieces of wax paper. Then cut down the wax paper to fit between the two squares of construction paper.
To assemble the window, place one square of construction paper on the table and glue your wax paper glass to that square. Then place the second square over the first square making sure your leaf pattern matches up and glue the two squares together. TIP: This project can be done at any time of the year and can allow you to utilize broken crayons in all colors!
FALL BERRY PICKING TIPS:
Blueberries, Peaches, Apples and Pumpkin Farms are in full swing!
Pack for a day trip - I always bring snacks, hand towels or disposable wipes and plenty of liquids to drink. Include containers for picking and for carrying the fruit home (smaller containers are better for children's smaller hands), Some farms provide them, but usually for a fee.
Dress in old clothes and worn athletic shoes; you want to be comfortable and not worried about staining or tearing your clothes! If the ground is wet, it will really ruin any nice shoe, so wear your beat up old ones!
Wide-brimmed hats help protect you from the summer sun; and in the Fall, extra layers keep you warm. Don't forget sunscreen for the back of your neck and exposed skin.
The weather could change without notice. If you get hit by a downpour, be ready to switch to Plan B and if you can't wait it out, go to the backup plan; such as a visit to a museum, tourist or historic site nearby. Your kids will remember it as "the time we went to pick fruit and instead had fun doing" something else.
Pack a picnic lunch and snacks. You'll be gone all day and all that picking and being outdoors will work up a big appetite (assuming the kids haven't already gorged on the fruit they're picking). Bring a cooler and back it with your favorite lunch and snacks. Eating outdoors is part of the experience!
Don't forget the camera. You may want to capture those memories you're making. But remember you'll be out on the farm and bring a cheap or disposable camera, rather than the expensive one.
When you arrive at the farm, take some time at the beginning to explain to your kids on how to identify and pick ripe fruit. If you don't know, ask the farm hands - they can also tell you where the field has been picked out, so you don't waste time finding the fruit! And since fields and orchards can be large, make sure everyone knows where to meet up!
The fun doesn't have to end with just picking the fruit. Some farms also offer hay rides, petting zoos, corn mazes, gift shops, even restaurants. And if your children tire before you've gotten your fill of fruit, most places also sell pre-picked produce; you'll still get better quality and a better price than the grocery store.
Be sure to check out just a few of the many "pick-your-own" farms in our area: Little Orchard 989-684-3127, Berry Creek Farms - pumpkins and canning tomatoes, corn maze, hayrides 989-684-1655, Badour Berry Farm 989-892-8831
CANNING TIPS:
Use only the best, top quality ingredients. Preserve fruits and vegetables at their peak of ripeness.
Process ALL home canned foods.
High-Acid Foods in a Boiling-Water Canner
Low-Acid Foods in a Steam-Pressure Canner
Follow manufacturer's directions for preparing home canning jars and two-piece vacuum caps. Complete instructions can be found on each Ball brand or Kerr brand package, or refer to Step-by-Step.
Fill hot jar with prepared recipe. Leave recommended head space. Remove air bubbles by sliding a nonmetallic spatula between the jar and food; press gently on the food to release trapped air. Repeat around the circumference of the jar.
Wipe rim and threads with a clean, damp cloth. Center heated lid on jar. Screw band down evenly and firmly until a point of resistance is met, fingertip tight.
After processing, remove jars from canner; set jars upright on a towel to cool. Do NOT re-tighten bands or check for a seal while jars are hot.
After 24 hours, check lids for a seal. Sealed lids curve downward. Press the center of the lid to ensure it does not flex up or down. (Reprocess or refrigerate any unsealed jars.) Remove bands. Wipe jars and lids with a clean, damp cloth and dry. Wash bands in soapy water, dry and store.
Label and store jars in a cool, dry, dark place. For best quality, use home canned foods within one year.
Don't forget to check out the following Fall Festivities in Bay City:
September
Downtown Bay City Wine Walk
Arts in Autumn
River of Time Living History Encampment
October
Fall Migration Festival
Annual Tour of Historic Homes
Mother Nature's Halloween Trail
We At MyBayCity Wish You A Fabulous Fall Season!
---
---
---
Send This Story to a Friend!
Letter to the editor
Link to this Story
Printer-Friendly Story View
---
--- Advertisments ---