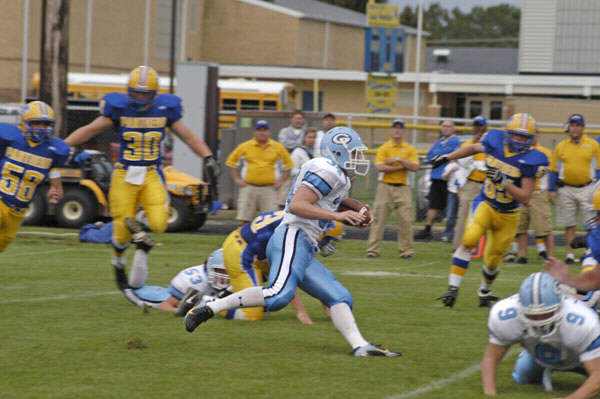 (34) Andrew Aho rushes through the hole for a Garber first down.
(MyBayCity Photo by John Keuvelaar)
---
Garber Runs by Birch Run 14-13
Andrew Aho ran all over the Panthers as he amassed 278 yards on 33 carries.
September 7, 2008 1 Comments
By: John Keuvelaar
"This was a real 'Gut it out' win. A great sign for a young football team".
That was Coach Swartz' reaction to Garber's 14-13 win over always tough Birch Run.
While the game ultimately turned on an improbable two point conversion, it was Andrew Aho's running that was the story of the night. Senior tailback Andrew Aho ran all over the Panther defense as he amassed 278 yards on 33 carries. This was made even more impressive when you realize he is running behind a line that has only one senior starter.
"Birch Run has a very good secondary. They have height and are very athletic. We knew we had to run there. The line was blocking, picking up their stunts, making the big push so we kept going with it", noted Coach Swartz.
And stay with it they did as QB Jake Herbert attempted only 5 passes with two completions for 21 yards. What was not reflected in those stats is what turned out to be the game winning play early in the third quarter.
Garber started the game out strong by stopping Birch Run on their first possession. Following the punt, the Dukes behind Aho's running drove down to the Panther 27 before penalties, a theme on the night, backed them up and stopped the drive.
After an exchange of punts, Garber jumped on the Aho train starting on their own 24 yard line. Three straight Aho rushes for 48 yards, a face mask penalty and another 6 yard burst and the Dukes were knocking on the door. Junior David Laskowski then ran up the heart of the Panther defense for 4 yards and a Duke touchdown.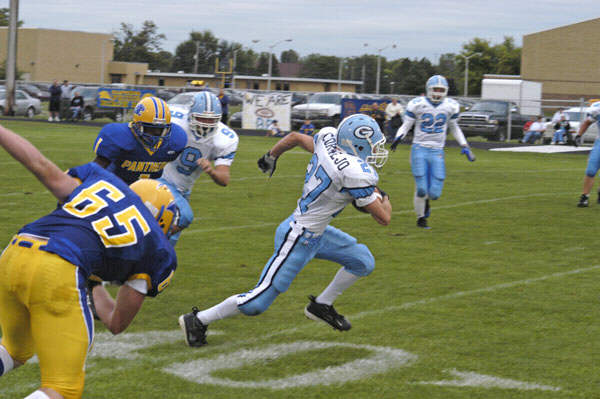 Jimmy Cornejo 27 takes this reception down the field dodging Birch Run defense-men.
(MyBayCity Photo by John Keuvelaar)
After the extra point pass feel incomplete, Garber seemed to be in command at 6-0. But Garber mistakes got the Panthers rolling. Following Garber's Mike Schroeder's 43 yard punt, a unnecessary roughness penalty put the ball on Garber's 49 yard line. Panther senior tailback, Jacob Goodyear, then peeled off some big runs and Birch Run scored with 0:21 left to go up 7-6 at half time.
Garber took the second half kickoff and immediately went to the Aho Express. Following a return to their own 47, Aho ripped off three big runs, with the third being a 31 yard touchdown run putting them back up, 12-7.
However, on the touchdown, the Dukes suffered a celebration penalty and the two point conversion had to be attempted from the 18. Hebert rolled to his right and hit Jimmy Cornejo just inside the goal line for two points. This is a stat that only shows up on the scoreboard but that's where it counts. Even with the dominating running by Aho, the Dukes couldn't seem to put Birch Run away.
Penalties caused Garber to start on their own 4 for a first and 20. Aho behind excellent blocking moved the Dukes out of trouble for a first down. But an exchange of punts put Garber back on their own 11. Then Garber opened the door for Birch Run. A bad exchange on the handoff resulted in a fumble that the Panthers recovered on Garber's 30. Garber's defense again was coming up big as it had all night when Birch Run connected on a fourth down and 5 pass to keep their drive going and an eventual touchdown. But the kick was short and wide and Garber dodged a bullet keeping a 14-13 lead.
Following a solid return by Travis Britko Garber had the ball on their own 39, then came the Cardiac Play. As Garber ran the ball, a fumble occurred and was scooped up by a Panther and he was headed for the end zone. QB Jake Hebert, ran him down and stripped the ball away recovering it on their own 4 yard line to regain possession.
Garber then fed Birch Run a steady diet of Andrew Aho and the Dukes moved the ball out to midfield before punting it away. The Duke defense now had to stop an energized Panther offense but as they had done all night, they stoned them. The key play came on a 3rd down and 1 yard to go. Senior Captain Shane O'Mara timed a blitz nailing the Panther fullback for a loss and forcing a punt.
A jubilant Coach Swartz noted after the game, "We are a young team with only five starters back. Penalties, turnovers and being on the road, this (win) was a Great Thing!" Garber has a bye this week but will return to action September 19 at North Branch.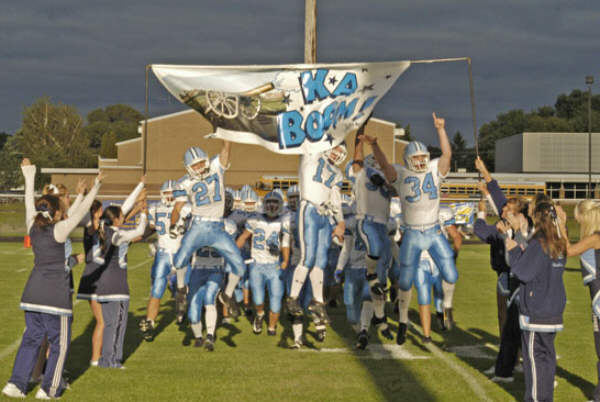 Even on the road, you can't silence the Duke's cannon.
(MyBayCity Photo by John Keuvelaar)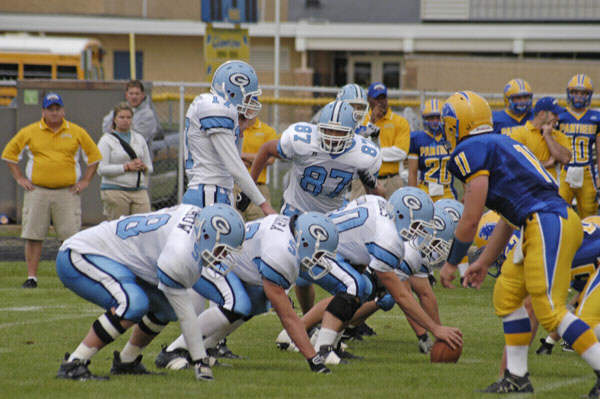 The Garber Offensive line readies its assault against Birch Run's Defensive Line.
(MyBayCity Photo by John Keuvelaar)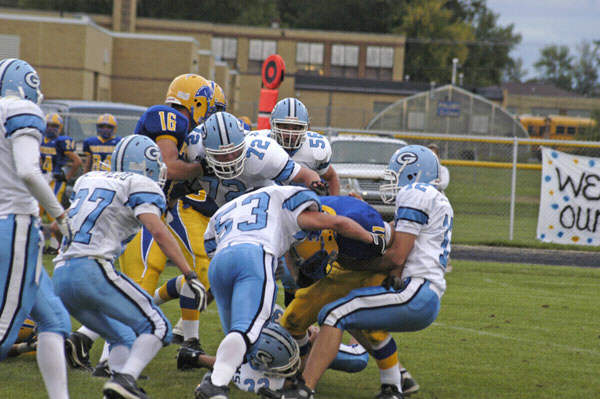 Garber's defense-men swarm and take down the ball carrier.
(MyBayCity Photo by John Keuvelaar)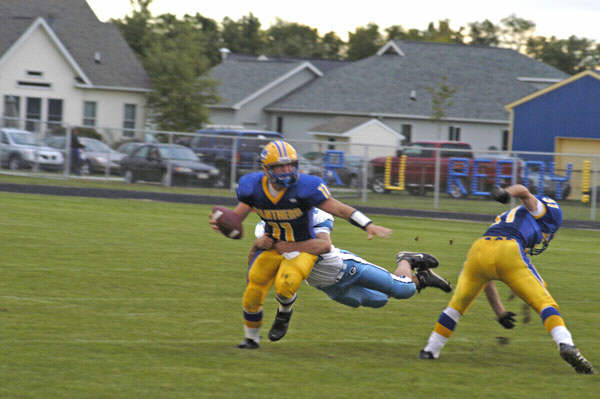 12 Lee Madziar sacks Panther's 11 Tony Grant.
(MyBayCity Photo by John Keuvelaar)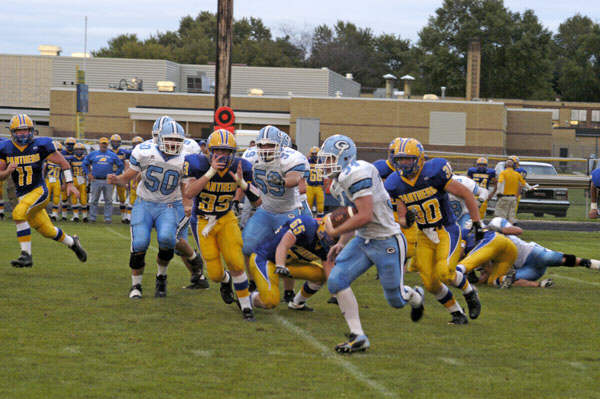 34 Andrew Aho leaves the train station on another long run.
(MyBayCity Photo by John Keuvelaar)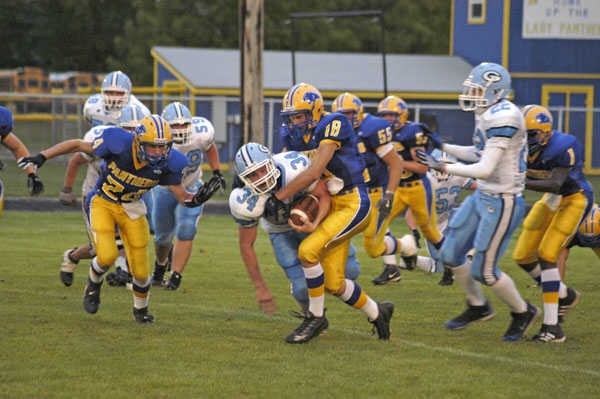 Birch Run's Tyler Quinn tries to strip the ball.
(MyBayCity Photo by John Keuvelaar)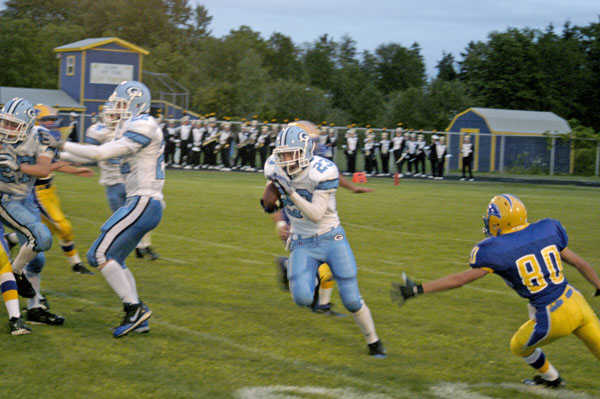 23 Travis Briko returns this kickoff giving Garber good field position.
(MyBayCity Photo by John Keuvelaar)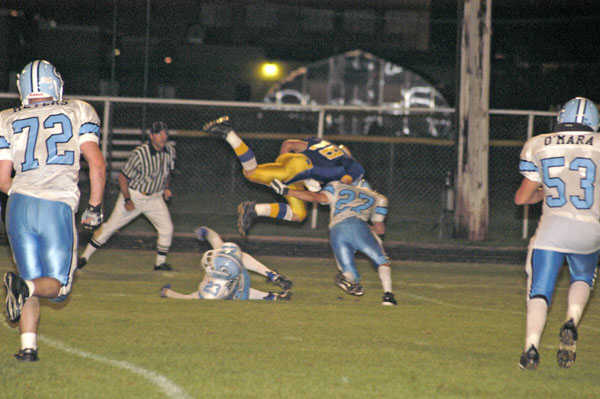 Birch Run's 18 Tyler Quinn is sent flying by 27 Jimmy Cornejo and 23 Travis Britko but not after getting a crucial first down.
(MyBayCity Photo by John Keuvelaar)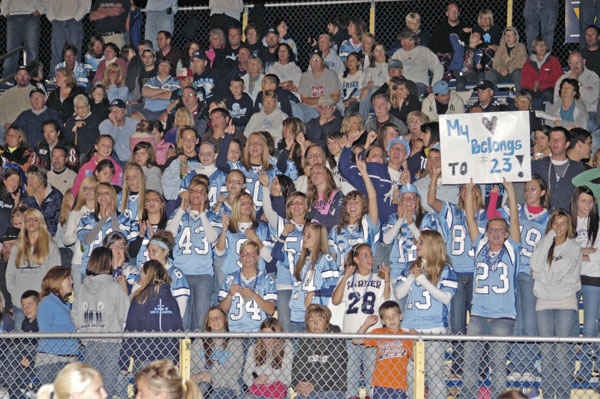 A sea of blue sports their football team.
(MyBayCity Photo by John Keuvelaar)
---
"The BUZZ" - Read Feedback From Readers!
jgkeuvdesoto Says: On September 15, 2008 at 07:46 PM

This is my Grandson who is taking all the pictures. My son sends the article by E-Mail and with the picks and comentary its like being at the game way down here in Florida
---

John Keuvelaar




John Keuvelaar is a college student at Midwest Photography Workshops and Delta College.

More from John Keuvelaar
---
Send This Story to a Friend!
Letter to the editor
Link to this Story
Printer-Friendly Story View
---
--- Advertisments ---