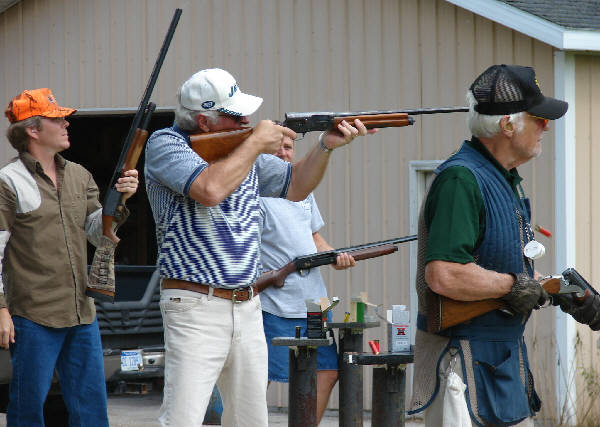 (Photo by Trishelle Hetherington)
---
Hey Man, Nice Shot!
Follow up - Annual Trap & Turkey Shoot at The Crump Fox Club
September 14, 2008 1 Comments
By: Julie McCallum,
Senior Staff
If you live in the Prevo Road area in Linwood, Sunday, September 7, 2008 you might have heard the sounds of gun shots starting at 10 AM coming from the Crump Fox Club.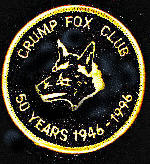 The Crump Fox Club was established in 1946. Guns-man veterans as well as club members and annual trap shoot visitors came from all around the Tri city area for the annual trap & turkey shoot.
Every year my goal is to beat my personal best in the trap shooting. Total Possible shots are 25. (5 shots at each rotating station).
This year was no exception I was more determined then ever, I practiced before the annual shoot and might mention - I hit even with my personal best, got a good night's sleep, arose early, put on all my good luck charms, which includes a ring from my Aunt Phyllis, my 'Browning' hat, a 'courage' bracelet and a shirt entitled "Mission Possible". I was so ready!
Well guess what . . . it didn't work, That Sunday was not my best shooting, I guess I was never superstitious anyway.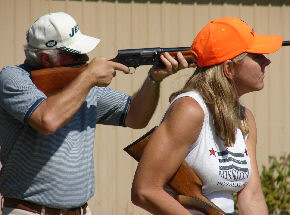 But what went wrong?
I had my own cheering section
Was the wind a factor?
Was I not taking my father's advice? (Left)
Was it the heckling from an old friend in the score booth?
Was it because Tim Roller didn't show?
Was it my brand of game load?
Was it over-preparation?
MAYBE I'm just over analyzing it, or as my best friend would say, maybe I'm putting to much thought into it. It could be the competitive side of me, did I mention I grew up in the south-end of Bay City with THREE brothers.
Anyway, I will change my strategy next year. Thanks to all who came out to join me this year and hope to see you there next year!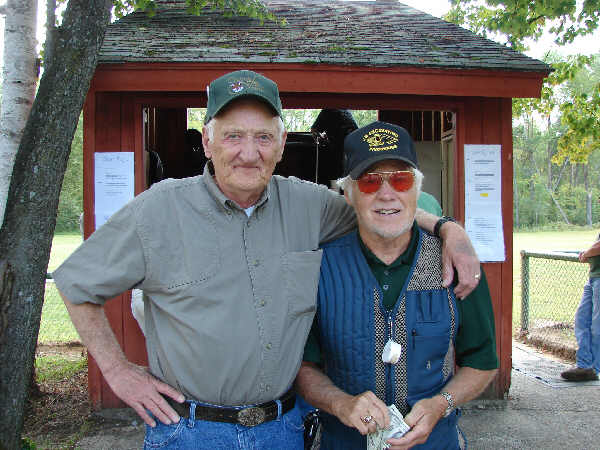 George Ouilleete (L), of Kawkawlin, has been club member for 5 years, along with Chuck Williams (R) a long time member of the Fox Club.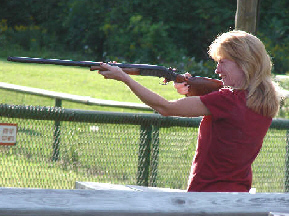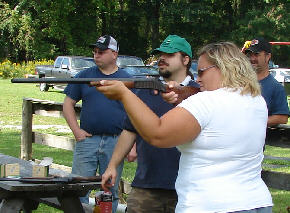 THE TURKEY SHOOT -
Trying their shot at a free turkey at the turkey shoot.
(Above Left)
Carla Weitzel
(Above Right)
Trishelle Hetherington. In the Turkey shoot, Twelve competitors compete against each other using the same shotgun, closest to their bullseye wins a free turkey. This shoot continues all day, approximately every half an hour or until 12 shooters are signed up.
(This year I guess I will be spending Thanksgiving with my brother, Joe Munger who won such a turkey. Munger also competed in the end of day shoot-off which is the top scoring shooters competing against each other.)
(Joe Munger Pictured Below - front)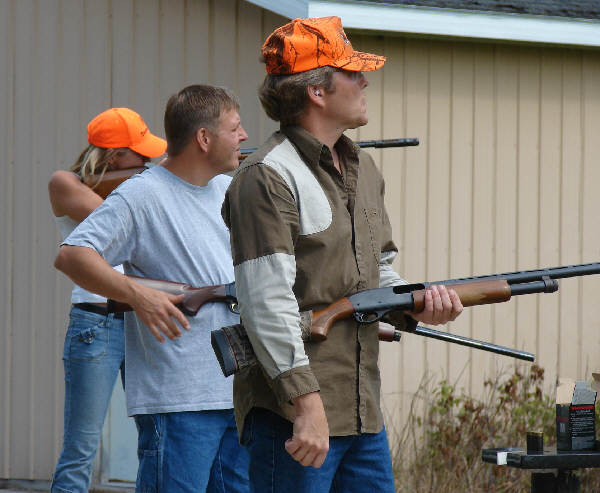 (Photo by Trishelle Hetherington)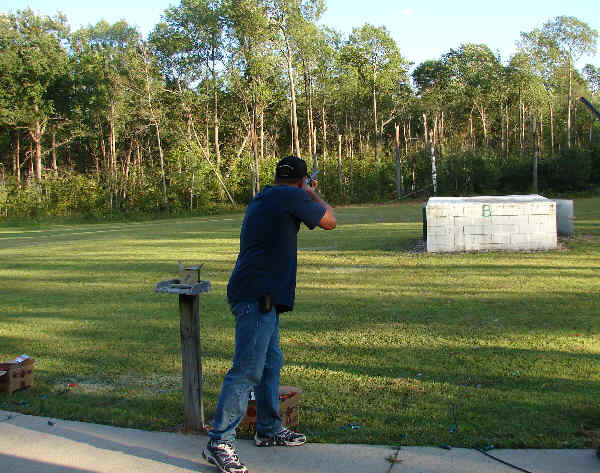 TRAP SHOOTING -
Terry Sequin who lives just minutes away, said, "All my uncles were all members here, I've been a member for 7 years."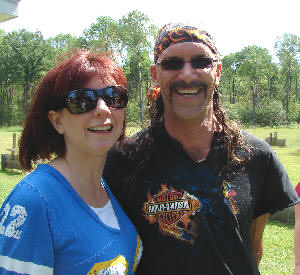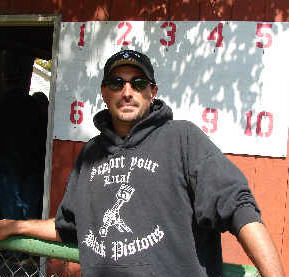 (Above Left)
Near by neighbors of the Fox Club and Newly engaged couple Mark Rosenbrock and Sheri Oczepek came down to enjoy the day visiting with family and friends.
(Above Right)
Chris Goulet joined as a member this year to the Fox Club. Goulet worked in the score booth that day.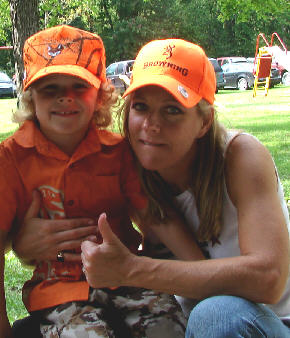 (Left)
My future trap-shooter pride and joy - my nephew, getting him used to the surroundings. Approximately 8 years to go!
Previous Column on Trap Shoot
---
"The BUZZ" - Read Feedback From Readers!
tim Says: On September 22, 2008 at 07:47 PM

Looks like a great time was had by all. My apologies (AGAIN!!) for not being able to make the shoot this year. . . . something about schedules and being asked at the "last minute". Would love to attend in the future. Looks like a nice segment on Wild Addiction is just waiting to be filmed there. At least I was number 5 on your list of "what went wrong" and not number 1.
---
---
Send This Story to a Friend!
Letter to the editor
Link to this Story
Printer-Friendly Story View
---
--- Advertisments ---