Deer Hunting: New Technology Makes Hunter Invisible, Unscentable, Effective
Camo Designs, Carbon Lined Clothes, Scent Eliminators Give Hunters An Edge
September 23, 2008 2 Comments
By: Dave Rogers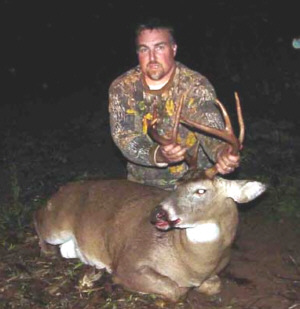 Andy Cuttitta with one of his early camo designs mimicking patterns found in the woods.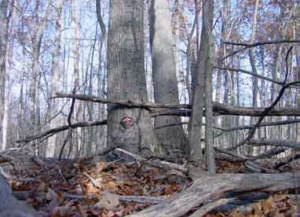 Can you see the camouflaged hunter in this photo? The question is, can the deer or turkey see him?
When you go deer hunting, you get on a red suit, grab your shotgun and head out to the woods. Right?
Wrong! You go to the sporting goods store, spend hundreds of dollars on high tech equipment including scent-proof exotic gear and then head out.
The red suit has been replaced by computer-generated camouflage with fractal designs that a deer apparently cannot see.
And, instead of the shotgun today's wily hunter uses either a high-powered rifle with scope or high tech compound bow with graphite arrows.
Your hunting suit is carbon-lined so deer can't smell you and is available in a variety of patented camouflage patterns.
Patented camouflage???
Can you say Scent Lok?
Can you say HyperStealth?
If you can, and have the wherewithal, you may get a edge of 20 percent or more over hunters who are not similarly equipped, research shows.
W.L. Gore & Associates, developers of Gore-Tex, a breathable waterproof sports fabric, has now developed an exacting set of performance standards for hunting apparel.
"Gore-Tex with suppressant fabric has now made it possible to reduce the problems of heat loss and wind chill while simultaneously minimizing human scent with carbon lining," states a company spokesperson.
"It has been estimated that a whitetail deer can smell 10,000 times better than a human," says a report from monsterbucks.com of Macon, Missouri.
Lots of companies are moving into the scent control products field including ALS Enterprises, developer of Scent Lok, Gore, Scent Shield, Browning, 10X Products Group, Walls Industries, Whitewater Outdoors, Wellington, Robinson Labs, Hunter Specialties and the Wildlife Research Center.
In camo gear, Gore this fall is introducing Optifade, designed by Jay Neitz, animal vision expert at the Medical College of Wisconsin, and Lt. Col. Timothy O'Neill, Ph.D., former West Point researcher who teamed with Guy Cramer on fractal designs.
Dr. O'Neill, while on the engineering psychology department at the U.S. Military Academy, developed pixelated digital camouflage made up of tiny colored squares, the New York Times reported this week in a rare article about hunting.
HyperStealth Corp. states: "With Dr. O'Neill's collaboration, Mr. Cramer has developed over 1,000 digital camouflage patterns, many based on fractals (feedback loops). Some of these patterns are being used for concealment training in both the British and U.S. Army training. Currently, officials with 10 separate countries are reviewing the Cramer/O'Neill patterns."
The computer-generated camo patterns are not the only way to approach hunting technology. Good old-fashioned hand-produced artwork is still an effective way to approach the concept, according to Andy Cuttitta.
During his first 24 years of hunting Cuttitta purchased numerous types of camouflage clothes and was continually frustrated by the limitations of camouflage products designed for whitetail hunting from tree stands. Most camouflage companies offered seasonal patterns and coordinating the pattern with the season was costly.
Cuttitta started modifying some of his existing gear by painting them with accents to more realistically match the exact environment and season he was hunting in. His patterns mimicked the bark of many varieties of trees.
A company spokesman states: "Andy started modifying some of his existing gear by painting them with accents to more realistically match the exact environment and season he was hunting in to try and find that perfect pattern."
Since bark does not change colors, UltimateCamo works in every season, eliminating the need to buy different sets of clothing. UltimateCamo chose oak bark for its first pattern. "In researching the best bark pattern to use, we looked at the most popular trees used for tree stand hunting and found oak in particular was a commonly used tree and was perfect for our first pattern," said Cuttitta.
Oak trees are widespread throughout most of the United States. There are dozens of types of oak trees, fortunately all have similar bark patterns, as do ash, cottonwood, sweet gum, maples, poplar, and several other common deciduous hardwood trees.
It was once thought that deer see only in black and white. Scientists have now learned that deer can see colors in yellow and blue sepia tones, or in dichromatic vision. Humans, turkeys and other animals see in trichromatic vision.
"The UltimateCamo bark pattern is not affected in either situation as our bark pattern in black and white, and in sepia tones blends perfectly with bark as the pattern matches typical bark chip textures where other camouflage patterns do not match a tree's natural background texture."
Does this high tech clothing really help a hunter bag deer? In terms of scent, some positive evidence is offered as a result of field research.
A study by an outdoor writer, Darrin Bradley, documented scent control on 497 hunts of whitetail deer, citing a 69 percent success rate (placing himself in bow range) without carbon-lined clothing.
While wearing carbon-lined clothing, Bradley experienced a 90 percent success rate -- a 21 percent increase in effectiveness.
Camo effectiveness was tested by Dr. Neitz at the University of Georgia by training deer to press touch screens when they picked out the right pattern, according to the Times.
Monsterbucks.com cites camouflage produced by a company named Haas Outdoors with its Mossy Oak and Bottomland brands touted as "America's most effective concealment system." Toxey Haas of West Point, Mississippi, is one of the earliest camo designers, beginning work in 1986.
"The Bottomland pattern contained vertical and elliptical shapes and featured the most natural earth tones ever put to fabric," states Haas.
So there's lots more to going deer hunting these days if you want to be successful. But, be sure to bring your checkbook when you head to the outdoors outfitters.###
---
"The BUZZ" - Read Feedback From Readers!
drewtgill Says: On August 02, 2012 at 12:46 PM

Hi Dave,

I like the camo pattern. Great article, but have a slight issue with the company. Did they go out of business? The reason I ask is between the site contact info and facebook, no one from the company will respond to any inquiries about an order that they charged me for about a month ago (and no delivery)...so wasn't sure if this company was a scam. I would hope not. I'm trying to see if anyone has any additional informaton on Ultimate Camo.

Avid Hunter,

Andrew Gill
Houston Tx.
---

Dave Rogers




Dave Rogers is a former editorial writer for the Bay City Times and a widely read,
respected journalist/writer in and around Bay City.
(Contact Dave Via Email at carraroe@aol.com)

More from Dave Rogers
---
Send This Story to a Friend!
Letter to the editor
Link to this Story
Printer-Friendly Story View
---
--- Advertisments ---