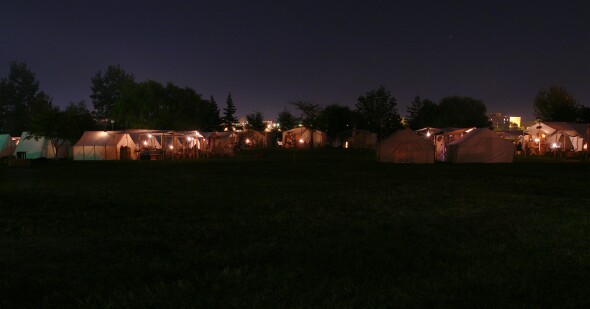 River of Time -- History Under the Stars
Quiet voices around a campfire . . . and More
September 28, 2008 1 Comments
By: Stephen Kent
After the crowds leave, after the sutlers close their shops, after the fires are banked for the evening, the River of Time camp drifts into a distant past and a softer time. Quiet voices around campfires, soft laughter in the distance, a small dance party near the log cabin. There's no rock music, no loud revelers, and few cell phones.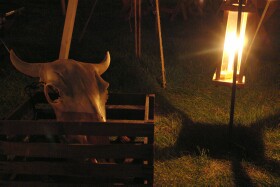 After supper on Saturday the camp hosts a candle light walk when the public can experience some of this culture. Even in the dark, reenactors continue teaching history to each other and anyone else who happens by. Stories of buffalo hunts, the history of the 1841 field gun saved from a scrap yard near Detroit, how people kept warm before catalytic heaters and down filled sleeping bags. And David Schubert with his demonstration of flint and steel fire making, a traditional skill that feels like magic.
The loudest thing in camp is the group gathered at tables and a tent near the log cabin. But it's not loud in modern terms. It's conversation, laughter, and the sounds of long skirts rustling as dancing couples skip hand in hand between two lines of softly clapping young people dressed in wool pants, vests, long skirts and bonnets. The sounds of low singing and guitars provides background music from the porch of the cabin. The candle light just barely illuminates the musicians.
Back along the river a couple strolled hand in hand talking quietly. On a bench three people were softly singing old hymns. The murmured sounds of the city could be heard in the distance, but on this night, on this river, it seemed a hundred years away.
---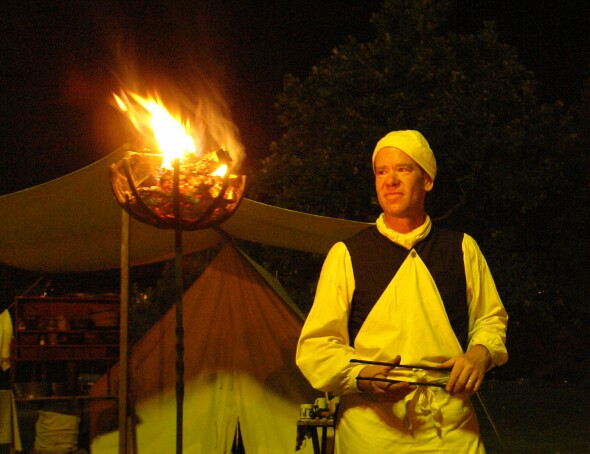 David Schubert from Bay City chars cotton fabric for catching sparks. The small patches of charcoal will be kept in a dry tin in his fire making pouch.
---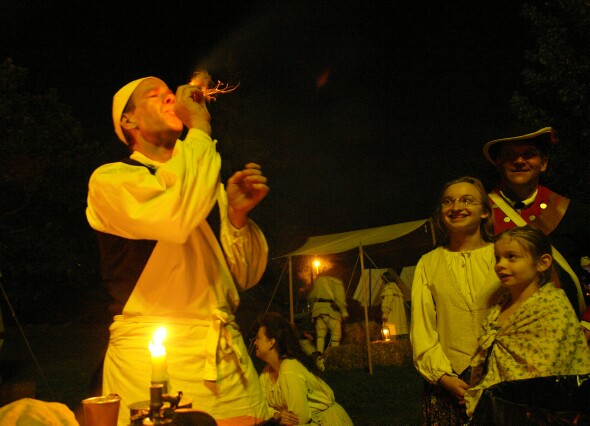 The charred fabric is nestled in a handful of rope fibers. Flint is struck to steel and the sparks catch in the fabric. A gentle puff of air grows the spark to flame.
---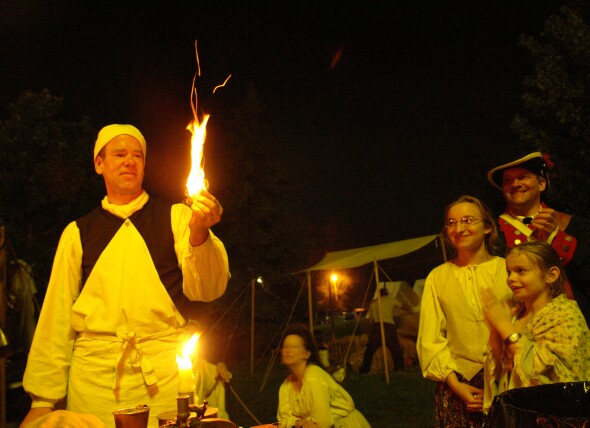 Seconds later, and to the delight of all, fire is made!
---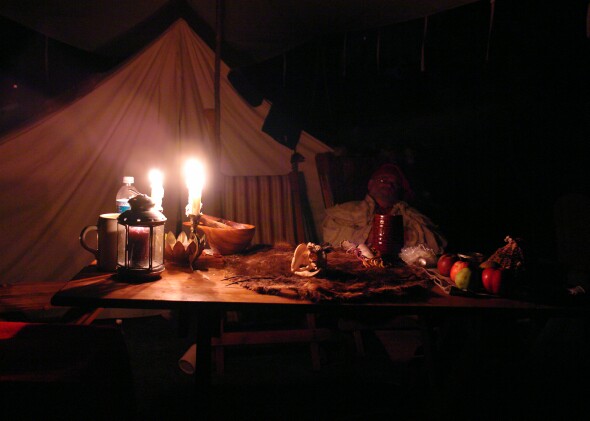 Randy Baker naps outside his tent before turning in. (Photo: Emily Kent)
---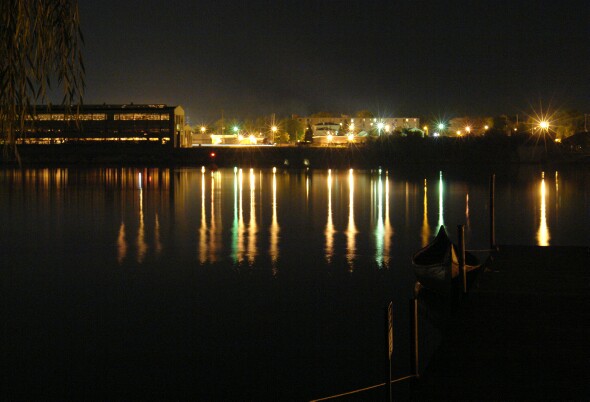 The Sanford Company's giant voyageur canoe sits silent at the dock. (Photo: Emily Kent)
---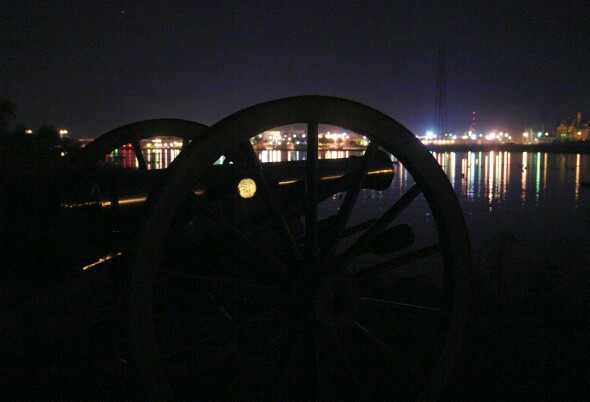 Ever vigilant, the 1841 "Brass" Six Pounder Field Gun looks over the approach by river.
---
MyBayCity.com has covered the River of Time since 2003.
Take any of these links for prior year coverage:

2018.a, 2018.b
2017.a, 2017.b, 2017.c,
2015, 2014, 2013,
2012, 2011, 2010, 2009,
2008, 2008, 2008, 2008,
2007, 2007,
2006, 2006,
2005, 2005, 2005,
2004, 2003,
---
---

Stephen Kent




Steve Kent and his family have lived in Bay City for 40 years. He is VP of Technical Services at MMCC which produces MyBayCity.Com. Kent is active in many Bay City civic organizations.

More from Stephen Kent
---
Send This Story to a Friend!
Letter to the editor
Link to this Story
Printer-Friendly Story View
---
--- Advertisments ---






0200 Nd: 10-20-2020 d 4 cpr 0






SPONSORED LINKS
---
LOCAL LINKS
(Ads not affiliated with Google)
---
---
---
---
---
---
---
---