Mid-Michigan Destroyers Announce Coaching Staff, Draft Picks And Venue!
Bay City Native, TJ Newsham Named Head Coach!
November 19, 2008 1 Comments
By: MyBayCity Staff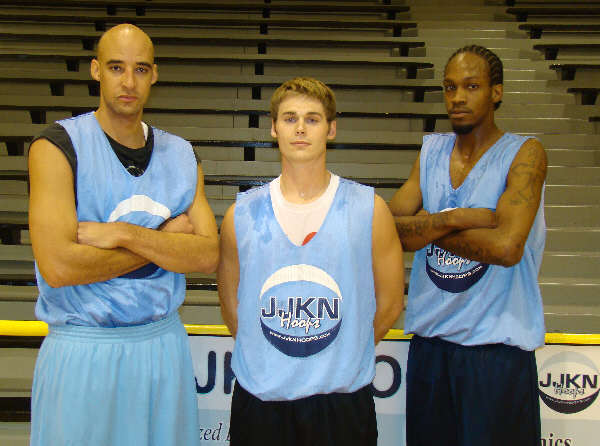 Draft picks Luke Lloyd, Jeff Jayson and Odgra "Bobo" prepare for the season at JJKN Hoops Training Facility in Bay City.
(MyTriCityNews Photo)
The Mid-Michigan Destroyers are heading our way! Sure to provide excitement, entertainment and something for Tri-City Basketball lovers to do throughout the winter months!
The Mid-Michigan Destroyers have named their coaching staff to include Bay City native, TJ Newsham as Head Coach!
Mid Michigan Destroyer General Manager, Jere Shockey announced that Bay City native TJ Newsham will serve as the teams first head coach. Shockey also announced that Newsham will serve as Director of Basketball Operations.
"I have worked with Coach Newsham over the past year and his dedication and knowledge of the game is similar to what I had experienced in the CBA (Continental Basketball Association). He has a grasp on what the pro game means and how to develop the players on that level," says Shockey.
Newsham started out as a local youth coach before completing an internship at UCLA in 1998 and then moving on to Fairmont State University as a men's assistant coach before turning his attention to private training and development. He completed the Professional Basketball General Management and Scouting course in 2005 which led him to basketball positions offering statistical analysis to NBA and International teams. He has provided Pre-Draft feedback for web-based NBA Draft Experts.
Coaching has remained the forefront of Newsham's desires.
"I love training and developing all of the JJKN Hoops players but to get back on the court is a fire that burns very deep. This is a great direction as it allows us to develop and train an extremely high level of basketball player right here in Bay City," added Newsham.
Also added to the coaching staff is Star Stevens who will serve as associate head coach and Isiah Carter. Stevens has three years professional playing experience including stints in the CBA and overseas. He is a former All-American point guard from U-W Parkside and a Saginaw native. He currently trains and assists players at all-levels (including Detroit Piston Lindsay Hunter).
Shockey added, "Star brings a high level of teaching but more importantly playing level to the team. He is still in great shape and could even step in to a playing role if needed. I have great confidence that our coaching staff will have these guys ready to compete every night."
Isiah Carter will volunteer his time to the Mid-Michigan Destroyers and is currently providing assistance to the Detroit Pistons!
The Mid Michigan Destroyers General Manager Jere Shockey also announced Bay City Western High School will be the home game venue of the Destroyers in their inaugural season.
The Destroyers will play ten (10) games this winter in the Premier Basketball League. The PBL is a minor league, professional basketball league in its second season. The Destroyers will continue to practice and train at St. Joe's Gym on Third Street.
"It was very important for us to get a facility that is as first class as Bay City Western. Our focus is putting a great basketball product on the floor, and with the TV deals the PBL has, we needed a venue with great lighting, great flooring, great seating capacity and a great location to get to from all over Mid Michigan. The Western facility meets all of these needs," said General Manager Jere Shockey.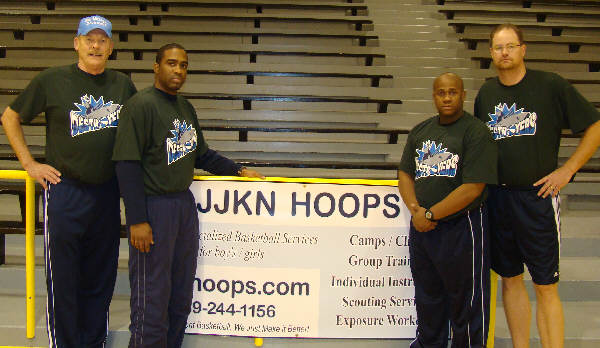 The Mid-Michigan coaching staff includes decades of experience! Pictured (L/R): Jere Shockey, Star Stevens, Isiah Carter and Head Coach, TJ Newsham
(MyTriCityNews Photo)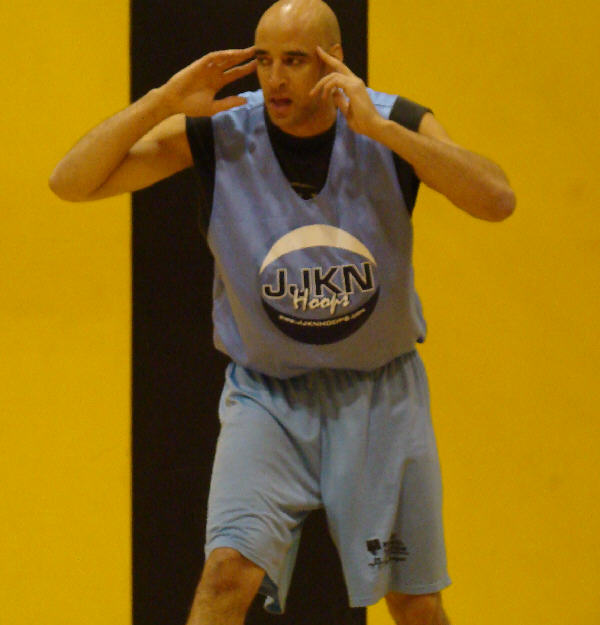 Luke Lloyd thinks through his play before executing
(MyTriCityNews Photo)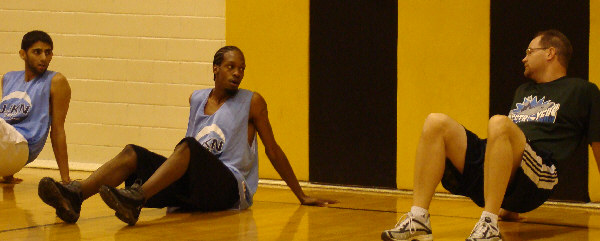 Head Coach, TJ Newsham diligently works with these players to condition them for what is sure to be, an exciting first season!
(MyTriCityNews Photo)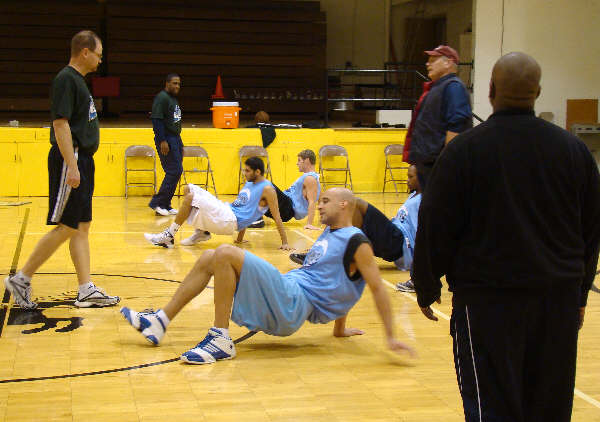 Players work on agility and strengthening methods for the season!
(MyTriCityNews Photo)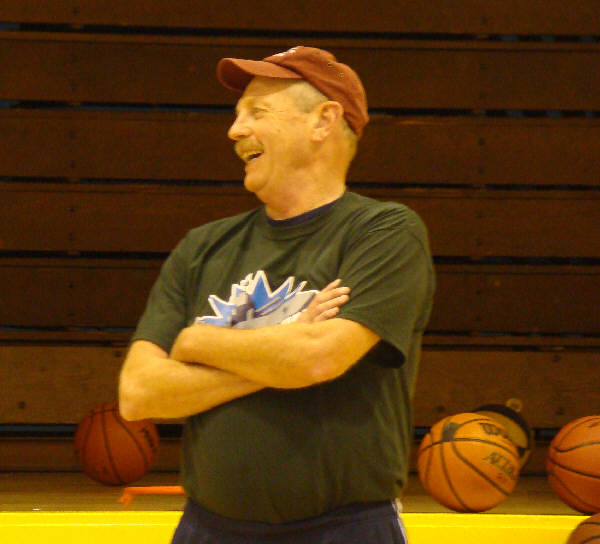 General Manager, Jere Shockey visits the JJKN Hoops Training Facility in Bay City to watch these draft picks condition
(MyTriCityNews Photo)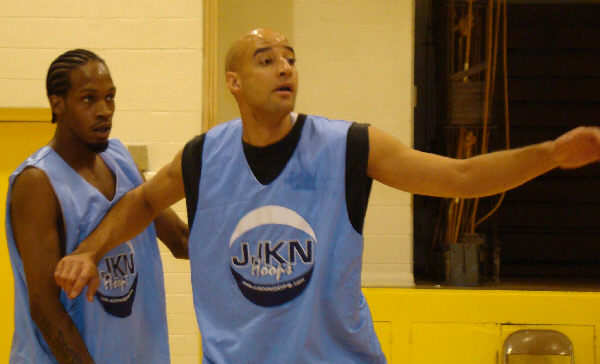 Luke Lloyd (6'9" 190) comes to the team from Morehead State and Odgra Bobo (6'6" 210) from Oakland Community College
(MyTriCityNews Photo)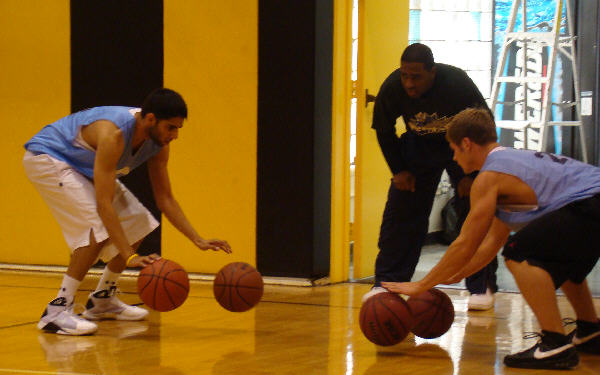 Jeff Jayson works with coaching staff at JJKN Hoops Training Facility
(MyTriCityNews Photo)
Mid-Michigan Destroyers draft pick and former Aquinas junior Jeff Jayson etched his name in the Men's Basketball Career point record books as he tallied his 1,000th career point in the Ken Elmendorf Memorial Tournament at Marian College.
In just his junior year, Jayson becomes the 27th Saint to become a member of the prestigious 1,000 point list.
Entering the 2005-2006 season, Jayson had accumulated 943 career point in his first two years at Aquinas. Entering that tournament, Jayson needed 26 points to pass the 1,000 point mark. With a 19 point showing in the Saints first round 70-50 victory over Indiana Northwest, Jayson was seven shy of the 1,000 point mark.
In the Saints second game of the Ken Elmendorf Memorial tournament, a game that saw Aquinas rack up their first defeat of the year, a 56-51 loss to Marian College, Jayson chipped in 12 points to bring his career point total to 1,005 points.
Jayson earned first team All-WHAC honors as Aquinas College guard. Jayson was also named co-preseason Player of the Year in October 2007, finishing the year sixth in the league in scoring (16.6 per game) and fifth in assists with 3.2 per game.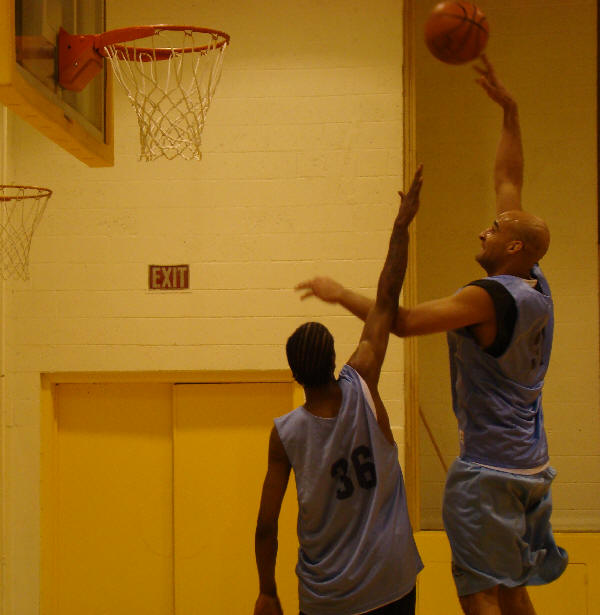 Luke Lloyd and Odgra Bobo are sure to bring excitement to this team and the Tri-Cities!
(MyTriCityNews Photo)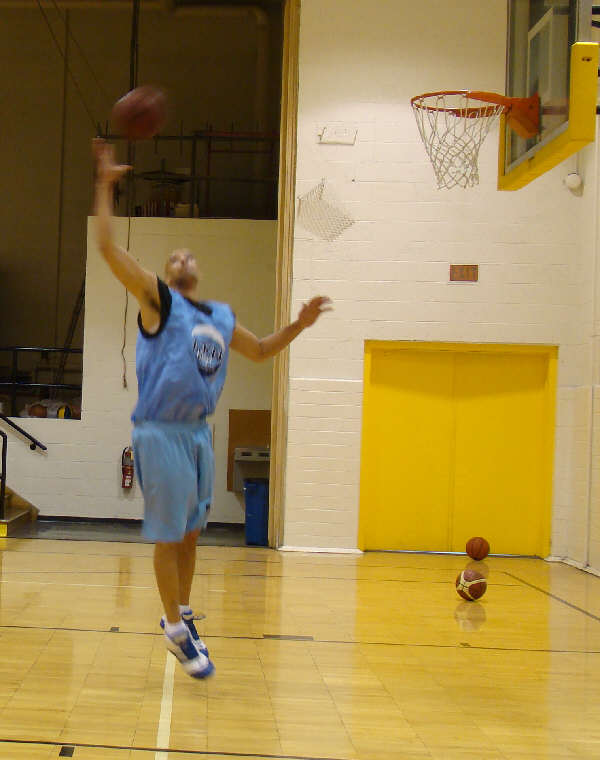 Lloyd, a Flint native has over eight years of professional basketball experience overseas
(MyTriCityNews Photo)
Luke played High School Basketball for Flint Southwestern and earned a four year scholarship to Morehead State University. Luke has almost a decade of professional experience in Europe and South America. He was a trainer for two years as well as working with the Detroit Pistons youth camp for four summers. He also facilitated team building activities at Base Challenge Center for two years.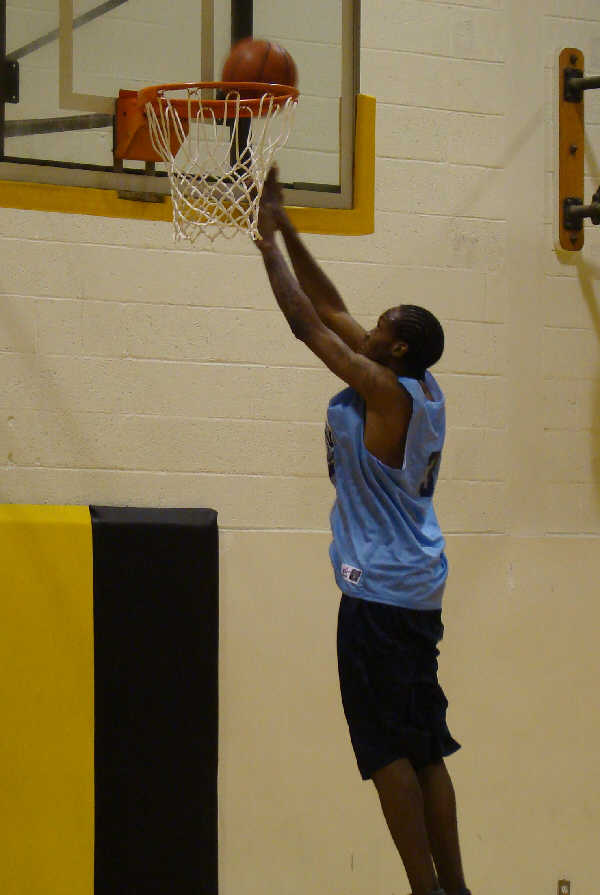 The "One Man Show" is sure to provide some fast action jacking!
(MyTriCityNews Photo)
Odgra Bobo has been referred to as the "One Man Show" for Oakland Community College. Bobo is know for his strength and jacking skills. The Tri-Cities will now have the opportunity to be entertained by this Basketball "whiz kid" who is sure to put on a show!
For additional information on the Destroyers, please visit Mid-Michigan Destroyers or contact Shockey at 989.244.1156 (office) or 248.420.2754 (cell).
---
"The BUZZ" - Read Feedback From Readers!
shawty21 Says: On May 13, 2009 at 06:51 PM

I personally know Odgra Bobo and I want to congratulate him on how much of a success and inspiration that he has been to the people around him. I haven't been knowing Odgra long, but I know that he has had a hard life, and he deserves every blessing that he receives out of this! CONGRATULATIONS BOBO AND I LOVE YOU! JAMEKKA!!!
---
---
Send This Story to a Friend!
Letter to the editor
Link to this Story
Printer-Friendly Story View
---
--- Advertisments ---