Obama, McCain Demonstrate Spirit of National Unity Needed to Meet Crises
Rejection of Culture of Greed and Exploitation Was Important Vote Factor
November 6, 2008 1 Comments
By: Dave Rogers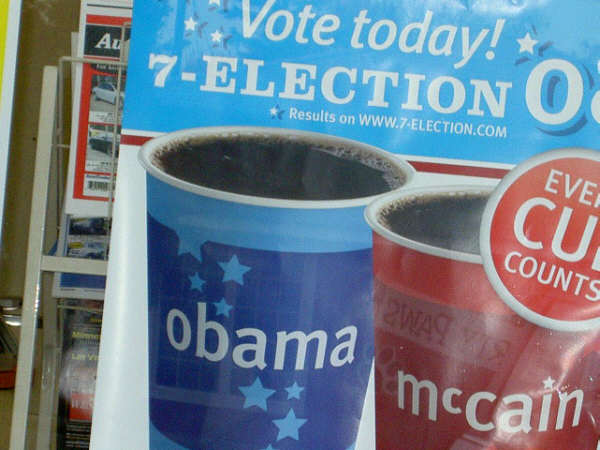 Only McCain cups were available at 7-Eleven on Columbus prior to the election; Obama cups were all sold out.
John McCain's conciliatory comments in his post-election concession, and George W. Bush's tribute to President-elect Barack Obama are just what the doctor ordered.
Not helpful was the petty sniping of Rush Limbaugh, who charged irresponsibly "the election was stolen" without a shred of evidence from anywhere that had happened.
And Sean Hannity's carping about the his contention that Obama is a "radical" who will ruin the country.
Such talk, if the shoe was on the other foot, I would bet would be termed anti-American by those same commentators.
Renewal of the Fairness Doctrine, phased out in the Reagan Revolution, is probably going to be proposed, despite the vast constituency. Reports are that 60 percent or more Americans surveyed think talk radio is off the reservation, hurtful to national unity and a travesty of both broadcast journalism and the First Amendment.
Here we are, the United States people, facing the greatest economic threat since the Great Depression and multiple national security challenges abroad, and the hyper-political right-wing talk radio maniacs can't bring themselves to decency for the sake of unity.
Probably the election was the result of ordinary Americans, the so called "center," rejecting the culture of greed and exploitation that has marked the last eight years.
The tactics of campaigning based on fear, division and racism, plus an obsession with guns, may have been the undoing of John McCain, a good man who deserved better. Where in the Constitution does it say that a citizen has a right to own an assault rifle capable of mowing down dozens of people in a single burst?
Nicholas Kristof writes in the New York Times: "Mr. Obama's election may also be a political milestone, ending an era in which Republicans succeeded at winning votes from the working poor to cut taxes for billionaires. That was the Republican Party's great success over the last 40 years. Blue-collar Americans regularly voted like stockbrokers because they felt more at home with Republican traditional values."
If there is one shocker on election night in the presidential race, cast your eyes to Georgia, reported Nate Silver of fivethirtyeight.com, a poll reporting site. 1,994,990 people voted early in Georgia. That is nearly two thirds of the 3,301,875 total who voted in Georgia's presidential race in 2004.
Thirty-five percent of Georgia's early voters were African Americans and 30 percent of that cohort did not vote in 2004. However, in previous elections in the South, the more African Americans who vote, the white vote is increased to match or exceed it, so the early voting was an uncertain factor. Despite half a million new votes, a Democratic gain of 5.5 percent, Republicans won Georgia 52-47 percent
Long lines at polling places across the country are a sad vestige of the Republican policy of suppressing the vote that began with Robert Weyrich, founder of the Heritage Foundation. Suppressing the vote was an unAmerican a concept as anyone could imagine. The fact that such lines are created and citizens had to wait long hours to exercise their constitutional right to vote is a travesty and requires major reform measures.
What did the election turn on? Think about the revolution in communications, much of it just since the 2004 election. Instant personal contact through cell phone, texting, the Internet. Broader and more diverse television commentary, much of it comedy-based, like Saturday Night Live, Jon Stewart, Stephen Colbert as well as the too shrill Keith Olberman and the velvet-voiced Rachel Maddow. These sources are delivering unfiltered raw truths not governed by either conventional wisdom or establishment standards.
All of a sudden we have a less gullible public who get their information from sources other than talk radio and can check political dirty tricks instantly on Snopes, FactCheck.org and the state of mind of the electorate on RealClearPolitics.com, FiveThirtyEight.com and other websites. It's a whole new world.
The new sources were necessary to mute the one-sided ideologues like Hannity, Limbaugh, Bill O'Reilly, etc., who have dominated the airwaves with mega funding from like-minded moneybags. Figure out what the cost of buying time on all major radio stations in the country six to ten hours a day, and now even on weekends. That will be informative as to the edge that the right wing point of view commanded with its dollars.
Why did the pejorative "Socialist" not work? Probably because most ordinary folks don't have the faintest idea what the term means! Forty or 50 years ago most citizens would have known. But we must point out that fairness in the tax system is not Socialism -- fairness is the American creed.
What is more pertinent to our political discussion is a fact reported by New York Times columnist Bob Herbert: "The richest one percent of Americans now holds close to 40 percent of all the wealth in the nation and maintains an iron grip on the levers of government power."
Or, at least they did until Nov. 4, 2008.
A couple of other thoughts before we put the election in the rear view mirror:
--Americans did not buy the concept that only one political party ruled by the Evangelical Right was empowered by God to govern; and
--The Joe the Plumber share the wealth attack didn't resonate with most folk who aren't rich and probably don't mind sharing the wealth. Only the wealthy and greedy were worried about sharing their wealth. Besides, what is the tax system if not sharing the wealth by contributing equitably to the support of government. Isn't that exactly what it is for?
The McCain-Palin combo couldn't sell the idea that they were going to be different in policies than G. W. Bush; the GOP appeal to the base was too narrow; Iraq dropped off the radar screen because the battle there is essentially won, a fact not properly reported or trumpeted by McCain, no doubt to his chagrin.
Twenty percent of conservatives didn't vote for the Republican ticket because apparently they were progressives who put country first and voted for what they perceived as their own self interest. The contention is that some conservatives felt the Republicans broke their contract by failing to put conservative philosophies first regarding the economy and government spending.
Does Sarah Palin have a future in the Republican Party? Senator Kay Bailey Hutchinson, Texas Republican, who had been talked of as a McCain running mate, was asked that question. She answered only: "The Republican Party will have lots of new faces."
Will there be recriminations in the wake of the corruption of the Bush years? That was addressed by a television commentator who said simply: "War profiteering is treason." ##
---
"The BUZZ" - Read Feedback From Readers!
jchowell Says: On November 06, 2008 at 08:08 PM

Fox News really lost the whole concept of "fair and balanced" with their coverage of the presidential campaign. They gave John McCain their endorsement for president in every way possible. I didn't much like the Fox portrayal of Barack Obama as a radical terrorist. They did this overtly and also through inuendo. Of course, Keith Olberman's bias for Barack Obama was crystal clear as well. I went back and forth for awhile between Fox and MSNBC. I enjoyed seeing who could tell the biggest whopper in the name of truth, justice and the American way. I must say, Fox won the battle of the nasties. They outright slandered Obama. It was good to hear Olberman as he seemed to mostly be making counterpoints to the Fox news slander.
Much ado was made about Obama's big spending on the campaign, but given all the free endorsement of McCain and Palin by Fox (almost 24/7), I suppose you could say it evened out.
Anyhow, I'm glad it is over and I'm glad Obama won. I think he is walking into a buzz saw with our nation being in the state it is in. I pray for his success. It won't be overnight, that's for sure.
Perhaps George Bush will toss a hundred billion or so in the direction of social security retirement as long as we are solving our problems with Chinese loans. I have been listening for over 40 years about the "social security problem". Hell, throw a billion dollars at it like we are doing for our financial institutions and so forth.
I find it interesting that various conservative
wags think spreading the wealth around is socialism. I don't hear any of them calling forking over hundreds of billions of dollars to financial institutions socialism. I like the idea of money being in the hands of the average joe and jane circulating around to the butcher, the baker, the candlestick maker and even Joe the imaginary plumber.
I'm rattling on here. Live long and prosper.
---

Dave Rogers




Dave Rogers is a former editorial writer for the Bay City Times and a widely read,
respected journalist/writer in and around Bay City.
(Contact Dave Via Email at carraroe@aol.com)

More from Dave Rogers
---
Send This Story to a Friend!
Letter to the editor
Link to this Story
Printer-Friendly Story View
---
--- Advertisments ---