GM Teeters on Bankruptcy But Continues Funding Chevy Volt, Bay City's Hope
Rumors of Project Delay Denied by Auto Firm as Federal Loans Sought
November 9, 2008 1 Comments
By: Dave Rogers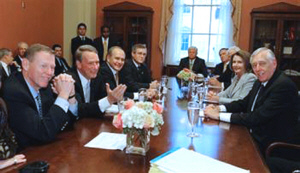 GM Chairman Rick Wagoner, center left, and auto industry executives meeting with House Speaker Nancy Pelosi and other Congressional leaders.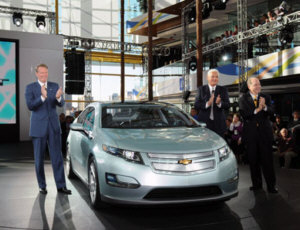 General Motors executives, including Chairman Rick Wagoner, left, applaud the Volt electric car prototype.
Officials of the City of Bay City "continue to be in contact with General Motors" regarding the Volt project, the electric hybrid that the firm is banking its future on.
And, the Volt is also crucial to the financial future of Bay City and the community.
The firm has hinted at renovation and possibly expansion of the local GM PowerTrain plant at 100 Fitzgerald St. in connection with production for the Volt.
GM told news media recently it will continue funding for the Chevrolet Volt electric car and the Chevrolet Cruze, a small fuel-efficient model, both due out in 2010.
"Obviously, the recent meltdown in the credit market and the potential acquisition of Chrysler has changed GM's financial environment," wrote Steve Black, deputy city manager, in the manager's general information memo.
"On the positive side, the $25 billion low interest automotive industry loan program appears to be a perfect fit with the Volt project.
"This federal program managed by the Energy Department is expected to infuse the industry with necessary capital to retool existing factories to build energy efficient and alternative energy vehicles."
Adding an optimistic note to the bleak picture is the rumor that Michigan governor Jennifer Granholm is being considered for appointment as Secretary of the Energy Department (DOE), an outcome that would no doubt be positive for Michigan and the auto industry because of the added influence she would have as a cabinet member. Gov. Granholm has appeared with president-elect Obama in recent appearances including Friday's news conference.
In the face of rumors that the Volt project is to be put on hold, Volt spokesperson David Darovitz has issued the following statement:
"No doubt these are challenging times for the entire auto industry. However, the Chevrolet Volt remains a high priority product program at General Motors. There is no intention to delay the development of the program. We remain committed to our late 2010 timing."
GM has established a special website to follow the Volt program, GM-Volt.com.
Friday president-elect Obama gave a press conference on the terrible state of the national financial system. He specifically included comments about the embattled auto industry. His words:
"The auto industry is the backbone of American manufacturing and a critical part of our attempt to reduce our dependence on foreign oil. I would like to see the Administration do everything they can to accelerate the retooling assistance that Congress has already enacted. In addition, I have made it a high priority for my transition team to work on additional policy options to help the auto industry adjust, weather the financial crisis, and succeed in producing fuel-efficient cars here in the United States. I have asked my team to explore what we can do under current law and whether additional legislation will be needed for this purpose."
A Volt site blogger wrote: "With GM just about out of cash, government help can't come soon enough. It isn't until January 20 that Obama takes office, and the Bush administration has already declined to give direct aid to the automakers."
Still GM declares bankruptcy is not an option. GM CEO Rick Wagoner said:
"We're convinced that the consequences of bankruptcy would be dire and extend far beyond GM. We are going to take every action we possibly can to avoid it, and we are going to use every source of funding."
He also noted in a Fox Business New interview that studies revealed 80 percent of people said they'd never consider buying cars from an automaker in bankruptcy, and that if GM failed it would really be a liquidation.
GM reported very abysmal third quarter results, losing $2.5 billion and draining $6.9 billion is cash reserves. An industry observer comments: "Not surprising, considering people aren't buying cars, and if even if they want to unable to get credit.
"GM had a plan to maintain its liquidity through 2009, based on sales rates of 14 million US vehicles, access to credit, and ability to sell assets. These objectives cannot be met. Their current cash reserves were $16.2 billion as of September 30, and the company needs from $11 to $14 billion to operate.
"Thus GM needs cash and fast if it to avoid bankruptcy, which it has said isn't an option. Apparently the plan to merge with Chrysler was more of a long-term one, GM's most recent appeals for federal aid are simply for cash to keep itself solvent.
"A recent study by CAR determined that the collapse of the big 3 automakers would have an immense negative impact on the U.S. economy."
GM CEO Rick Wagoner, the CEOs of Ford and Chrysler, and the head of the UAW met Friday with House Speaker Nancy Pelosi to try and implore the government to give the automakers a direct cash infusion as well as an additional $25 billion in loans. $25 billion in loans had already been approved but are earmarked specifically to allow automakers to retool plants for production of fuel efficient vehicles, not to fund operations.
Pelosi called the outcome of the meeting productive and said they discussed "how to protect hundreds of thousands of workers and retirees, safeguard the interests of American taxpayers, and use cutting-edge technology to transform blue-collar jobs to green-collar jobs for generations to come."
In an ominous statement GM has this to say:
"Even if GM implements the planned operating actions that are substantially within its control, GM's estimated liquidity during the remainder of 2008 will approach the minimum amount necessary to operate its business. Looking into the first two quarters of 2009, even with its planned actions, the company's estimated liquidity will fall significantly short of that amount unless economic and automotive industry conditions significantly improve, it receives substantial proceeds from asset sales, takes more aggressive working capital initiatives, gains access to capital markets and other private sources of funding, receives government funding under one or more current or future programs, or some combination of the foregoing." ###
---
"The BUZZ" - Read Feedback From Readers!
kalharley35 Says: On November 09, 2008 at 08:59 PM

Low interest loans should be backed by the Federal Govt. The US supplier base for the domestic auto companies far exceeds that of non-domestic brands assembled in the US. We need to maintain our industrial base for economic and defense reasons. Failure of the big 3 will cost jobs & invite chaos for the economy. Every american needs to do all possible to support the domestic auto industry. Our future in part depends on it.
---

Dave Rogers




Dave Rogers is a former editorial writer for the Bay City Times and a widely read,
respected journalist/writer in and around Bay City.
(Contact Dave Via Email at carraroe@aol.com)

More from Dave Rogers
---
Send This Story to a Friend!
Letter to the editor
Link to this Story
Printer-Friendly Story View
---
--- Advertisments ---