New Dow Corning Process Lowers Cost of Solar Energy, Hikes Panel Production
Solar Industry Seen Growing 135 Percent in 5 Years Under President Obama
November 16, 2008 1 Comments
By: Dave Rogers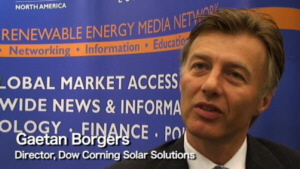 Gaetan Borgers, director of Dow Corning Solar Solutions.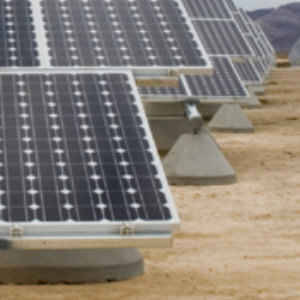 Solar panels produced from new Dow Corning materials and processes.
Holy sunshine, batman!
The nation's unfulfilled drive to lessen dependence on foreign oil by switching to alternative energy may be taking a giant leap forward.
And the cutting edge of alternative energy development is occurring right here in the tri-county area of Bay-Saginaw-Midland by Dow Corning Corporation.
At the same time the company's technology-based products offer a new direction for the economy of the tri-county and Saginaw Valley region, according to local economic development authorities.
Can you say solar power to the nth degree?
Bay County's Dow Corning Corp. is touting a manufacturing process featuring new silicone materials that speeds solar panel construction, thereby lowering the cost per watt of solar power.
And, two years ago, Dow Corning announced a milestone in solar energy technology -- a solar grade (SoG) silicon, PV 1101, produced from metallurgical silicon using large scale manufacturing processes.
This blended feedstock was rushed into production and solar panels made using it are already on the market for from $260 to $999. (See www.azobuild.com).
The editor of AzoBuild, a Australian-British high tech materials website, comments: "The primary obstacle to the growth of solar energy has been the constrained availability of silicon, the key raw material used in the production of solar cells. Until now, the solar industry has relied on the supply of polycrystalline silicon, a high-grade purity product, originally developed for the semiconductor industry. This has meant that the solar industry has in turn been subject to resource restraint. The launch of PV 1101, produced from a very different route, will alleviate that restraint and offer a new source of supply as well as new technical and business options for the solar industry."
"PV 1101 is certainly one of the most innovative technologies to come along in the solar energy industry since the manufacture of the first silicon solar cells," said Gaetan Borgers, director of Dow Corning Solar Solutions. "For years now, the solar industry has hoped to be supplied by new sources of silicon designed and dedicated to them. PV 1101 is a major step in that direction. It is a step that will provide a means of growth for the solar industry."
According to Green Chip Stocks, (www.greenchipstocks.com) a newsletter from Baltimore, Maryland, President-elect Barack Obama is a proponent of solar energy. The stock report predicts that with Obama's advocacy the solar industry will grow 135 percent in five years.
"Already, companies including Wal-Mart, FedEx, Staples, and Timberland Co. have installed solar panels on their offices and stores," states Jeff Siegel, editor of the Green Chip newsletter. "Companies and homeowners alike are starting to realize not only the ecological benefits of solar power, but the economic advantages as well."
Michigan Gov. Jennifer Granholm also has been promoting development of solar and other alternative energy sources and reportedly is under consideration for appointment as Secretary of Energy in the Obama Administration.
"This technology represents a real step-change in the industry, and will help make solar power a viable and sustainable energy option globally," said Gaetan Borgers, global industry director, Dow Corning Solar Market Business Unit.
The new process uses developmental Dow Corning® PV-6100 Encapsulant, providing a clear laminate protecting each solar cell and replacing ethyl vinyl acetate resin. The silicone-based material provides higher watt efficiency, longer module life, and optimum UV resistance. Equipment for the new process requires less capital and less factory space.
The new process and encapsulant series are being piloted by solar partners in the new Dow Corning Solar Application Center in Freeland and are expected to be commercially available in mid-2009.
"We've made significant progress in the past year in being able to take technology from the lab to production scale," said Eric Peeters, global executive director, Dow Corning Solar Market Business Unit."This solution is an example of our commitment to finding the best technical approaches for helping our customers meet their solar solution development challenges."
One of the only companies in the world providing silicon-based solutions throughout the entire photovoltaic value chain, Dow Corning is investing to expand its portfolio of total solution packages for solar cell manufacturing, module assembly and installation. Solution packages are built on high-performance silicone products such as encapsulants, adhesives, coatings, potting agents and sealants, as well as next-generation solar grade silicon.
Other recent solar-related announcements by Dow Corning include:
In May, Dow Corning opened its Solar Solutions Application Center in Freeland to enable collaboration with customers to develop, evaluate and pilot materials solutions used to manufacture solar panels. The $3 million, 27,000-square foot, state-of-the-art facility represents Dow Corning?s intention to be an active, eager partner with researchers, producers and governments as we help develop affordable and efficient solar energy for the global energy market.
In 2007, Dow Corning's joint venture, Hemlock Semiconductor, announced the largest expansion in the history of the polycrystalline silicon industry -- $1 billion over the next four years to expand polycrystalline silicon capacity by 90 percent.
In 2006, Dow Corning introduced PV 1101 Solar Grade Silicon -- the first commercially available metallurgical feedstock produced using large-scale manufacturing processes -- which can be blended with polysilicon to offer options to solar industry innovators.
Dow Corning provides performance-enhancing solutions to serve the diverse needs of more than 25,000 customers worldwide. A global leader in silicon-based technology and innovation, offering more than 7,000 products and services, Dow Corning is equally owned by The Dow Chemical Company and Corning, Incorporated. More than half of Dow Corning's annual sales are outside the United States.
---
---

Dave Rogers




Dave Rogers is a former editorial writer for the Bay City Times and a widely read,
respected journalist/writer in and around Bay City.
(Contact Dave Via Email at carraroe@aol.com)

More from Dave Rogers
---
Send This Story to a Friend!
Letter to the editor
Link to this Story
Printer-Friendly Story View
---
--- Advertisments ---