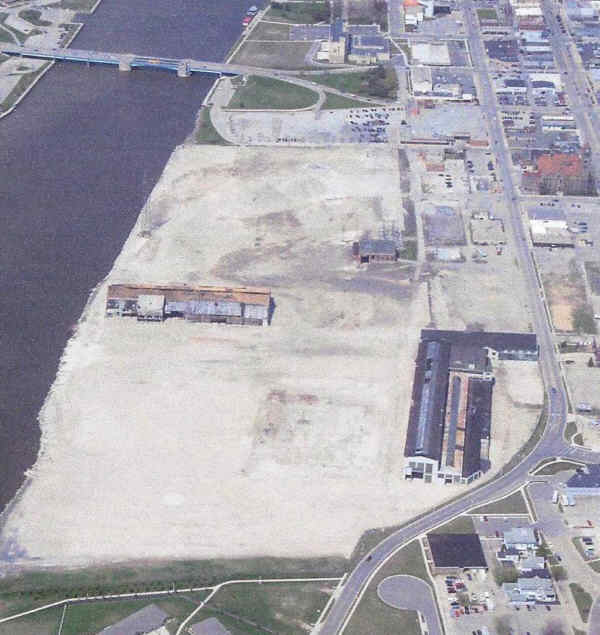 Aerial photo from City of Bay City shows huge industrial buildings on 48 acre riverfront Uptown site. Left is foundry building and at right is main building where world's largest cranes were assembled. Center is brick powerhouse, just below City Hall.
---
World's Largest Indoor WaterPark
Eyed to Spark Bay City's Tourism Future
Feasibility Study Underway to Convert Old BrownHoist Factory at Uptown
December 4, 2008 11 Comments
By: Dave Rogers
Can an abandoned industrial dinosaur be retooled with modern technology and marketing to spark a born-again tourist economy?
And, in today's financial climate can any development get off the ground?
Those are the monumental questions that will soon be answered by a so far hush-hush program that would transform Bay City's past into its future.
A feasibility study is reportedly underway considering whether one of the old Industrial BrownHoist buildings can be converted for use as a giant indoor WaterPark.
Some local officials privately say such a development would be "the world's largest indoor WaterPark."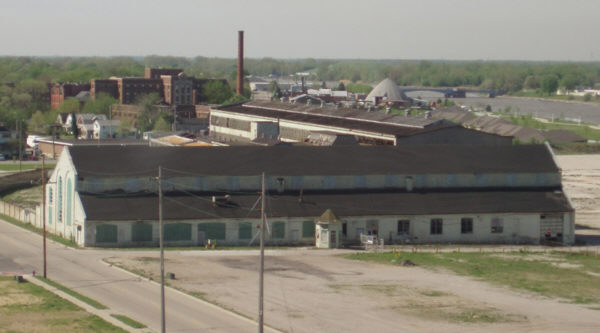 Main manufacturing building at old Industrial BrownHoist/American Hoist site is considered for conversion into WaterPark with accompanying hotel.
The Bay Area Chamber of Commerce facilitated a $10,000 match grant, including $5,000 from the Kantzler Foundation, earlier this year to plan for a hotel/water park and other development at the Uptown at Rivers Edge site located along Bay City's water front.
The Chamber is assisting Paul Rowley, Art Dore, city officials and other local leaders in the new Uptown at RiversEdge public/private partnership that aims to develop a 48 acre riverfront parcel.
Paul Rowley, chair of the public-private Uptown partnership, contacted in Florida, said a meeting next Thursday will provide more information about the study.
The partnership has been working quietly behind the scenes and dozens of business people have made donations of money and time to the proposed development, it was revealed.
Carl Schwartz, of Wolgast Construction Co., Saginaw, one of the members of the public-private partnership for the development, said the site and the existing building infrastructure "lends itself to a WaterPark, that in today's market requires a hotel with it."
Other partners include Dore, Brad Kessel of Independent Bank, Brian Eggers of AKT Peerless Environmental Services, Dominic Monastiere of Chemical Bank, Fred Hollister of Bay Future, Inc., Mayor Charles Brunner and other city officials.
That 48-acre site along the Saginaw River for more than 100 years, 1872 to 1977, was the industrial heart of the city and employed more than 1,000 at its peak.
Mr. Schwartz, vice chair of the partnership, said the feasibility study is being done by Hotel & Leisure Advisors, Cleveland, specialists in hospitality and resort properties.
He described the idea right now as "a vision," adding: "I'm not optimistic that financing will be easy but we all know the climate will change and we're planning for when it starts to melt."
Mr. Schwartz said the partnership is working on several other ideas for the Uptown site and was optimistic that "creative financing solutions" can be found.
History may repeat itself as the Chamber of Commerce led a $1 million fundraising drive in 1927 to finance the move of the Brown Hoisting Company of Cleveland and merger with Bay City's Industrial Works of tycoon William Clements.
As the 1927 campaign progressed, names of donors from the community were published on the front page of The Bay City Times. That added a public aspect and incentive to the effort.
A similar process sparked by the chamber was followed in 1937 when the Electric AutoLite Company was persuaded to leave Toledo, Ohio, and move to Bay City. Community donors put up another million dollars plus to buy the former Wildman Rubber Company and turn it over to AutoLite. Later the firm became the PrestoLite Corporation.
More than $16.3 million in new direct spending here was projected if a proposed Maritime Heritage Center is created at the Uptown site.
Projections are the center would create $26.7 million in new spending in the State of Michigan.
And, the center would create an estimated 373 jobs with annual payroll of $6.3 million and generate $3.9 million in state and local taxes annually, according to the study.
That was the estimate from a study by Certec, Inc., Lexington, Kentucky, consulting firm.
"Given the close proximity of the proposed complex to existing businesses in and around Bay City, they can expect to be frequently patronized by Center visitors," the study report states.
The WaterPark is reportedly being proposed with an accompanying 100-room hotel. Many WaterPark hotel rooms accommodate an entire family, so capacity of the hotel could possibly be several hundred or more, planners theorize.
"A family friendly destination will celebrate the festive nature of Bay City," said Mr. Schwartz, adding:
"In this area any destination attraction needs to have a roof over it, and the main building (nearest Water Street) has a deep foundation with 80-90 foot deep pilings and a steel infrastructure that lends itself to reuse."
Incorporation of the WaterPark hotel into the Maritime Heritage Center would be expected to boost the tourism draw from the projected 255,000 in the third year to perhaps double that figure or more.
The Maritime Heritage Center, expected to have major funding from Dow Corning Corp., is projected to draw 85,000 the first year, 145,000 the second year and 255,000 the third year.
And, with approximately 100,000 visitors a year projected for the proposed USS Edson destroyer museum at the Independence Bridge/Park area, the tourism draw could soon exceed 700,000 a year.
The Saginaw Valley Naval Ship Museum is hopeful for a positive response from the U.S. Navy in the early part of 2009 and is poised to have the 418 foot ship towed here from Philadelphia by summer.
---
"The BUZZ" - Read Feedback From Readers!
Jill says: On December 04, 2008 at 05:10 PM

This is a great idea and the fact that it would be indoors would make it profitable year round. The world's largest indoor waterparks are currently in Japan - they include retractable roofs, wave machines and sandy beaches. The largest North American park is in Edmonton Alberta Canada at the Edmonton Mall. Bay City could easily do the same thing on the riverfront utilizing the former large industrial buildings that are already there. I say...GO FOR IT!.
Jill says: On December 04, 2008 at 05:11 PM

This is a great idea and the fact that it would be indoors would make it profitable year round. The world's largest indoor waterparks are currently in Japan - they include retractable roofs, wave machines and sandy beaches. The largest North American park is in Edmonton Alberta Canada at the Edmonton Mall. Bay City could easily do the same thing on the riverfront utilizing the former large industrial buildings that are already there. I say...GO FOR IT!.
Kyle says: On December 04, 2008 at 06:16 PM

I personally think its a great idea. For example lets use Sandusky Ohio. They boom in the summer with Cedar Point and when winter comes Cedar Point has to close and no income for the city and local businesses. Cedar Point opened Castaway Bay indoor water park, Kalahari opened a indoor water park, then a few short years later expanded to make it 173,000 sqft with 900 hotel rooms and sometimes even during off time its hard to get a room there. Great Wolf lodge is also located in Sandusky. That made the Sandusky Ohio economy keep going the restaurants and some hotels that close in the winter stay open now because of that business that mainly Kalahari brings in. I always told myself Bay City could use a Kalahari it could be a GOLD Mine for the city, but then again that resort is a private owned one. Bay City better not get stupid on this idea this could work, The board of directors for this project are pretty smart people, Art Dore has done so much for this city and to see him serve on this proposed water park plan thats just awesome. I hope it all works out!!
jabrone Says: On December 05, 2008 at 12:06 PM

The Maritime Heritage Center, expected to have major funding from Dow Corning Corp., is projected to draw 85,000 the first year, 145,000 the second year and 255,000 the third year.


Major funding from Dow Corning??? There might be "some" funding from Dow Corning, but nothing near "major".

This is perhaps the stupidest idea I've heard of for that site. Ranks right up there with the doubltree that can't pay its debts.
Observer says: On December 05, 2008 at 12:54 PM

re: "Maritime Heritage Center . . . projected to draw 85,000 1st year, 145,000 2nd year and 255,000 3rd year"

Those numbers are ludicrous.

That would be from a low of 232 to a high 698 people PER DAY, every day of the year! Even in the snow and ice. Even on weekdays.

If the ship were open 24/7, in the first year one person would have to tour the ship in less than 7 minutes in a continuous line that never stopped. In the third year you'd have to put one person through every two minutes without stop.

WHO comes up with these projections anyway? Wall Street bankers?
jabrone Says: On December 05, 2008 at 07:47 PM

Who comes up with the numbers??

Well, the consultant hired by the group that wants to build the project, of course. There seems to be no end to the studies that result in exactly what the people that are paying for the studies want to hear...examples include the Doubletree, AutoWorld, the Great Lakes Visitors Center in Bridgeport, Maritime Heritage Center, the Edson ship, the Saginaw Children's Museum and on and on and on...
lndrsn Says: On December 05, 2008 at 11:09 PM

An indoor waterpark is an idea worth pursuing.
However, I think hotels to accommodate visitors should be private undertakings to meet a need.
If there is a need for additional lodging, developers could buy up nearby land that is less than appealing presently. Not public monies.
fwelsh Says: On December 06, 2008 at 10:27 PM

Water Park! Destroyer Edson! How exciting! I love the idea but those numbers are imaginary and not in a mathematical sense.

I lived close to the battleship, USS Massachusetts, for over a year. I parked in the gravel parking lot, walked up the wooden stairs and was one of a few visitors on the ship both times I was there. That was the level of interest in a historical ship of WWII fame with 16" guns that "were as big as trees". There are many historical ships on display around the lakes. Does any one of them get 100,000 visitors per year? I think not!

As for water parks, they are a nice idea but lets not go to Japan to find our examples. Lets go to Splash Village in Frankenmuth. It's a nice place but the streets of Frankenmuth have been quite empty in the winter lately. Michigan's population is getting older as so many families leave to follow their jobs. Seventy-five percent of my township is retired! Not prime customers for a water park.

I would love to have the water park and the destroyer in our community but the planners better be able to make it with half the visitors they are telling to public to expect.
Marlo Leveling says: On December 07, 2008 at 11:50 AM

The bottom line here folks is this...twice per year, I travel to Traverse City to take my famiy to the Great Wolf Lodge. We stay for two nights and spend about $1,000 each visit. That is alot of money if only 10% of the Michigan population do the same going into THEIR community. We also go to Frankenmuth Splash Village once annually and the Bavarian Lodge costing approximately $750 for two nights stay each visit not to mention the spending cash flow that trickles out of my pocketbook or into my gas tank!

I would MUCH rather spend this money right here in Bay City to employ residents who currently have NO job! Why not entice residents of surrounding communities to bring the money they are already spending in other communities who offer family friendly vacation "hotspots" to come to our own community and do the same?

Bay City NEEDS this project to succeed. It would not be "just another hotel". We need to take advantage of property that is just sitting there and turn it into a cash flow not to mention beautification for the city and those who reside here. I don't want my children growing up here and leaving to find age appropriate jobs. A project such as this, can offer such for many decades to come, similar to those who leave Bay City and head to Cedar Point for jobs!

SUPPORT THIS FOR YOUR COMMUNITY FOLKS! Let's not be so negative about each and every opportunity that arises here such as the "Great Lakes Loons" which would have been fantastic right on the rivers edge.
pastoraustin Says: On December 11, 2008 at 07:31 PM

I think the waterpark is a wonderful idea. It would initially employ people in the building phase and then as the hotel became a reality there would be more job opportunities still,so the economy benefits in many ways. I am wondering if an aquarium would be a bigger draw than a maritime museum, or perhaps a combination of the two. I know the Camden Aquarium in NJ seems to be crowded 12 mos. a year. It takes money to make money, and Bay City would be well benefitted if they take a step of faith.
Kelly says: On December 15, 2008 at 02:15 PM

I agree that the indoor waterpark would be a fantastic draw for tourists to come to Bay City, however the Maritime Heritage Center is not. And those estimate numbers of the people who would visit that center is just laughable. You're talking about only a couple of months of the year - the summer season in Michigan is very short. The city needs to make the waterpark unique and different than the one in Frankenmuth. The ones in Wisconsin and Japan have retractable roofs for summer visits along with real sand 'beaches' and surf generators. That added dimension alone would be a tremendous draw for tourists - I don't think there's anything like that in Michigan. I say forget the Heritage Center which would only attract the older generation (no insult intended) and concentrate on a state of the art waterpark to attract a new generation! GO FOR IT!
---

Dave Rogers




Dave Rogers is a former editorial writer for the Bay City Times and a widely read,
respected journalist/writer in and around Bay City.
(Contact Dave Via Email at carraroe@aol.com)

More from Dave Rogers
---
Send This Story to a Friend!
Letter to the editor
Link to this Story
Printer-Friendly Story View
---
--- Advertisments ---