CCC Camps of Depression Era May Make Comeback in Obama Jobs Plan
Michigan's Leadership in National Recovery Program Recalled
December 7, 2008 4 Comments
By: Dave Rogers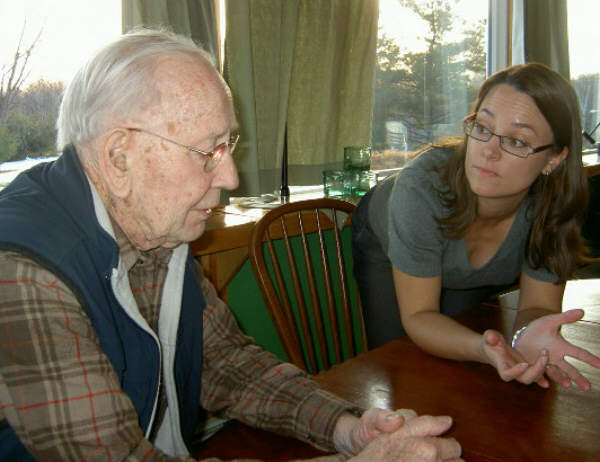 Fred "Fritz" Holzheuer, 99, of Hale, tells grand-daughter Amy Barkholz, of Okemos, of his days planting trees in the 1930s for the National Forest Service near Tawas.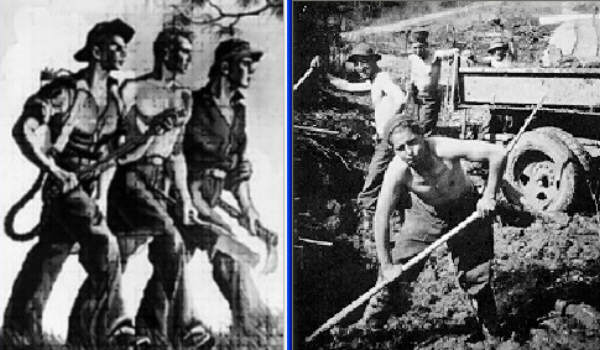 CCC recruiting poster (left) and CCC workers moving dirt at Camp AuSable, near Grayling, during the Depression.
Older Michiganians are having fond memories awakened of the Civilian Conservation Corps (CCC) camps of the 1930s.
President-elect Barack Obama has outlined his plan to create 2.5 million jobs by hiring the unemployed to rebuild roads and bridges and improve other infrastructure.
Obama's plans recall the 1930s when the CCC was one of President Franklin D. Roosevelt's most popular New Deal economic stimulus programs.
Roosevelt, as governor of New York, in 1932 had pioneered the CCC concept by putting 10,000 men on public relief in New York to work in reforestation.
From 1933 through 1942 the CCC had more than 3 million young American men working on parks and forests. The program resulted in planting 2.3 billion trees, spent 6.4 million man-days fighting forest fires and did pest control on 21 million acres of land.
In Michigan, 156 million fish were planted, 7,000 miles of truck trails and 504 bridges and 222 buildings were built. The state park system was revitalized, Isle Royale National Park was established and campgrounds were built in national forests.
Wrote Dr. Roger Rosentreter, editor of Michigan History Magazine: "Michigan's 102,814 CCC participants -- eighth highest among all states -- occupied an average of 57 camps annually. Only five states had a higher average. More impressively, Michigan enrollees planted 484 million trees, more than twice as many as any other state."
Fred "Fritz" Holzheuer, 99, of Hale, recalls working alongside the CCC camp members in the Tawas area in those days. Mr. Holzheuer was employed by the U.S. Forest Service planting trees near Lumberman's Monument.
"We had two teams, one digging holes and the other following and planting the little trees," he recalled. "We had a quota of 100 trees a shift and if we didn't meet it we got yelled at by the foreman."
The program instilled discipline as well as work skills that served the young Americans well when World War II broke out. New Republic magazine dubbed the CCC "Roosevelt's Tree Army."
Mr. Holzheuer recalls working on his father's farm near Hale, graduating from Whittemore High since Hale's only went to the eighth grade, and, as the nation recovered its economic strength, getting credit from banks in Standish and Tawas to buy businesses. He first owned a store that is now Kocher's Grocery in Hale. He sold the store and bought the Hale Hardware where he worked until just a couple of months ago.
Bill Foley Jr., a Grayling area resident, wrote in Wilderness Journal several years ago about tough discipline in the CCC program. Returning late from a weekend walk on the railroad tracks into Grayling to visit his girlfriend Ruth, Foley was found AWOL during a bed check, court-martialed and fined $12. He received an honorable discharge and moved on to pumping gas for Ed Gierke who ran the Hi-Speed station in Grayling for $2 a day.
Later Mr. Foley worked as a survey party chief for the Michigan State Highway Department, traveling every passable road in Crawford and Oscoda counties in a 1929 Model A Ford 2-door sedan, purchased for $60 from Shepard's Ford dealership in Roscommon. He was paid $125 a month and his WPA (Works Progress Administration) assistants got $60 a month.
Obama's plans also include modernizing schools and developing alternative energy sources and more efficient vehicles.
"These aren't just steps to pull ourselves out of this immediate crisis; these are the long-term investments in our economic future that have been ignored for far too long," Obama said in a recent weekly Democratic radio address.
The economic recovery plan under development aims to create 2.5 million jobs by January 2011, and Mr. Obama wants Congress to adopt it quickly so he can sign it soon after taking office.
The President-elect called the plan "big enough to meet the challenges we face" and said that it will jump-start job creation but also "lay the foundation for a strong and growing economy."
FDR's paramilitary jobs program "was created to provide relief and speed recovery from the Great Depression," wrote Dennis Mansfield of Kirtland Community College, Roscommon. The college conducted tours of the site of former CCC Camp Eldorado near the campus last May during the Kirtland's Warbler Festival.
The first CCC camps opened in Michigan in the summer of 1933. Men first camped in tents and then in hastily-constructed barracks. They planted trees, built firebreaks, fought forest fires and constructed campgrounds.
The first camp in Michigan was in the Hiawatha National Forest west of Sault Ste. Marie, established in May 1933, wrote Dr. Rosentreter. A month later Camp Eldorado, located 11 miles north of Roscommon, was occupied by CCC Company No. 3685. Within months there were 41 similar camps across Northern Michigan with nearly 8,000 members.
CCC workers were paid $30 a month but had to agree to send $22 a month home to support his family. Applicants had to be no shorter than five feet and no taller than 6-6 and over 107 pounds. Disqualifying factors included varicose veins, venereal disease and lack of "at least three serviceable natural masticating teeth above and below."
In 1937 education was required for ten hours a week and classes were offered in subjects ranging from auto mechanics to cooking. Michigan was a leader in developing CCC educational programs, wrote Dr. Rosentreter. Thousands took high school and college correspondence courses through the University of Michigan.
By June 1940 900 eighth grade diplomas had been issued in Michigan alone. Nationally over 100,000 men were taught to read and write. A poll in 1936 found that 82 percent of Americans supported the CCC. "Three years later another poll listed the corps as the New Deal's third greatest accomplishment," he wrote.
"The nation's defense potential was also aided by the corps," wrote Dr. Rosentreter. "By 1942 many young CCC men had learned how to take orders, the rudiments of sanitation, first aid and personal cleanliness, and other skills that were directly transferable in time of war."
Still, Saginaw's Congressman, Republican Fred Crawford,in 1937 had opposed the CCC on the basis that it was too costly and added to the national debt. "I would rather have a boy of mine grow up in private industry and agriculture than in any CCC camp." Other Republicans complained that it was difficult to find farm workers.
Mandatory non-combative military training was made part of CCC education in 1940 as war had broken out in Europe. The onset of war and the improving economy spelled the end of the CCC. "Enrollee desertion had increased and as the economy improved better quality candidates were no longer available or interested in the CCC," commented Dr. Rosentreter.
In June 1942 the U.S. House of Representatives defeated the CCC appropriation although Roosevelt had fought to keep 150 camps open. New Deal opponents in Congress cited "waste and extravagance" in the CCC and charged it was no longer necessary and that the money spent on the CCC was needed for war supplies.
Congress appropriated $8 million to liquidate the agency and the CCC was dead.
Now, it seems, after 66 years, because of economic conditions that may soon parallel the Depression, the CCC program may have to be resurrected.###
---
"The BUZZ" - Read Feedback From Readers!
jchowell Says: On December 09, 2008 at 06:11 PM

One of the good things Gov. Jerry Brown of California did in 1976 was to establish the California Conservation Corps. These young men and woman (ages 17 to 25) do a variety of tasks in the outdoors, e.g.,
clearing and building hiking trails and maintaining various wilderness outposts. They help in fighting fires as well. These kids work their tails off. The youngsters have gotten high praise over the years and have survived governors of
various political stripes. I'm happy to know that the California Conservation Corps still exists. Most government programs which are good get dumped by politicians who are trying to appear to save the taxpayers money. Youngsters need to acquire a sense of competence and self-worth. They learn that in the CCC and they do necessary work that enriches the common good. President George H.W. Bush believed that all states should have a CCC program. I agree with him. The Califonia Corps is, of course, patterned after Roosevelt's CCC. Perhaps our new president will get something like this going on a national level?
richardlomba Says: On December 19, 2008 at 08:45 PM

My father was in the CCC in California during the depression, and he always spoke well of his experiences. I always thought that it should have been kept around as an alternative to welfare. Maybe the new President will link it to a program for kids to pay for college, or any other educational opportunities. The true beauty of this program is that it leaves something useful and permanent for the taxpayers money...
---

Dave Rogers




Dave Rogers is a former editorial writer for the Bay City Times and a widely read,
respected journalist/writer in and around Bay City.
(Contact Dave Via Email at carraroe@aol.com)

More from Dave Rogers
---
Send This Story to a Friend!
Letter to the editor
Link to this Story
Printer-Friendly Story View
---
--- Advertisments ---