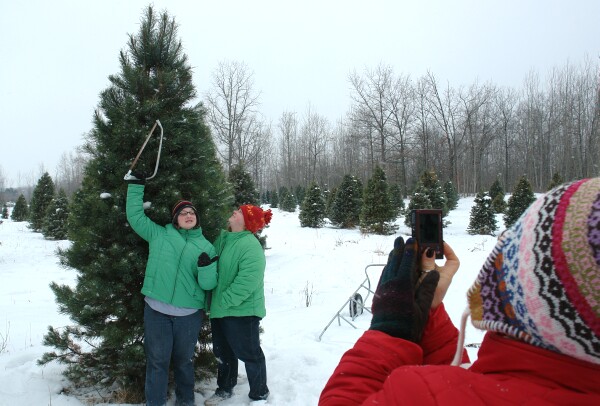 The Big ol' Victorian House Needs a Big ol' Tree
---
Kent Christmas Tree Tradition Continues
December 6, 2008 1 Comments
By: Stephen Kent
It's been a tradition in the Kent familyfor a really long time! I remember many a trip to the Nichols dairy farm south of Shreveport, Louisiana and the family hiking through the woods to find the perfect tree. Back in those days, the 60's, we didn't have commercial tree farms. We just went to the woods to find a wild pine.
When I moved to Michigan and married Pattye in 1979 we found that our Christmas traditions were a little different. Although we had both always had a live tree, she had grown up going to the Legion hall tree sale. "Mom and Dad would go inside and Bonnie and I would play and dance among the trees. When Mom and Dad came out we'd pick a tree and Big Louie would load it on top of our car."
Being new to Bay City, I didn't know any dairy farmers with a lot of trees, but I quickly found that Michigan had lots of commercial tree farms where you could go cut your own. Hey, that's almost as good!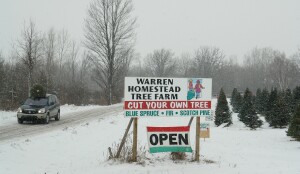 For the first few years we went to a different farm each year. Once south of Saginaw, a couple of times into the Thumb. A few times somewhere east of Frankenmuth. But then, we found Warren Homestead Tree Farm out at the North end of Carter Road where it dead-ends into Linwood Road. It was far enough out to make a nice drive and Jim Warren and his family ran a nice operation. We figure that we've been going out to Warren's for over fifteen years.
As the story goes, the farm has been in the Warren family since 1952 when Jim's dad, Al, bought 40 acres for $4,500. Jim had the idea to start the Christmas tree farm. The first effort ended poorly when voles ate most of the trees in the first hard winter. But Jim didn't give up and convinced Al to let him run the tree farm to pay his way through college.
And there you have it. After Jim finished college, Al sold off some of the land. Eventually Jim bought the farm from Al and over time bought back all the land plus more. The tree farm is now over 80 acres and has as many as 25,000 trees growing.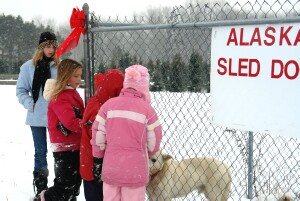 Each year we've seen the operation grow. Jim's family are into dog sledding and we now look forward to seeing a few dogs in their pens.
When we first visited, there were some saws hanging on a fence. Now there are handy wheeled carts to roll your tree back. And there are plenty of strong helpers equipped to shake the loose needles off, drill a hole in the bottom, and bag your tree. And they'll load it on your car just like Big Louie would.
Our traditions have remained mostly the same as Kelley and Emily have grown up, but some things are easier. They're a lot easier to keep track of than when they were little girls and would run off into the trees and get lost. And they're getting pretty good with the saw, which leaves Dad time to take more pictures. Best of all, they can haul that tree out of the woods!
Some things may never change. Each year Pattye says "maybe we should get a smaller tree this year" and every year she's shouted down. This year we almost agreed but realized that we don't know how to get a smaller tree. The rule is you stand by the tree and extend your arm and the saw. The right tree is about two feet higher than the tip of the saw.
A few years ago we we were able to improve our traditional tree day. Now we can stop at the Turkey Roost on the way home for a turkey dinner. As little girls, Kelley and Emily didn't like that. They wanted McDonald's. Thank goodness for maturing tastes! I LIKE turkey.
For directions to Warren's go to
www.warren-enterprises.com
. And be sure to check out the Warren's adventures in Alaska during the Iditarod Race!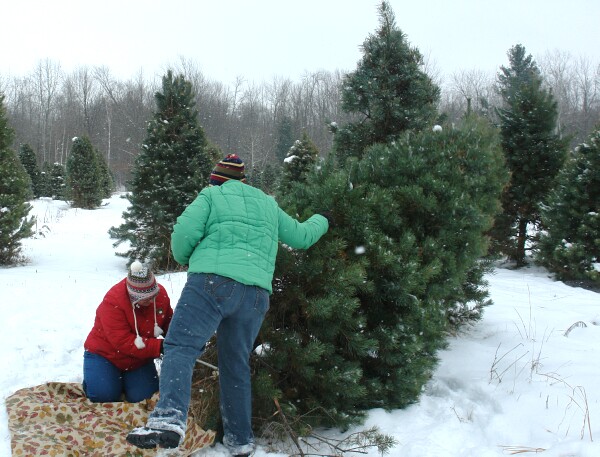 Timberrrrr! Everyone gets a turn with the saw. Pattye made the final cut this time.

---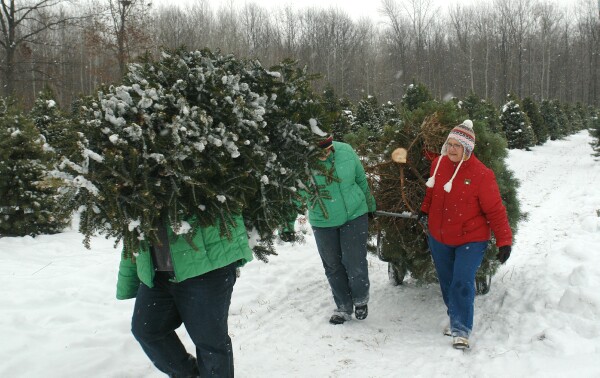 Two houses, two trees. Kelley's is small enough for her to carry!

---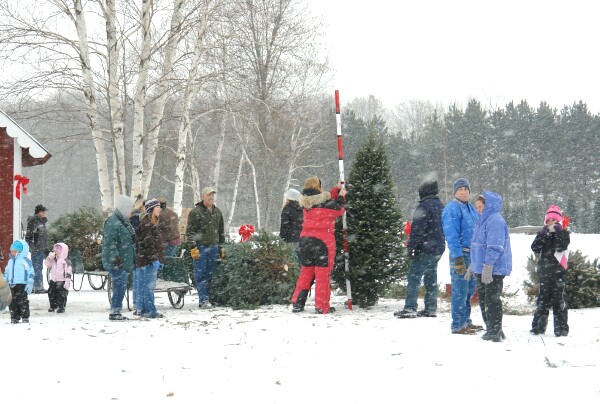 Trees are measured as they come out of the fields.

---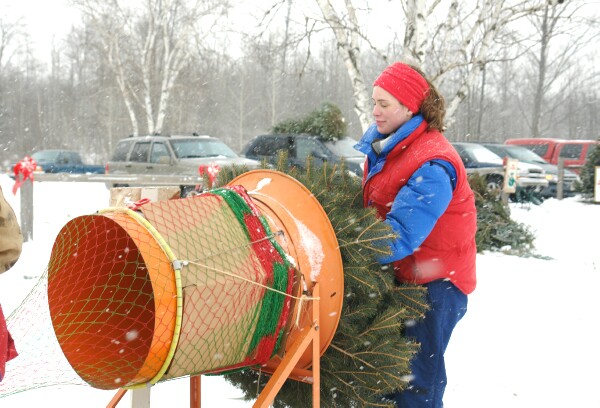 Ember Eddy starts a tree into the bagger.

---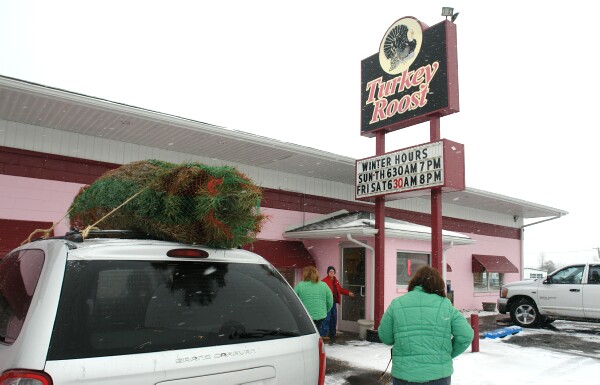 Time to eat turkey. YES!!!! This place has been here since 1955.

---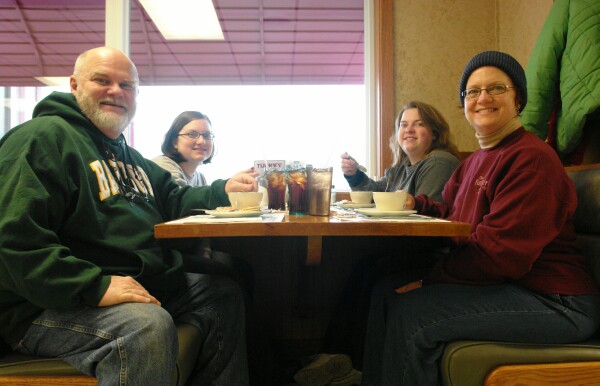 Merry Christmas to Everyone from Stephen, Emily, Kelley, and Pattye
---
---
"The BUZZ" - Read Feedback From Readers!
keddy Says: On December 08, 2008 at 12:41 PM

When I saw the byline, I almost thought I had written that piece!
Great article! I used to prune trees for Jim Warren as a teenager as well as on my Father's tree farm when I was a teenager. Now my daughter Ember (pictured) enjoys some of the same traditions as I did.
Merry Christmas!
- Prof. Kent Stephen Eddy,
---

Stephen Kent




Steve Kent and his family have lived in Bay City for 40 years. He is VP of Technical Services at MMCC which produces MyBayCity.Com. Kent is active in many Bay City civic organizations.

More from Stephen Kent
---
Send This Story to a Friend!
Letter to the editor
Link to this Story
Printer-Friendly Story View
---
--- Advertisments ---