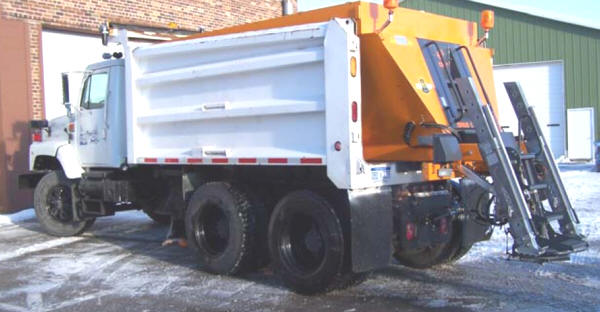 New multiple application salt spreader received Jan. 8 by the city is ready to go into action to meet heavy winter snow and ice.
---
Budget Squeeze, Winter Woes to Confront City Commission Monday Night
Assessor to Cite Impact of 1265 Foreclosures Since 2000 on Tax Revenues
January 11, 2009 2 Comments
By: Dave Rogers
Old Man Winter is hitting City Hall where it hurts.
Not only is the City of Bay City facing hard times financially, a severe winter already has used up 2000 tons of salt, or 67 percent of the salt inventory for ice melting on roads.
All the howling won't be just from freezing winds, some may be coming from the commission chambers.
City Assessor Amy DeHan-Legge is expected to tell city commissioners Monday night that annual city tax revenues are down substantially because of 1265 home foreclosures since 2008.
How much foreclosures have bit into tax funds, we can only guess. Let's just say, probably into seven figures (a million dollars or more).
The finance/policy committee will grapple with budgetary constraints and will be advised by City Manager Robert V. Belleman that capital improvements may have to be postponed.
Brrrrr.....It's really chilly!!!!
Wrote Mr. Belleman in his bi-weekly general information memo that took a decidedly cautionary tone:
"Since property tax revenues are the major revenue source for the General Fund and the second major revenue source for major and local streets, I believe it is imperative that we understand the implications the increased foreclosure activities are having on our ability to balance our budget and provide the same level of services."
Commissioners will review and discuss the proposed capital improvement program for fiscal years 2009 through 2015. The city is required by state law to have a capital improvement program, the manager pointed out.
Department directors and managers have been asked to tell the commission which projects can be postponed "if revenues fall short and deficits are inevitable."
The Electric Department's capital improvement needs will be the subject of a later meeting, he said.
The three major agenda items for Monday night's meeting will be: the health care program,
the capital improvement program, and
property tax revenue projections.
Only after those items have been reviewed and discussed can the commission attempt to revise the 5-Year Financial Forecast, wrote Mr. Belleman.
Word has come from Lansing that little financial help will be available, Mr. Belleman said. Michigan's general fund and school aid fund revenues may fall more than $1.5 billion from the 2007-8 to the 2009-10 fiscal years. News reports are that the Michigan House Fiscal Agency has said the state's already weak economy will be "significantly affected by the national recession, the weakened level of motor vehicle sales, tight credit conditions and the financial condition of General Motors, Chrysler and their suppliers."
Reflecting energy concerns and changing patterns of home heating, the manager also will bring up the question of outdoor wood boilers.
And, the dilemma arising regarding phosphorus in the water system may add another perplexing note to the meeting. While legislation is pending to ban phosphorus in lawn fertilizers, the city has received a recommendation to add phosphorus to the water treatment process to line the water mains and help to control the amount of lead and copper in the water.
Meanwhile, word has come from the city barn that most of the salt on hand for winter road use has already been used up in December, the city manager wrote. A shipment of 550 tons more salt is awaited.
The second highest recorded snowfall in December for this region was reported, amounting to about 40 inches. Typically, this area receives 48 inches of snowfall for the entire winter season.###
---
"The BUZZ" - Read Feedback From Readers!
paroikias1 Says: On January 12, 2009 at 12:37 AM

I am not one to promulgate the generous offering of tax breaks and abatements -- but perhaps the City Commission should explore these few ideas:

1. Since there is a plethora of foreclosures, think of an innovative plan to offer property tax abatements for new home buyers of Bay City foreclosed properties. Perhaps, a 3 year sliding scale would be in order -- or, whatever plan could be worked out so as to not overly offend the "steady eddie" long term homeowners who have faithfully paid their property taxes throughout the years.

The more property tax revenue that can be expunged from idle properties, the more present homeowners will benefit -- providing city politicians are good and honest stewards of the tax revenues.

2. Bay City need target the new power plant employees to market Bay City's available housing. A simple brochure that highlights Bay City's many available businesses in such a small area can be trumpeted as well as the short distance contracted union employees would have to travel back and forth to work.

3. The same idea as expressed in #2 could be "employed" for near businesses, such as the large Hemlock Semi Conductor enterprise and its future expansion (s).

These ideas need not require the hiring of a new position at City Hall, but could be incorporated with existing positions, such as the Asst. City Mgr.

Bay City politicians need to think and act wisely on the weary taxpayer's dime. Our city need not continue to make it more difficult on the city residents whose living standards are continuing to take a beating from not only this area's stressed economy, but also that of the federal's and state's poor economy.
youngd7 says: On January 13, 2009 at 03:02 PM

Standish just recieved over 1 million from the casino. Too bad the casino was not good enough for Bay City's leaders. Bay City could have used extra money and also could have used help with the police and fire department. Try to imagine all the boat traffic pullng into the casino docks to spend money on gambling, food and, shopping. Its a damn shame. Meanwhile it still sits as a rundown eyesore. When will something be good enough? The city needed a casino for the jobs. Jobs=tax revenue. Baseball was not good enough either! Leadership fails this city every time. leadership will still continue to wonder why the population of bay County keeps dropping. Wake Up!!
---

Dave Rogers




Dave Rogers is a former editorial writer for the Bay City Times and a widely read,
respected journalist/writer in and around Bay City.
(Contact Dave Via Email at carraroe@aol.com)

More from Dave Rogers
---
Send This Story to a Friend!
Letter to the editor
Link to this Story
Printer-Friendly Story View
---
--- Advertisments ---