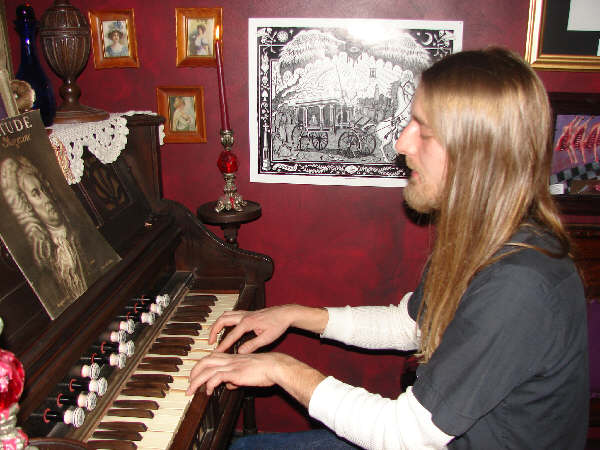 Chad Mehl plays the organ while reciting 'the bells'
---
Locals Gather To Celebrate Edgar A. Poe 200th Birthday
'la Belle Epoque' Bay City Art Gallery & Studio Host
January 21, 2009 1 Comments
By: Julie McCallum, Entertainment Editor
la Belle Epoque Art Gallery & Studio held a celebration in honor of Edgar Allen Poe on his 200th birthday, on Monday January 19, 2009.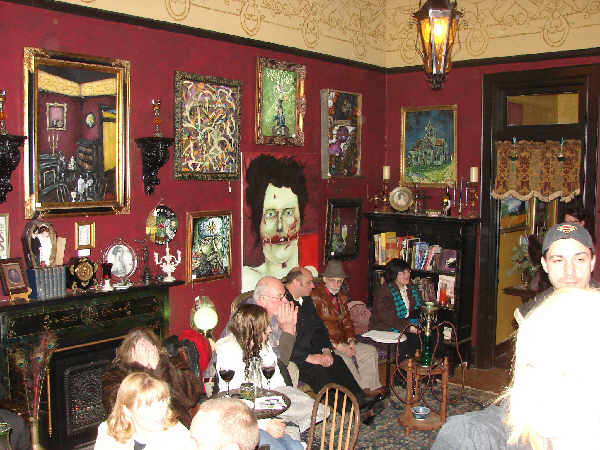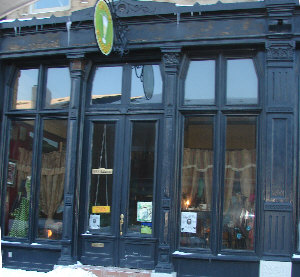 la Belle Epoque Art Gallery & Studio opened in November 2008. And is located in Downtown Bay City on 809 Adams Street.
Edgar Allan Poe (January 19, 1809 - October 7, 1849) was an American poet, short-story writer, editor and literary critic, and is considered part of the American Romantic Movement.
Best known for his tales of mystery and the macabre, Poe was one of the earliest American practitioners of the short story and is considered the inventor of the detective-fiction genre.
Poe is further credited with contributing to the emerging genre of science fiction. He was the first well-known American writer to try to earn a living through writing alone, resulting in a financially difficult life and career.
(Below Left)
Owners
(R)
Justin Rodriguez,
(L)
Todd Stevenson and Business Manager, Shannon Rodriguez
(C)
dressed the part adding to the intimacy and ambiance of the night.
(Below Right)
Robert Lopez, artist, and Kerri Novak pose for MyBayCity cameras.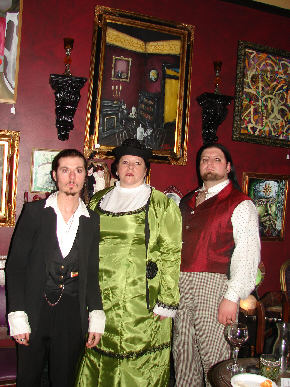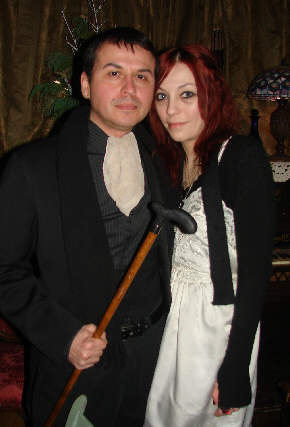 (Below Left) Dave Waldman
reads the famous 'The Raven' poem by Poe. (Which was first published in 1845.)
(Below Right)
According to Business Manager, Shannon Rodrigues a Absinthe and wine bar is scheduled to be included at the art gallery.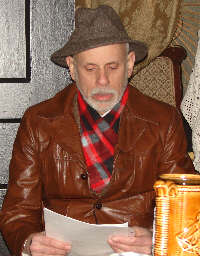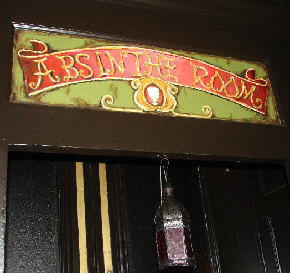 Below is a poem by
Dorothy Rifenbark (R)
written about 'la Belle Epoque'. . .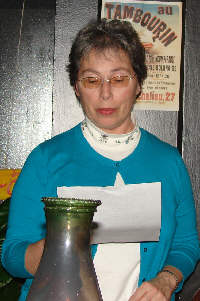 If you want to escape from the old rat race
Check out Downtown Bay City's newest place
Just off Center Avenue around the corner on Adams
Stands a quaint little shop named la Belle Epoque
It's where local artists and bohemians go
Creative folks who are in the know
Todd or Justin, the owners greet you with a smile
As they bid you warm welcome and say 'Stay awhile'
It's a cozy little corner in our city by the bay
Where you can paint or write the day away
Or perhaps merely gaze at the art-filled walls
As words written by Poe into your minds slowly crawl
While you sit upon a velvet tufted divan
And dream of a journey to Paris or Saipan
It's a happening place with an atmosphere sweet
You can even go in and just rest your tired feet
Upon a petite footstool fringed in bright green
While the smoking lamp is lit near an Oriental screen
So if you are looking for a place that is new
Head down to Adams Street and stay for a few
Minutes or hours it doesn't matter which
For once you've been there you'll never switch
Back to the modern day shops that seem empty and cold
For la Belle Epoch is brand new and frightfully bold
If you think you are ready to try something new
This place offers four walls with a startling view
So saunter on in some afternoon or evening soon
See some art, read a poem or on the organ play a tune.
La Belle Epoque is here to stay
And for that we say, hip hip hooray!
By Dorothy "Dot" Rifenbark
---
"The BUZZ" - Read Feedback From Readers!
webstserwood Says: On February 14, 2009 at 03:19 PM

I recently visited the LaBelle Epoque Gallery in Bay City and was very impressed. This is a great display of un-discovered talent. I am going back to consider purchasing a painting. Love the poetry idea too. It's one of Bay City's secrets...Don't miss it!
---
---
Send This Story to a Friend!
Letter to the editor
Link to this Story
Printer-Friendly Story View
---
--- Advertisments ---