Rush Limbaugh is a Big, Fat Idiot!
WHOOPS, I'm So Sorry
Since When Do Politicians Apologize or Kow-Tow to Radio "Personalities?"
March 4, 2009 6 Comments
By: Dave Rogers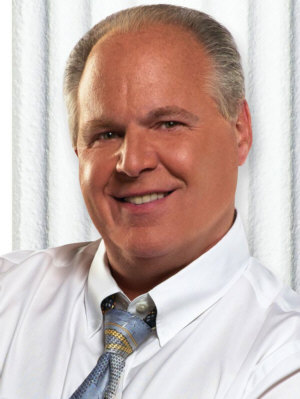 You really can't even dignify Mr. Limbaugh with the title "talk show host" since he does all the talking.
A sure sign that the country has gone over the edge came when radio clown Rush Limbaugh challenged the President of the United States to a debate.
And, of course, when the head of the Republican National Committee, one Michael Steele, apologized to the Rushmeister for possibly offending him.
We Americans have, for certain, imbibed all the Kool Aid and are running around in circles prior to dementia.
You really can't even dignify Mr. Limbaugh with the title "talk show host" since he does all the talking.
Freedom of speech has run amok when most of the radio airwaves in the nation are dominated by one irrational voice. The supporters of the free enterprise system never counted on this, you can be sure.
For an opinion purveyor to wish that the President should fail is not only not helpful to a nation struggling with its psyche as well as its economy but is approaching anti-Americanism.
Jane Fonda was pilloried for much less.
The fact that journalists on national television are perplexed by this phenomenon is evidence enough that the system is out of whack. It's just a radio program, after all, isn't it? One pundit asked.
Another pundit commented, not entirely tongue in cheek, that Limbaugh should be executed for treason. Her comment drew absolutely no response that we could find.
Well, given the developments of the past few weeks Mr. Limbaugh has proven that he is more than just a pretty face. He has seized control of the Republican Party and, if he is not stopped, he will threaten one of the greatest political movements of all time.
Corrupting the process would be an understatement when considering what Mr. L is doing to the GOP. Now he brazenly attempts to short-circuit the entire nation's political process by intimidating the President.
The path from entertainment to extremism is not as widely separated as it may seem. History tells us so.
This kind of activity is not without precedent in our nation in times of crisis. Often, the desperate turn to demagogues and/or radical rabble-rousing bomb-throwers. Recall Father Charles Coughlin of the Shrine of the Little Flower in Royal Oak, Michigan, in the 1930s.
Fr. Coughlin had the power and clout of a Limbaugh, almost. He took his populist message to the nation struggling with Depression and nearly turned it upside down. Much like Mr. Limbaugh is doing today.
You probably don't recall the incendiary "Radio Priest" unless you are older than I am. My recollection goes back to my grandparents who were faithful listeners and picked up the anti-Roosevelt tirades of Fr. Coughlin, believing piously that a Roman collared cleric could hardly be wrong about anything.
We won't recount the entire history of the mad monk Coughlin here, but let's just deal with the end of his career as an object lesson relating to what will undoubtedly happen to Mr. Limbaugh.
In the late 1930s Fr. Coughlin accused President Franklin D. Roosevelt of "leaning toward international socialism or sovietism". He also praised Adolf Hitler and Benito Mussolini in the fight against communism in Europe.
On 20th November 1938, Coughlin defended the activities of the Nazi Government as a necessary defense against the Soviet Union.
Like Joseph Goebbels, Coughlin claimed that Marxist atheism in Europe was a Jewish plot. Coughlin also attacked Jews in America, a charge that resulted in his being branded an anti-Semite as well as a fascist. In April 1941, Coughlin endorsed the anti-war America First Committee.
In January 1940 the FBI raided the New York branch of a Coughlin-supported organization known as the Christian Front and uncovered a cache of weapons. FBI Chief J. Edgar Hoover claimed members of the organization planned to murder Jews, Communists and Congressmen. Although Coughlin was not directly involved, the publicity the plot generated severely damaged his reputation.
Coughlin's opinions became more extreme. In September 1940 he described President Franklin D. Roosevelt as "the world's chief war-monger". The following year he wrote: "Stalin's idea to create world revolution and Hitler's so-called threat to seek world domination are not half as dangerous combined as is the proposal of the current British and American administrations to seize all raw materials in the world. Many people are beginning to wonder who they should fear most - the Roosevelt-Churchill combination or the Hitler-Mussolini combination."
When the U.S. entered World War II the National Association of Broadcasters ended Coughlin radio broadcasts. The Post Office also banned his weekly newspaper, Social Justice, from the mail. On May 1,1942, Archbishop Francis Mooney ordered Coughlin to end to his political activities or be defrocked.
Charles Edward Coughlin retired from the Shrine of the Little Flower Church in 1966. He continued to denounce Communism until his death on October 27, 1979.
The lesson we need to relearn is that the national airwaves are not to be dominated by an irresponsible cabal; the public interest demands clear thinking, especially in a time of crisis. Democracy cannot be its own worst enemy if a system such as ours is to be prevented from self destructing.###
---
"The BUZZ" - Read Feedback From Readers!
jchowell Says: On March 05, 2009 at 03:45 PM

I'm not sure that Rush Limbaugh has taken control of the Republican Party, but he has way too much influence
over it. I would like to see the Republican Party return to a Dwight D. Eisenhower mode, you know, intelligent, thoughtful, knowledgeable, experienced and deeply caring about America and all Americans (not just the wealthy and powerful). One of the problems with having a fellow like Rush Limbaugh acting as a spokesman for your party is that he uses the Hitler Brown Shirt style of broadcasting. His harangues are riddled with half-truths, nasty innuedo and outright, bald-faced lies. Now when a member of the Republican Party has to (or thinks he has to) apologize to Rush Limbaugh for honest criticism of "RUSH WHO IS WITHOUT SIN" then the party has really gone over the falls without a barrel.
The G.O.P. needs to re-claim it's grandness by disassociating itself from Rush Limbaugh who, in my view, is no more than a media "suitcase pimp" who panders to the worst in mankind's character.
Rush Limbaugh is not a debater, he is a "Yeller".
He yells his opinion and would talk loudly over any intelligent response which would demonstrate what a fool actually dwells in his hulking frame. Therefore, the President or no one else should debate him, because Limbaugh would turn intelligent debate into a fiasco of accusatory yelling.
Perhaps someone offers a course in "holistic yelling" somewhere in this great land of ours, where Rush could go and learn to tone it down a bit? From there, he might take up a diet and exercise program and work off some of that "Type-A Personality" tendency to be a bombastic blowhard bellowing
bullbleep?
Meanwhile, let's all keep Rush Limbaugh in our prayers and hope for him that he embarks on a more meaningful path in life. Perhaps he could volunteer at a homeless shelter somewhere or something of that nature or go visit kids in a cancer ward. Anything to improve his attitude and outlook on life.
Peace and prosperity to all.
richardlomba Says: On March 05, 2009 at 04:33 PM

Thank you for this article. If we at war, as the last administration constantly reminded us of very often, this man could be considered as a traitor.. I wish the news people would just quit giving him the headlines he is getting. This would hurt him more than anything we could do..
GreenDog says: On March 05, 2009 at 05:24 PM

It never ceases to amaze how difficult it is for some wise men - like yourself - are unable to listen to a point of view that is different than your own.

I listen to Rush's gibberish probably 2 or 3 times a week while in the car between appointments.

I also listen to the CNN, FOX, MSN gibberish once or twice a week.

I also listen every time the quick-change artist (OBAMA) speaks his piece via radio or television.

And today -- I read your gibberish.

How is your crap any sweeter smelling than any of the others.

I guess you have a MYBAYCITY soapbox so you can stand higher than the rest of us.

I enjoy your point of view, Dave, as much as any other.

In other countries . . . we'd both be dead (shot by firing squad) by now.

GreenDog has spoken.
trexx0072002 Says: On March 09, 2009 at 06:57 AM

Maybe Rush is on those perscription drugs; you know those perscriptions that he was over perscribed not the ones he took himself willingly.

Usually when a person is on such large doses of pain killers; and what was it ZOLOFT; they tend to ramble on aimlesly and their thought patterns are scrambled.

What the real problem is is so many people believe his ramblings as truths.

T REX
Kelly says: On March 09, 2009 at 08:34 PM

Obama couldn't debate his way out of a paper bag let alone Rush Limbaugh. It would require major surgery to remove his teleprompter.
scottyhomeseller Says: On March 22, 2009 at 01:22 PM

Dave,
As a student of history I find it hard to believe that you would actually suggest that anyone in America should be censored. Your opinion is no better than mine or Rush Limbaugh's or President Obama. Every US citizen is guaranteed the freedom of speech by our Constitution.

Furthermore, I think your comparison of Limbaugh to Couglin is obsurd. You could have found someone less extreme from history to show your comparisons.

When we are dealing with Radio, TV or Newspapers for that matter each of these is successful or not because of the people that listen, watch or read. Advertising dollars are what pays for this media and if market share drops then the program or newspaper cannot justify keeping the status quo. Therefore no one is listening, watching or reading so then naturally through the free market system these types of programs or media is dropped. Obviously Rush Limbaugh has lots of listeners.

One could take the stance that Oprah Winfrey is in charge of the Democratic Party because she backed Obama so rigoriously. All she has to do is recommend a book and bingo it becomes a best seller. So maybe by your standards Oprah has too much control over the democratic process and should be prevented from doing that.

Do you understand that this mentality by itself is unAmerican? Are we going back to the days of witch hunts and Mcarthyism?

Some media has an agenda. I have found very few that don't slant things toward what that is. It would be nice to just hear the news reported without a political slant. MSNBC seems to be pro Democrat. Fox is pro Republican. So what? Either listen or don't.

Steele was off base with his comment and should have said he was sorry to Rush.

Why don't you pitch a democratic perspective to the national radio media and see if they put you on the air?

Obama promised change. Yet more lies seem to be flowing. Campaign promises broken. What happened to those promises...no more pork or earmarks? What about putting a bill on line for all of us to read for five days before he would sign it? How about not putting lobbiest in the administration? These are just a few. As a regular citizen I think that all the politicians in Washington have gone insane. How could they vote for a bill that they didn't even have time read?

Maybe I am just being unamerican or a traitor for trying to hold our representatives feet to the fire but I don't agree with lots of what is going on in Washington and I have that right to not agree and to tell hanyone that will listen that I think that we are headed toward Socialism. I think that many aspects of what Roosevelt Presidency was Socialist in nature. Why is this acceptable to the American public? Socialism isn't acceptable to me and I will do what I can to prevent us from going down that road.

One of the first aspects of gaining control over the people that Socialists use is to silence the decentors. This so-called fairness doctrine is an attempt to do just that.

I have lots more to say on why our nation is in the state we are in now but my soapbox time is done and I do hope you allow this to be published on the website.

Thank you for your opinions. We all have them and being able to voice them is being a true American.

Scott Cummings
---

Dave Rogers




Dave Rogers is a former editorial writer for the Bay City Times and a widely read,
respected journalist/writer in and around Bay City.
(Contact Dave Via Email at carraroe@aol.com)

More from Dave Rogers
---
Send This Story to a Friend!
Letter to the editor
Link to this Story
Printer-Friendly Story View
---
--- Advertisments ---