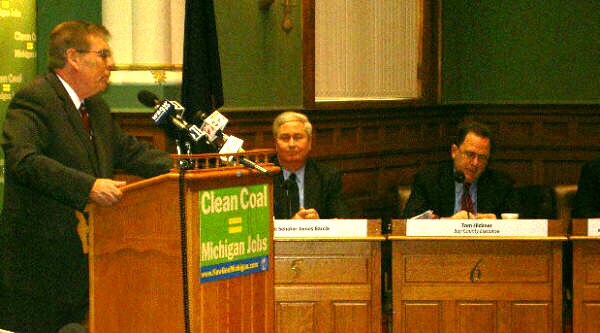 Bay Area Chamber President Mike Seward fires up the crowd in the commission chambers at City Hall on Monday morning.
---
Threat of Outside Agitators Looms Over Consumers Public Input Hearings
40 Percent of Building Trades Members Unemployed, Says State Union Leader
April 14, 2009 2 Comments
By: Dave Rogers
Reports are that outside agitators from as far away as Washington, D.C., are being flown and bused in to disrupt public input hearings at Bay Valley on Tuesday night and Wednesday.
Hearings concern the proposed expansion of the Karn-Weadock electrical generating plant of Consumers Energy corporation here.
Mike Seward, president of the Bay Area Chamber of Commerce, said in response to those reports: "We need to stand together as a community and build, and build now!"
He added: "We can literally make history by showing cooperation, teamwork and unity" to offset the negative effects of protesters who are expected to arrive from far and wide to oppose the plant.
Mr. Seward was master of ceremonies at a coalition of business, governmental, labor and other leaders massed in the commission chambers at City Hall on Monday.
Even though it was "hush hush" except for the leaders and media until just hours prior, the news conference was attended by more than 100 supporters of the proposed Consumers Energy expansion to the Karn-Weadock plant. A phalanx of news cameras and radio microphones as well as print and electronic media were on hand to report on the meeting.
Despite the secrecy and a police presence to keep protesters out, one agitator got into the front row and lamely questioned why leaders were drinking bottled water from elsewhere, a comment that fell flat.
Shortly after the rally was over The Bay City Times was on the streets with a full story by environmental writer Jeff Kart and pictures about the event.
From state senators Jim Barcia and Tony Stamas to township supervisors Terry Spegel of Hampton, Monitor's Gary Brandt and Terry Watson of Bangor, leaders of both parties were out in force.
Mr. Seward waved resolutions of support from 69 different governmental, business and other organizations including the county's Democratic and Republican parties in a rare show of bi-partisan agreement.
The Michigan Department of Environmental Quality (MDEQ) has scheduled hearings Tuesday April 14 7-10 p.m. and Wednesday April 15 12 noon to 2 p.m. and 7-10 p.m. at the Bay Valley Resort Hotel.
Top newsmaker at the City Hall rally was Patrick "Shorty" Gleason, (Pictured at Right) president of the Michigan Building Trades Council, who said the proposed $2.4 billion plant expansion "is a true stimulus package without cost to the taxpayers."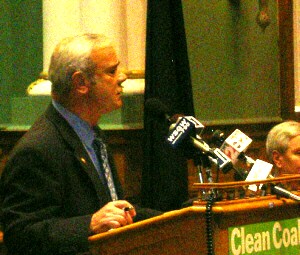 While general unemployment is about 11 percent across the board, Mr. Gleason said about 40 percent of building trades workers are out of jobs.
And many of the 60 percent who do have work must travel to other states, said Mr. Gleason. Members of his union are on the verge of losing their homes while health care and pensions also are in jeopardy, he said.
Bay City Mayor Charles Brunner said "clean coal generation represents the biggest economic stimulus for this special place we call home."
County Executive Tom Hickner said tax revenue to Bay County from the plant is projected to rise from $10 million to $20 million a year "providing direct impact on the quality of life in this community."
State Sen. Tony Stamas, R-Midland, who represents the Dow Chemical Co., Dow Corning and the Hemlock Semiconductor plants, said "we can't allow a few to determine our future."
Jobs are needed so families can stay home, said Sen. Stamas.
Rep. Ken Horn, R-Saginaw, noted that thousands are leaving Michigan because of the shortage of jobs, adding that 350,000 jobs need to be replaced.
"We need to re-industrialize," said State Rep. Horn, adding "we can't base everything on a service-based economy. We need to make things, cars, windmills, widgets. If we can bend sheet metal we sure can produce windmills."
He also noted that factories need energy, and lots of it, and we have a perfect shipping channel through the Great Lakes to world markets.
The Karn-Weadock construction site will require 15.5 million man hours of work and produce about $420 million in payrolls, $120 million in health benefits and a like amount in pensions, said Mr. Gleason.
The economic future of Michigan and the livelihood of building trades workers depends on powerhouse projects here and in Marquette, Midland, Holland and Rogers City.
The union leader, who turned out to be the star performer of the rally, noted that the additional property taxes (estimated to double) to be paid by the plant will help pay for vital public services like police, fire and EMS, libraries, school systems and higher education.
Consumers has spent $2 billion to reduce sulfur dioxide and other noxious fumes to one fifth the impact of plants of two decades ago. Several speakers noted the "balanced" strategy of Consumers with an emphasis on wind and solar energy.
State Rep. Jeff Mayes, chair of the House Energy and Technology Committee, said the Consumers 21st Century Energy Plan will set the stage for the Great Lakes Bay region to become a world leader in the technology and production of wind energy, solar, advanced battery research and other advanced energy initiatives like carbon capture sequestration. The proposed new plant "will meet or exceed state environmental requirements," he said.
Mr. Seward said this area has the opportunity "to lead Michigan's renewal in the future with good regulatory and environmental standards that will ensure we move forward."
---
"The BUZZ" - Read Feedback From Readers!
Bob Czuprynski says: On April 20, 2009 at 11:47 AM

Your article certainly advances the cause of the coal plant in Hampton. Objectivity isn't part of MyBayCity.com, or was this meant to be an editorial?
wstafford1 Says: On April 22, 2009 at 08:06 PM

Why were supporters of the Consumer's expansion allowed hold a rally at City Hall? And are you telling me, Dave, that police were stopping people who disagreed with the project? So much for a free country.
---

Dave Rogers




Dave Rogers is a former editorial writer for the Bay City Times and a widely read,
respected journalist/writer in and around Bay City.
(Contact Dave Via Email at carraroe@aol.com)

More from Dave Rogers
---
Send This Story to a Friend!
Letter to the editor
Link to this Story
Printer-Friendly Story View
---
--- Advertisments ---