Essexville Garber Runs By Birch Run, 35-14
Dukes 394 yards in rushing; Trogan leads with 196 in 20 carries
September 6, 2009 2 Comments
By: John Keuvelaar

Thursday night's home and conference opener may have been more than just that for Garber. It was an opportunity for redemption of last week's game. Judging by the tenacity and determination at which the Dukes attacked Birch Run, Garber left little doubt that they are a good football team as they defeated the Panthers, 35-14.
Garber took the opening kickoff and quickly established a strong running presence. Two rushes of Dominic Trogan produced two first downs. Then fullback Dave Laskowski burst up the middle, breaking several tackles enroute to a 39 yard touchdown run and a 7-0 Garber lead.
After holding Birch Run to a three and out, the Dukes started on their own 9 yard line and pounded the ball up the field. A fumbled pitch recovered by the Panther's Jeff Roe had Birch Run in business on the Garber 33. The Duke defense came up big, thanks in part to an over the head snap, forcing a punt. With the ball on 13 yard line, Dominic Trogan exploded up the middle, cutting to the outside and racing 87 yards for a touchdown. Jordan McCann's extra point kick made it 14-0 in the first quarter.
Birch Run's fortunes didn't fare any better starting the second quarter. After stopping Garber's drive on the Panther's 35 yard line, they watched Mike Schroeder's punt bounce out of bounds at their 4 yard line pinning them deep in their territory. Unable to move the ball out, Garber attacked the punter with Chris Rochow and company blocking the punt out the back side of the end zone for a safety and a 16-0 lead.
Garber took the ensuing free kick and starting on their own 46, ran between the tackles to move the ball right back down the field. With just under four minutes to play in the second quarter, quarterback Lee Madziar punched it in from the two to make it 22-0 Garber.
Birch Run looked to get something going before halftime. Behind the running of James Hartley (24 rushes for 192 yards), the Panthers pounded the ball down field. Hartley finishing off the drive on a two yard run narrowing the Duke lead to 22-7 and with the Panthers receiving the ball to start the second half.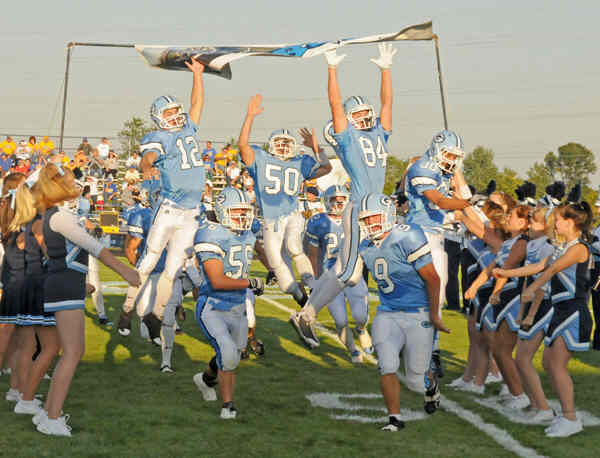 Garber bursts onto the scene causing the crowd to cheer.
(MyBayCity Photo by John Keuvelaar)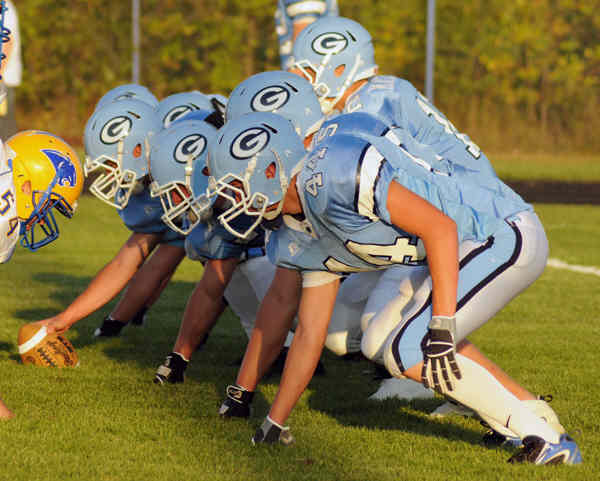 Garber's offensive line poised to attack.
(MyBayCity Photo by John Keuvelaar)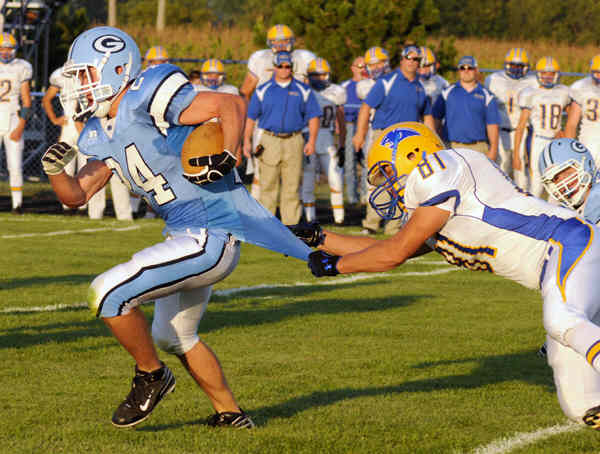 Dominic Trogan pulls away from Birch Run's Joe McGrandy.
(MyBayCity Photo by John Keuvelaar)
Garber's Travis Britko and Brandon Williams celebrate Dom Trogan's 87 yard touchdown run.
(MyBayCity Photo by John Keuvelaar)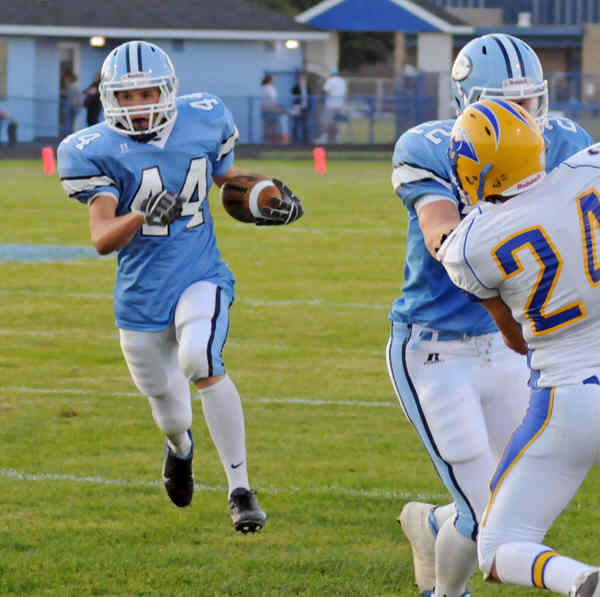 Anthony Wregglesworth gets good down field blocking from Todd Walraven.
(MyBayCity Photo by John Keuvelaar)

Seemly having seized some momentum, Birch Run did themselves no favors by coming out late for the second half. This resulted in a fifteen yard penalty. They then muffed the kick at the five only returning the ball to the 13 yard line. Then they fumbled twice with Garber recovering the second one on the Panther 31. Garber then looked deep for Todd Walraven which was incomplete. But a personal foul moved the ball to the Panther 16 where Dominic Trogan fired up the middle for a 16 yard touchdown and a 28-7 Garber lead.
Birch Run looked to strike back. Starting at their 34, the Panthers returned to running between the tackles and moved the ball down field. The drive ended on the Garber 1 yard line as the Dukes put on an impressive goal line stand stopping the Panthers.
Backup tailback Anthony Wregglesworth gave Garber some breathing room as he ran off tackle for a first down. With a face mask penalty added on, Garber was again on the move. Junior up back Brandon Williams burst off left guard and ran 56 yards for another long touchdown giving Garber a 35-7 lead.
Even more determined after being kept out of the end zone on their previous possession, Birch Run's James Hartley took the Panther's first play from scrimmage and blew through the line for a 64 yard touchdown and a 35-14 Duke lead at the end of the third quarter.
Garber looked to make one more score in the fourth quarter. Lee Madziar hit Todd Walraven on a 28 yard pass. Walraven reached for the end zone pylon and appeared to have scored. But a holding penalty erased the play effectively ending either teams scoring for the game.
Garber ran up 394 yards in rushing offense led by senior tailback Dominic Trogan's 196 yards on 20 carries. Lee Madziar added 45 yards through the air with Todd Walraven catching two passes for 27 yards. Nick Dion lead the defense with 12 tackles with Ben Turner making 8 tackles.
Birch Run totaled 253 yards in offense much behind tailback James Hartley's 192 yards. <
br clear=all>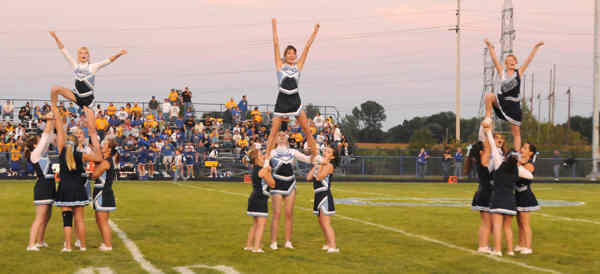 Garber Cheerleaders get up for their Dukes.
(MyBayCity Photo by John Keuvelaar)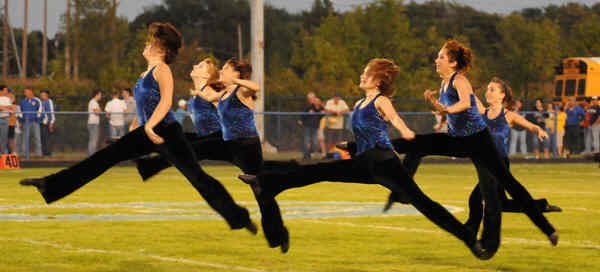 Like floating on air.
(MyBayCity Photo by John Keuvelaar)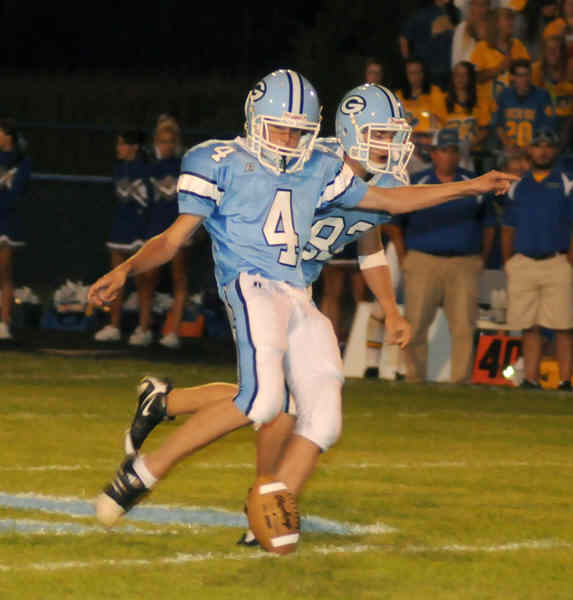 Jordan McCann puts a foot into his kickoff.
(MyBayCity Photo by John Keuvelaar)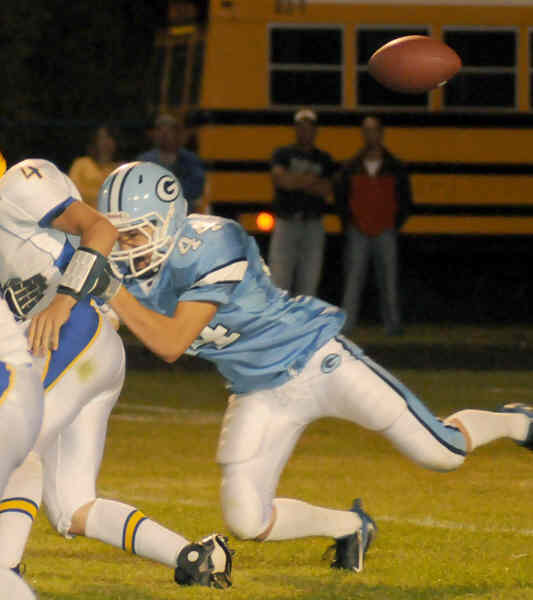 b>Anthony Wregglesworth catches Birch Run quarterback Nathan McGuire from behind causing this fumble.
(MyBayCity Photo by John Keuvelaar)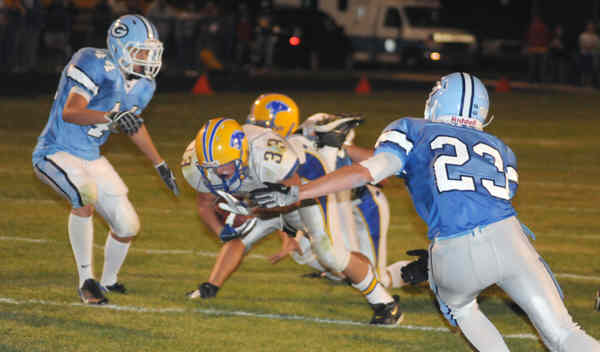 b>Anthony Wregglesworth and Travis Britko swarm to tackle Birch Run's James Hartley.
(MyBayCity Photo by John Keuvelaar)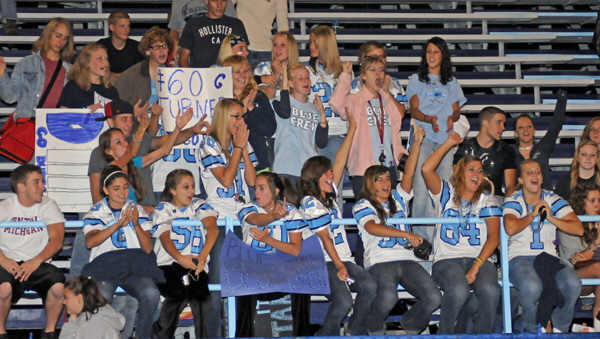 They love their Dukes.
(MyBayCity Photo by John Keuvelaar)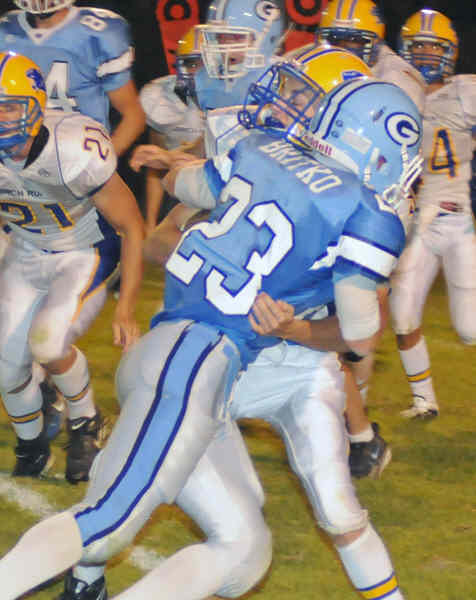 Travis Britko putting the hurt on this Panther.
(MyBayCity Photo by John Keuvelaar)

---
"The BUZZ" - Read Feedback From Readers!
magnumantlers Says: On September 09, 2009 at 02:00 PM

John,I am Parker Aho's grandmother.He broke his ankle against Birch Run last Thursday and is out for the rest of the season.I was wondering if you have any pictures of Parker,#34.If you do, would you let me know?
Thank you,Barb Donakowski
---

John Keuvelaar




John Keuvelaar is a college student at Midwest Photography Workshops and Delta College.

More from John Keuvelaar
---
Send This Story to a Friend!
Letter to the editor
Link to this Story
Printer-Friendly Story View
---
--- Advertisments ---