Granholm, Cherry Spurn Workers at Lansing Rally for Power Plant Approval
Business, Labor, Democrats, Republicans Join to Back Karn-Weadock Expansion
October 12, 2009 1 Comments
By: Dave Rogers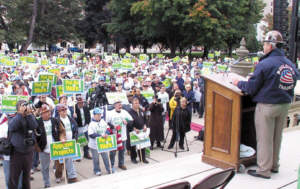 Patrick "Shorty" Gleason, president of the Michigan Building Trades Council, fires up the troops at the Lansing rally to back power plant construction in Bay City and Rogers City.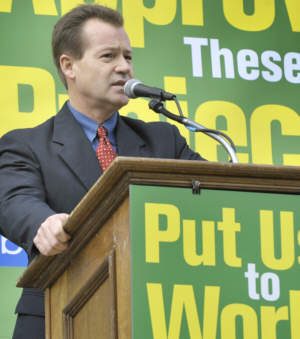 Republican Sen. Richard Richardville of Monroe demonstrates his support for the new power plants.
"Put Us To Work!" shouted signs held by hard hat workers on the lawn of the state capital last week.
But the most important officials, those with the clout to do something about joblessness, were not around.
Perhaps most galling to workers who rallied in Lansing last week for approval of power plant construction was the fact that neither Gov. Jennifer Granholm nor Lt. Gov. John Cherry showed up.
Three bus loads of building trades workers from Bay City were among about 2,000 people last week who attended an historic labor-business rally to urge state government to approve two power plant projects that would create several thousand jobs.
"At least they could have come out of the capitol and heard what we had to say," complained one worker who had attended the rally. "Isn't that their job, representing all the people, helping the economy."
House Speaker Andy Dillon, a potential candidate for governor on an Independent ticket, Rep. Jeff Mayes, Sen. James Barcia, Bay City Mayor Charles Brunner, all Democrats, were on hand, along with Republicans like Senators Richard Richardville, of Monroe, and Bruce Patterson, of Canton, and Rep. Ken Horn, Frankenmuth.
Rep. Mayes, chairman of the House Energy and Technology Committee, said that coal provides the majority of power used today by customers in Michigan and the United States.
"Coal will continue to be a significant factor in U.S. power generation, providing energy security, reliability, and affordability," he said. "Despite all the rhetoric that's out there, Michigan isn't alone in planning to build new coal plants. In fact, the U.S. Department of Energy reported recently that there are 23 new coal plant projects under construction in the United States today."
Mayor Brunner told the group "we're all environmentalists," asking all hunters, fishers and outdoors enthusiasts to raise their hands. He said the new Bay City plant would be the "cleanest of its type in the world."
The Michigan Building and Construction Trades Council and Protect Michigan, a coalition of the state's major labor organizations, organized the rally with the support of the Michigan Chamber of Commerce, the Michigan Manufacturers Association, and other members of the Michigan Jobs and Energy Coalition.
Chants of "Put us to work!" filled the air during the noon rally, which featured speeches from leaders of business and labor groups and a bipartisan slate of lawmakers. Most of those attending the rally wore T-shirts saying: "Put us to work!" They also waved signs saying "Put us to work! Approve these projects!" and "Clean Coal = Michigan Jobs."
Patrick "Shorty" Gleason, president of the Michigan Building and Construction Trades Council, described the rally - the centerpiece of a day-long grassroots lobbying event - as an historic event.
"Today, we have labor and business working together and in total agreement about the need for new power plants in Michigan. These clean coal plants will create several thousand badly needed jobs in our state and they'll give Michigan the power it needs to grow in the future," he said.
"We've got a 15 percent unemployment rate in this state. Too many families are suffering. These projects offer the jobs and the hope that we desperately need. That's why we're here today to urge state government to approve these projects so we can put people to work and start moving Michigan forward."
Gleason emphasized that the clean coal plants proposed near Bay City by Consumers Energy and at Rogers City by Wolverine Power would meet or exceed the existing environmental standards.
"We support these plants because they will generate power in an environmentally responsible manner. There's nobody who respects and appreciates the environment more than the men and the women of the building trades. We would not endanger the environment to create a single job," he said.
Before and after the rally, the skilled trades union members and others gathered at the Capitol visited the offices of lawmakers to ask them to contact the Michigan Department of Environmental Quality and urge the agency to issue the air permits for the two clean coal plants. The permit applications for the 830-megawatt Consumers Energy plant and two 300-megawatt Wolverine Power units were submitted two years ago.
Doug Roberts Jr., director of environmental and energy policy for the Michigan Chamber of Commerce, said labor and business came together as part of the Michigan Jobs and Energy Coalition, which successfully worked for passage of the state's comprehensive energy law in 2008.
He added the legislation - signed into law by Gov. Jennifer Granholm on Oct. 6, 2008 - was designed to achieve three key public policy goals: Increase the state's renewable energy resources; help customers save energy and money with energy efficiency, and support the construction new coal-fired baseload power plants.
"We've moved forward with renewable energy and energy efficiency. Unfortunately, the state has slowed down and tried to stop the development of these coal plants," Roberts said.
"Business and labor and the other coalition members are at this rally today to emphasize our view that it's important that everyone honor the agreement that led to the new energy law last year. We wanted to come together to urge state government to act so we can get these clean coal plants built in Michigan.
"The Department of Environmental Quality has been reviewing the air permit applications for these plants for two years. That's unacceptable. It's past time for these permits to be approved so these plants can move forward," he said.
"We're all optimistic that we're going to see an economic rebound in Michigan. When that happens, we're going to want to have these plants built so we'll have the power we need to grow. We need to start building now so that we're ready for that economic recovery." Sen. Bruce Patterson, chairman of the Senate Energy Policy and Public Utilities Committee, pointed out that Michigan relies on an aging fleet of power plants to meet its electricity needs.
"If Michigan doesn't build new plants, they'll be built in other states. Those states will get the jobs and all the economic benefits, and then we'll buy the power from them and pay for those plants with higher rates. Unless we change the course that we're on, as the customer demand for power rises, we'll end up buying more and more power from other states and Canada and paying higher bills," said Patterson, R-Canton.
"Michigan's 21st Century Energy Plan, which was commissioned by the governor, estimated the state's customers would pay $2 billion more for our electricity if new coal-fired power plants aren't built in the state.
"Michigan's families and businesses need safe, reliable and affordable energy to create jobs and foster the investments and economic development that our state needs. Higher power prices will push more jobs out of our state and with a 15 percent unemployment rate, that's not a pleasant prospect or a course that we should take," Patterson said. "We need to protect every job that we have in this state and state government should be doing everything it can to create new jobs. The Department of Environmental Quality should act quickly to approve the permits needed to move these projects forward."
Mayes, D-Bay City, added the power plants proposed for Michigan "will be state-of-the art plants with the latest technology. Because they're more efficient, these plants will emit less carbon dioxide than older, existing plants that eventually can be retired. These state-of-the-art plants also will be able to accommodate carbon capture equipment once that technology has been developed to the point where it's commercially available and economically feasible.
"Initial analysis shows that Michigan's geology has a very good potential for storing carbon dioxide underground. That could turn out to be a big plus for our state, but we've got to build these projects to capitalize on it."
The Michigan Jobs and Energy Coalition is comprised of Michigan's major utilities, electric cooperatives and municipal electricity providers; major business organizations and industrial customers; labor organizations; economic development interests; and renewable energy and energy efficiency advocates, and many others.
For more information, please visit the coalition website at: www.michiganjobsandenergy.org.
---
"The BUZZ" - Read Feedback From Readers!
WALLWE Says: On October 18, 2009 at 11:07 PM

"CLEANEST OF ITS TYPE" CERTAINLY IS A LOT WORSE THAN SOLAR OR WIND GENERATED . A LOT MORE JOBS TO BE GENERATED FROM SOLAR THAN COAL WILL EVER HAVE AGAIN ...A LOT SAFER ENVIRONMENT FOR CONCERNED CITIZENS TRYING TO BUILD CLEANER AIR QUALITY AND CLEANER WATER STANDARDS. HELP STOP DIRTYING THE WATER SHED OF APPALACHIA AND ITS CITIZENS.. THEY HAVE SUFFERD ENOUGH ...
---

Dave Rogers




Dave Rogers is a former editorial writer for the Bay City Times and a widely read,
respected journalist/writer in and around Bay City.
(Contact Dave Via Email at carraroe@aol.com)

More from Dave Rogers
---
Send This Story to a Friend!
Letter to the editor
Link to this Story
Printer-Friendly Story View
---
--- Advertisments ---