Regionalism Promotion is Newest Mantra of Tri-County Business Leaders
Dow, Seeking to Attract Quality Employees, Offers Vision for Unified Effort
October 29, 2009 1 Comments
By: Dave Rogers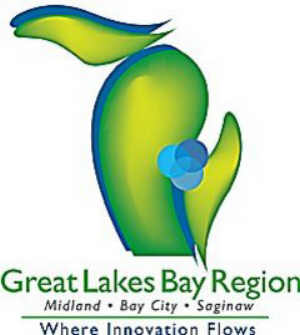 What is the Great Lakes Bay Region promotion all about?
Emulating the success of West Michigan?
Creating an island of prosperity in Michigan's economic sea of despond?
Responding to unprecedented world competition?
How about: All of the above.
Matt Davis, vice-president of The Dow Chemical Company, keynoting a Bay Area Chamber of Commerce "Bay Area On The Go" event recently, stated the case for more regionalism.
The thrust is a continuation of a Dow strategy to make the area more attractive to the type of world-class employees its company needs to thrive.
"High-powered college graduates simply want to live in bigger cities, where there is more excitement, more things to do after work," said one local corporate recruiter. "Smaller places just don't have that kind of appeal."
Mike Seward, president of the Bay Area Chamber of Commerce, is president of the Great Lakes Bay Regional Alliance (GLBRA) Board of Directors. Formerly known as Vision TriCounty, the organization's mission is to jointly promote and market Bay, Midland and Saginaw counties as one.
Dr. John S. Lore of Bay City, former St. Louis, MO, and Detroit health care executive, is president and CEO of the Alliance.
"The opportunity to work with leaders who want to invest in the future of our region in these challenging times is inspiring," said Dr. Lore. "Our local communities have distinctly defining strengths. We will build on those and promote them collectively to encourage growth and foster pride in the Great Lakes Bay Region."
Dr. Lore has had numerous leadership positions in health care, education, and public/private partnerships and fund development. Most recently, he served as senior vice president and consultant for Detroit Medical Center.
Even recognition of the Great Lakes Bay Region as one metropolitan region, with combined population of about 390,000 would vault the area to 130th in the U.S. That would place GLB between Salem, Oregon, with 391,680 population and Shreveport-Bossier, Louisiana, with 389,533.
Right now Bay is listed at 329th on the metro list with 107,000 population, Saginaw with 200,000, is 206th, and Midland with 83,000 is 355th.
A GLB forum held earlier this year focused on supporting a new terminal at MBS International Airport and the proposed expansion of the coal-fired power plant at Consumers Energy's Karn-Weadock generating complex in Hampton Township.
Mr. Seward said the idea is to make the region the center for energy development and generation in this state.
A logo and website have already been launched and the theme is being heavily promoted.
GLBRA coordinates the resources of Bay, Midland and Saginaw chamber activities, economic development, government relations, convention and visitor's councils, and highlights the services provided by the collective healthcare and higher education communities.
The Alliance's program includes economic development, chamber work, and then advocacy. "It really has its impetus from the major corporations in the area who felt if we are really going to be able to attract other industry and other commerce we really need to be looked at as more than just Bay City, Midland or Saginaw, and try to look at it as one major community." said Mr. Seward.
The Saginaw Midland Bay Michigan Works, a state-financed development and job training agency, even changed its name to Great Lakes Bay Michigan Works!
The first-ever "Boost Mid-Michigan" event at Saginaw Valley State University recently attracted about 100 entrepreneurs, investors and business people from across Michigan. More than two dozen entrepreneurs made two-minute presentations before a panel of experts.
The event was hosted by an "angel" investment group called the BlueWater Angels and "Jumpstart," a cooperative comprised of 17 area organizations promoting entrepreneurship.
A regional leadership institute, started in 2007, is developing leadership skills among mainly young business people from Bay, Midland and Saginaw. "Many of the community leadership programs are focused just on that community, so we think that will really provide a resource and break down some of the border barriers that might exist," said Mr. Seward.
State representatives and senators who represent Midland, Saginaw and Bay City, rather than emphasizing partisan differences, have cooperated to form a strong caucus to bring resources to the Great Lakes Bay Region.
"Regionalism adds dimension to all of these issues. It gives us better access to quality of life, more art, more recreation and more food, said Mr. Seward.
"In terms of advocacy, we have a better chance at getting support for energy legislation, policy and funding in these areas because we have a broader and stronger delegation.
"And, probably the most important, is as we become more sophisticated, which we really are when you look at Dow Chemical, Dow Corning, Hemlock Semiconductor, and SC Johnson, we now have an attraction where we can bring employees from major cities, because before, they just didn't want to leave the big cities.
"Here is what's exciting about it: We have an incredible major industrial base, so you have that to start with.
"You have incredible health care and you have incredible higher education, and when you combine all of that and look at it, that is why this region is right on the cutting edge of really being pretty incredible."
Mr. Seward says recently there seems to be more of an appetite for really looking at this region as one and breaking down some of those barriers. The challenge will be to put that into action.
He concluded: "It isn't enough for us to say we are one, I think we have to act like one, see ourselves as one and draw the benefits of being one."
---
---

Dave Rogers




Dave Rogers is a former editorial writer for the Bay City Times and a widely read,
respected journalist/writer in and around Bay City.
(Contact Dave Via Email at carraroe@aol.com)

More from Dave Rogers
---
Send This Story to a Friend!
Letter to the editor
Link to this Story
Printer-Friendly Story View
---
--- Advertisments ---