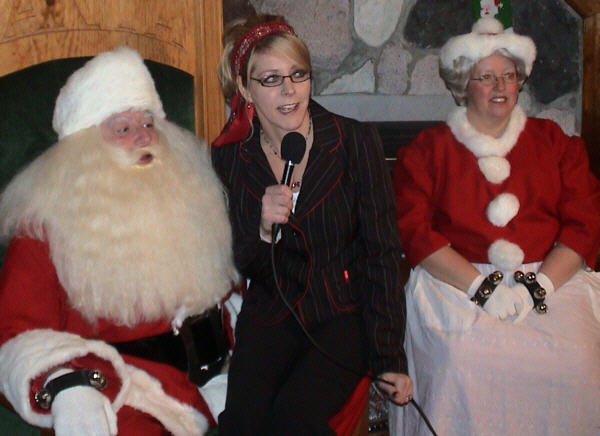 The Nate and Mary Ida Doan Santa House
To Open November 28, 2009
November 28, 2009 1 Comments
By: Julie McCallum, Entertainment Editor
The Nate and Mary Ida Doan Santa House, Bay City, will open for the 2009 Holiday Season on Saturday evening, November 28th at 6 PM! That evening, Santa will arrive via a special Santa Train - with a specially equipped and lighted train car - which will bring Santa down the tracks by the Santa House in the south end of Veteran's Memorial Park, on the west side of the Saginaw River, Bay City. The special train will stop at the Santa House so that Santa can get off to visit with children of all ages!
Again this year many, many magical displays await the visitors in the log cabin style Santa House PLUS live reindeer will be outside at the reindeer barn! Bring your extended family - all generations - to see Santa and some of his reindeer at his wonderful, animated Santa House. Cameras are welcome or Santa's elves will take photos with the Santa House camera for sale for a small fee.
Santa Claus will then be at Santa House every day from November 29th through December 22nd. Hours are weekdays (Monday - Friday) 6-8:30 PM; weekends (Saturday and Sunday): 1-4 PM & 6-8:30 PM.
The Santa House is located on John F. Kennedy Drive, (South End of Veteran's Park, near Community Center) Bay City, Michigan. True to the good nature of Santa, the Nate and Mary Ida Doan Santa House is always FREE to all who visit.
The Santa House Committee volunteers work year round to maintain the site, plan and decorate for the Holiday Season, plus participate in year round fund raising activities. The moneys are used to maintain and improve the Nate and Mary Ida Doan Santa House, Inc. Donations are always welcome - monetary or in kind - from individuals and Community Clubs/Organizations.
According to the Bay-Journal web site . . .
"Nate & Mary Ida Doan. Nate and Mary Ida, founders of the Santa House in Bay City, have been personal friends of Santa Claus for over 50 years.

Nate is no longer with us and is now working full time with Santa, and Mary Ida has doubled her efforts to keep the Santa House going with help of volunteers. But, there is always a need for more help, and donations to make sure the house is properly maintained for kids to enjoy during the holiday season."
CLICK HERE
to visit the
Santa House web site designed and hosted by bay-journal
.
Santa House is "free" thanks to public and private donations.
Santa House is open Monday through Friday from 6 p.m. to 8:30 p.m. and on Saturdays and Sundays from 1 p.m. to 4 p.m., then again from 6 p.m. to 8:30 p.m. Santa House closes for the year on Dec. 22 to give Santa enough time to get ready to deliver presents on Christmas Eve.
Non-profit Organization --
The Nate and Mary Ida Doan Santa House, Inc. is a 501(c)3 non-profit organization incorporated under Michigan Law (1991), created in honor of their lives and to assure the "Spirit of Santa House" endures for future generations.
MERRY CHRISTMAS TO ALL AND TO ALL A GOOD NIGHT!
---
"The BUZZ" - Read Feedback From Readers!
Btrue3455 Says: On October 20, 2015 at 01:22 PM

The Bay City Santa House opens the Saturday after Thanksgiving each year. Santa arrives by train and the reindeer are there to greet our visitors ALL season long. Last day to visit with Santa is Dec. 21st. Weekday hours are 6-8:30 and weekends are 1-4 and 6-8:30 on Saturdays and Sundays. All are welcome and donations are GREATLY appreciated.
---
---
Send This Story to a Friend!
Letter to the editor
Link to this Story
Printer-Friendly Story View
---
--- Advertisments ---