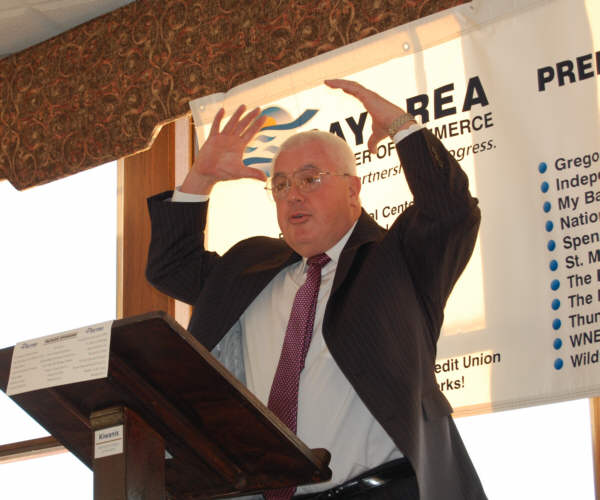 Dr. John Lore expressively explains the developing concept of the Golden Great Lakes Bay Region at a packed Bay Area Chamber breakfast this morning.
---
John Lore on Regionalism Draws Full House to Chamber Eye-Opener Breakfast
"Golden Great Lakes Bay Region" Envisioned Through Cooperative Efforts
January 12, 2010 1 Comments
By: Dave Rogers
More than 300 persons jammed the Genevieve Room at the Dore Riverview Complex this morning to hear the message of regionalism from the Bay Area Chamber of Commerce.
Speaker John S. Lore, president and CEO of the Great Lakes Bay Regional Alliance (GLBRA) delivered a evangelistic speech keyed to cooperation in the region for tourism and economic development.
He pictured a return to the regional prosperity of the Golden Triangle days of the 1960s when the region was the envy of the Midwest, envisioning "the Golden Great Lakes Bay Region."
He cited the goal of replicating the situation of "blue collar and white collar salaries at enviable levels."
Chamber President Mike Seward and Board Chair Brad Kessel introduced 68 of the 150 new members who joined in a recent membership drive. Brick awards for outstanding developments were awarded by Chamber Ambassador Sue Pike to Scott Carmona and Brian Eggers of South Euclid LLC for their rehabilitation of a building.
"Together we are better," exclaimed Dr. Lore, a former college president and head of a large hospital conglomerate who has traded retirement and Arizona winters to head the regional economic effort.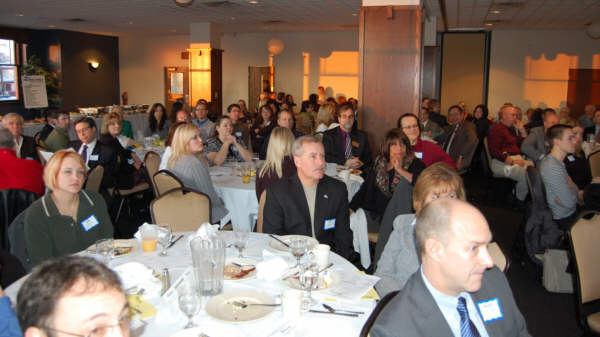 Enormous crowd jams Genevieve Room
at the Dore Riverview Complex for Bay Area Chamber event.
(MyBayCity Photo by Dave Rogers)
Dr. Lore said the regionalism concept already is coalescing and promising to bear fruit through:
A Regional Legislative State Caucus of nine elected officials, members of which are on important committees which impact the region and creating a larger and more effective presence in Washington, D.C.;
A GLBRegional Trail Committee for connected railtrails in the region;
a national youth soccer tournament coming to Saginaw in 2012,
talks slated in February among school districts about cost-saving consolidation of services and
a Blue Sky Committee of GLBRA meeting with Saginaw Valley State University officials to create a regional economic development strategy for the Saginaw Bay.
In addition, a GLBR lifestyle magazine is promoting the entire region, he said.
Citing "magnet" companies such as Dow Chemical, Dow Corning and Hemlock Semiconductor (HSC), Dr. Lore projected a vision of "a vibrant expanded region where there is more recreational excitement, more coordinated culture, diverse educational opportunities, and accelerated quality of life."
High level college graduates will require all of that, and more, before considering employment choices in our region, he said, commenting further:
"We feel we have the type of 'magnet' companies in this region which can create an island of hope and prosperity in an economic sea of despondency."
Dr. Lore has already envisioned the Great Lakes Bay Region as including areas west to Mt. Pleasant, part of the North Country and the Thumb in the alliance orbit. (Please see MyBayCity.com "Expanded Vision Seen By John Lore for Great Lakes Bay Regional Alliance," Dec. 17, 2009.)
The vision, Dr. Lore explained, came from Vision Tri County formed by the three chambers of commerce from Bay, Midland and Saginaw counties, "providing a fertile environment for the insight and vision of the corporate community to regionalize."
Despite the unprecedented economic downturn, Dr. Lore noted start-ups in the region like Suneva, Townsend Kokam, Evergreen Solar, Global Watt and Tata Consulting, plus expansions at HSC and Morley Companies.
---
"The BUZZ" - Read Feedback From Readers!
mhclevey Says: On January 18, 2010 at 02:30 PM

Thank goodness John Lore is blowing wind in the sails of regionalism and inter-organizational collaboration. His vision for community and economic recovery, diversification and development is spot on! All I can say is, "Go John Go!" Mostly, I hope every political candidate in our region - from Dog Catcher to U.S. Senate - incorporates this vision of success in their platform.
---

Dave Rogers




Dave Rogers is a former editorial writer for the Bay City Times and a widely read,
respected journalist/writer in and around Bay City.
(Contact Dave Via Email at carraroe@aol.com)

More from Dave Rogers
---
Send This Story to a Friend!
Letter to the editor
Link to this Story
Printer-Friendly Story View
---
--- Advertisments ---