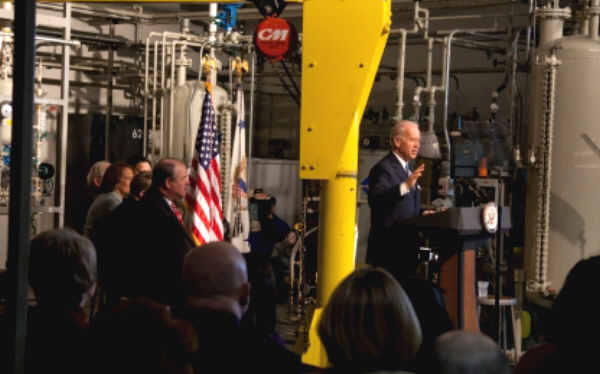 Vice President Joe Biden addresses crowd at Delta College about effect of Recovery Act.
---
Joe Biden Here: "Recovery Act Saved Jobs and Helped Michigan Families"
Economic Boost to the State Adding up After One Year, Says MLHS
February 17, 2010 1 Comments
By: Dave Rogers
Jobs, jobs, jobs!
The country's economic output was plunging dangerously when the Recovery Act was signed a year ago.
By spring, the collapse slowed, then stopped, and by summer the national economy was starting to grow toward recovery.
The nonpartisan Congressional Budget Office estimated that as many as 2.4 million more jobs would have been lost nationally without the Recovery Act.
The Vice President of the United States, Joseph R. Biden, Jr., toured the Great Lakes Bay Region Tuesday to discuss how The American Recovery and Reinvestment Act of 2009 (ARRA) investments are improving communities and creating jobs here and across Michigan.
Vice President Biden visited the chemical processing simulation lab at Delta College and spoke to students, staff and local dignitaries. The lab trains people for jobs at Dow Corning and Hemlock Semiconductor Group, as well as for other companies in the region. The simulation lab features process equipment similar to what is used in many chemical manufacturing sites in the area.
The Vice President was joined by Administrator of the Small Business Administration Karen Mills, Michigan Senator Carl Levin, Michigan Congressman Dale Kildee and Delta College Fast Start program graduate, Justo Gonzalez.
According to the Michigan League for Human Services (MLHS) the American Recovery and Reinvestment Act, signed a year ago Tuesday, injected billions into Michigan's economy, helped thousands of Michigan residents stay out of poverty and avoided massive layoffs of teachers and other public sector workers.
"In addition, the Recovery Act put money in the pockets of most workers through the Making Work Pay tax credit, spawned more than 750 road projects and provided other needed economic supports to unemployed workers and low-income families," said MLHS President Sharon Parks.
"The Recovery Act provided Michigan a gigantic boost. You often hear critics say that the money didn't do much to help but when you look at the big picture, the evidence against that view really stacks up," said Ms. Parks. "At a time when our life rafts were being swamped in Michigan, the Recovery Act threw us a lifeline."
The Washington D.C.-based Center on Budget and Policy Priorities estimates that the benefits to Michigan from ARRA include:
A boost in the Food Assistance Program, adding $317 million to the state's economy;
A $25 per week increase in unemployment benefits, injecting $514 million;
Additional weeks of unemployment benefits through the Extended Unemployment, a $1.7 billion addition;
A one-time $250 payment for Social Security and SSI recipients (and some others) for $471 million in benefit; and
The Making Work Pay tax credit, a $1.4 billion increase to families in Michigan.
The Recovery Act was effective in getting money into the hands of unemployed workers and other struggling families who quickly spent the cash, helping local businesses throughout the state. Still, the recession hit harder than many predicted, destroying jobs with a vengeance.
"Michigan obviously has its share of woes with continued high unemployment and sharply reduced state revenue," Parks said. "But it's hard to imagine how much tougher it would have been this year without this very essential help."
The Center on Budget and Policy Priorities estimated that last year the Recovery Act kept 215,000 in Michigan out of poverty and helped lessen poverty for 994,000 more.
In addition, ARRA pumped more than $1.5 billion into this year's state budget, allowing teachers to keep their jobs, keeping vulnerable people from being cut from Medicaid, and filling holes throughout state government, thereby preventing additional layoffs. Without the state spending, the overall economy would have been harmed.
The Recovery Act was the right tool to boost demand when businesses scaled back their spending and cut jobs from their payrolls. It helped the economy by providing more income to people, preserving jobs and creating projects. The Michigan Department of Transportation, for example, this week reported 501 road projects under contract and 253 completed.
It's also been estimated that without an extension of the ARRA, some 900,000 jobs nationwide could be lost due to curtailed spending by state and local governments.
### The Michigan League for Human Services is a statewide, nonprofit, nonpartisan policy and advocacy group for low-income residents. It has a network of more than 1,500 from business, labor, human service professions and faith-based organizations as well as concerned citizens.
---
---

Dave Rogers




Dave Rogers is a former editorial writer for the Bay City Times and a widely read,
respected journalist/writer in and around Bay City.
(Contact Dave Via Email at carraroe@aol.com)

More from Dave Rogers
---
Send This Story to a Friend!
Letter to the editor
Link to this Story
Printer-Friendly Story View
---
--- Advertisments ---