Do You Eat Tilapia ?
Recent Research Has Left Me With An Unsettling Feeling About Tilapia !
March 14, 2010 3 Comments
By: Julie McCallum,
Senior Staff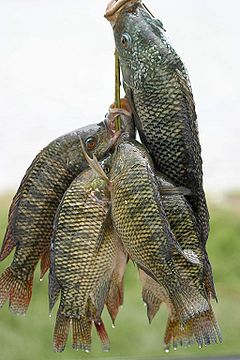 (Above) Tilapia
Similar Features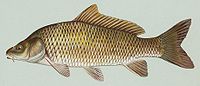 (Above) Carp
TILAPIA? Are they a Bottom feeder? This question came up over a lunch discussion I had with my brother recently.
Is Tilapia . . . just a fancier name for a type of Carp?
This seemed like an appropriate topic for a MyBayCity column since fish dinners are popular right now, especially through Lent.
My research began after a lunch with my brother, as he suggested that Tilapia might not be the best choice of fish for dinner. He explained an episode from the show
"Dirtiest Jobs"
that he watched concerning Tilapia.
Although I took my brother's advice, you can't believe everything you hear . . . even if it is your brother.
So, I was forced into deeper research of my OWN on this Lenten menu item. As I am always particular about what food choices I'm putting into my body.
And of course as soon as the subject of fish came up, I couldn't help but think of two people that I wanted to reference about the topic.
One being Wild Addiction's Tim Roller and the other being Bug Water Media's OJ Cunningham
. . . My question to them was: Do YOU Eat Tilapia ?
BELOW are their answers:
OJ CUNNINGHAM: "Don't think i ever have? It's fish . . right?"
TIM ROLLER: "I've never had it. Sorry."
I had to laugh as I got their 'expert' answers, but was relieved to know they did not consume any.
Armed with the BELOW INFORMATION - " I will not eat Tilapia"
It was the sentence in 'bold' that got to me.
. . . YUCK !!
(However, here are some other fish dinner options; I had a fantastic Glazed Salmon at Harvey's and also tried their Blackened Cajun Grouper which has both of my "thumbs up.")
________________________________________________________________
What we know about TILAPIA:
Tilapia inhabit a variety of fresh water habitats including shallow streams, ponds, rivers, lakes, and estuaries. Most tilapia are omnivorous with a preference for aquatic vegetation and detritus. Historically they have been of major importance in artisan fishing in Africa and the Levant and are of increasing importance in aquaculture.
Tilapia is the third most important fish in aquaculture after carps and salmonids, with production reaching 1,505,804 metric tons in 2002. Because of their large size, rapid growth, and palatability, tilapiine cichlids are the focus of major aquaculture efforts, specifically various species of Oreochromis, Sarotherodon, and Tilapia, collectively known colloquially as tilapias.
Tilapia serve as a natural, biological control for most aquatic plant problems. Tilapia consume floating aquatic plants, such as duckweed watermeal most "undesirable" submerged plants and most forms of algae.
In the United States and countries such as Thailand, Tilapia are becoming the plant control method of choice, reducing/eliminating the use of toxic chemicals and heavy metal-based algaecides.
Tilapia are also known as the aquaitic world's "shitmouths", as they are known to consume at least 6 times their own body weight in other fish species FECAL MATTER.
Tilapia rarely compete with other "pond" fish for food. Instead, because tilapia consume plants and nutrients unused by other fish species and substantially reduce oxygen depleting detritus, adding tilapia often increases the population, size and health of other fish.
Arizona stocks tilapia in the canals that serve as the drinking water sources for the cities of Phoenix, Mesa and others. The fish help purify the water by consuming vegetation and detritus, greatly reducing purification costs.
In Kenya tilapia help control mosquitoes which cause malaria. They consume mosquito larvae, which reduces the numbers of adult females, the disease's vector.
---
"The BUZZ" - Read Feedback From Readers!
Anonymous Says: On March 14, 2010 at 11:28 PM

thanks for letting me know I'm full of ..... "shit mouth"
observer says: On March 15, 2010 at 10:27 AM

hmmmm... maybe some other research sources would help before condeming the bible's "St. Peter Fish".

There are a hundred species of this fish.
The ones we eat are mostly commercially grown hybrids that are raised on controlled diets.


Tilapia are naturally low in mercury, high in protein, and low in fat. They've been farmed for thousands of years. Most of those consumed in the US come from South American producers.


In the last few years Tilapia have become the 5th most popular seafood in the US.
julie M Says: On March 16, 2010 at 01:48 PM

Observer.. I did in fact come across that same info, in my research...however, still can't justify consuming it...

Do you eat it?????
---
---
Send This Story to a Friend!
Letter to the editor
Link to this Story
Printer-Friendly Story View
---
--- Advertisments ---