River Has Been Roaring for A Century in Bay City
Zeder Brothers & Pals Inboard Motorboat Built Here Won 1904 Detroit Derby
June 26, 2004 1 Comments
By: Dave Rogers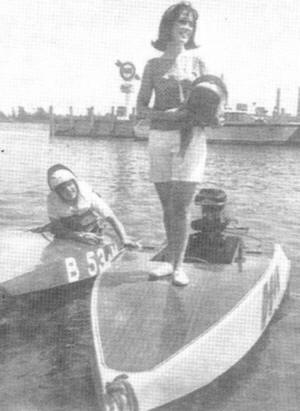 Miss Bay City Lois Hendershot poses aboard one of the Class D outboards that raced here in 1965. Left is well-known race driver Eddie Kriewall.
      Although the current series of "River Roar" powerboat racing goes back 17 years, Bay Cityans have been making waves for a century.
      In the wake of the fabulous Labadie River Roar, that featured ChampBoat battles in the frothy "pit" between the breakwaters of Wenonah and Veterans parks, we might look back a ways to when it all started.
      In 1904 the five Zeder brothers, Fred, Henry, Tom, John and James, along with Clifford Brooks, Bill Schindehette and Alonzo Arnold, crafted a "knockdown" inboard then rated as "fastest in the world" at the incredible speed of 32 miles per hour.
      The intrepid Bay City crew promptly took their pride and joy to Detroit where they whipped the field at the Grosse Pointe Yacht Club's Detroit Derby.
      Who knows but what that victory did for the Zeders, at least, as Fred and James soon became noted engineers at Studebaker Corporation's Willys-Overland division and later were instrumental in the success of the Chrysler automobiles.
      Powerboat racing was part of the 1929-30 Bay City Water Carnival that was headquartered at the same venue, Wenonah Park, as the VIP spectator tents in this year's events. Power boating legend Gar Wood sent two of his fastest outboards to compete with racers from many states in the river.
      The carnival featured a huge swimming pool at the foot of Sixth Street, where the parking lot of the DoubleTree Hotel - Bay City Riverfront, is now situated. The 120 foot by 40 foot pool was hastily constructed from corrugated sheet metal as a showplace for Olympic swimming star, later "Tarzan," Johnny Weismueller. A bevy of local female swimmers was recruited to dress up the pool in honor of the Olympian.
      Les Staudacher began building boats in Kawkawlin in 1942, along with Don Morin. The pair built "My Sweetie" for a Detroit racing team and the boat was purchased by Horace Dodge. "Staudacher went on to become the designer and builder of more than 30 Gold Cup racing boats," wrote the late Les Arndt in Bay City/Bay County 100 Years in Sports.
      Staudacher's most noted racers were the "Miss Pepsi" series, Gale IV and Gale V for powerboat racing legend Lee Schoenith of Detroit and the "Tempo" boats forbandleader Guy Lombardo.
      Staudacher eventually progressed to aluminum jet-powered hydroplanes. He survived a crash during a trial run on Saginawe Bay and died in Wichita, Kansas, at age 79.
      Various styles and classes of runabouts stirred up river waters in races under a variety of sponsors through the years. In 1965 the National Outboard Marathon was sponsored by the Bay City Junior Chamber of Commerce, (now Jaycees).
      The Bay Harbor Classic in 1988 brought an estimated 150,000 spectators to watch superboats race at more than 100 miles per hour from Bay City State Park to AuGres. Actor Don Johnson even showed up to add celebrity to the offshore racing scene.
      That same year local sponsors grabbed an open date on the International Outboard Grand Prix, a national race circuit of small, high-speed boats sanctioned by the American Power Boat Association. They named the race "River Roar" and set up a challenging one mile course between Veterans Memorial and Liberty bridges in the heart of downtown Bay City.
      Today's ChampBoats are thrilling visitors like never before with their acceleration from 0-100 mph in three seconds and speeds up to 130 mph.###
---
"The BUZZ" - Read Feedback From Readers!
jbillupnorth Says: On May 18, 2014 at 08:05 AM

Was that photo taken just South, of the 3rd street bridge, looking West? I remember a Bay gas station about where the sign is.
---

Dave Rogers




Dave Rogers is a former editorial writer for the Bay City Times and a widely read,
respected journalist/writer in and around Bay City.
(Contact Dave Via Email at carraroe@aol.com)

More from Dave Rogers
---
Send This Story to a Friend!
Letter to the editor
Link to this Story
Printer-Friendly Story View
---
--- Advertisments ---