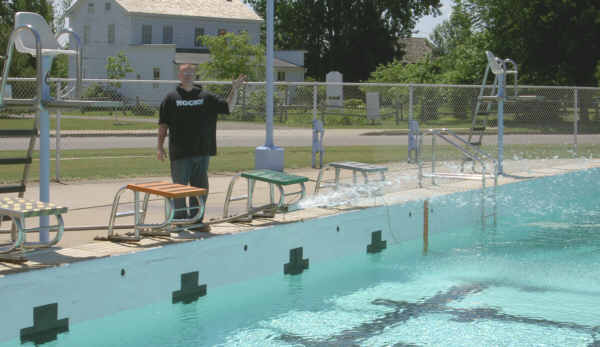 MyBayCity 2007 File Photo.
---
New Pool Boiler at $25,000 or $2,500 Solar System? Bay County to Decide
Commissioners Pondering Changes to Keep Pool Open with Reduced Hours
March 14, 2010 1 Comments
By: Dave Rogers
Bay County Facilities Director Rick Pabalis and employee Jon Morse have a plan to save thousands in heating the Community Center pool.
Use a solar system on the roof, at about $2,500, instead of spending $25,000 for a new boiler.
In fact, the system may be even cheaper if Commissioners Brian Elder and Ernie Krygier are successful in seeking a donation of the solar equipment from a local supplier.
Those are among the innovative changes being considered as commissioners gather Tuesday afternoon with Human Services Committee Chair Michael Duranczyk to "tweak" the budget and preserve services at the same time.
Facing a potential $25,602 deficit for next season's operations at the pool, commissioners are considering reducing the number of days the pool is open from 69 to 42 and cutting an hour a day. An online survey is being conducted to get customer input, according to Brent Goik, recreation supervisor.
"Along with the proposed reduction (in open days) we are looking into says to reduce the amount of labor (lifeguards) either through volunteering, or perhaps by partnering with BAYS, the Bay Area Youth Swim Team," Mr. Goik wrote to the committee.
Currently the pool is open for 9.5 weeks, or 69 days, Mr. Goik reported. The pool was open 7 days a week June 9 to Aug. 16, 2009. Operation of the pool is roughly $43,200,with costs mainly in labor ($31,690). Revenue in 2009 was $17,632 and the deficit was $25,602.
Tentative plans are to have the pool open Wednesday through Sunday. Using that schedule, labor costs could be reduced by $13,000 with the reduced hours causing a loss of an estimated $7,000, he said.
In addition, the summer recreation program may be reduced and the price adjusted, said Mr. Goik. He proposes cutting the program from 10 to seven weeks and raising the price from $80 to $95 per child, hiking revenue by about $3,000. While the program currently runs a deficit of $22,905, he proposes a 30 percent reduction in expenses that would help reduce the deficit by $13,615, he estimated.
County funded programs at the Boys and Girls Club of Bay County and the Bay City Public Schools also are being reviewed, said Mr. Goik. ###
---
"The BUZZ" - Read Feedback From Readers!
kennethkaufman Says: On March 18, 2010 at 10:33 AM

Lets start with the new Pool Boiler verses the Solar System ...... I would absolutly think that we should do solar system considering the cost difference and that we all should be using a little more solar to cut everyones expences a bit.

Summer Recreation Program;
I don't see where it's fair to the parents or the kids to raise the cost of the recreation program and yet take away 3 weeks of their summer activities. If you raise the cost per child you will have less children participating in the rec. program and more children out on the street or sitting at home with nothing to do with more chances of problems being caused or created. Families are having a difficult time as it is trying to support their chilren in any activity and yet maintain a household for them. I believe you will end up with less children participating in the rec. program with this cost change which will give you a loss and not a gain for the direction that you are trying to accomplish.

Pool Days;
I sort of agree with cutting the pool days, but I don't agree on losing 1 hr for pool activity. The pool area has very inconsistant pool hrs, as I remember one weekend that I wanted to take my own family to the pool at 1pm on a Saturday and it was already closed. Everyone makes comments that our kids don't have enough to do as it is, as we all need to keep trying to keep them active. Studys show that we have a very low active group of kids and a high rate of obease children and that we need to get or keep our kids more active and limit their time on computor games, video games etc.So I believe that already losing 3 days of activity for the children and we need to find another activity for them to do is bad enough, but I wouldn't take away another hour as well. I would look into more programs that involve the pool to increase the pool activity and possible pool income to support the cost of the pool upkeep.

In closing, I have been in Bay City now for 7 yrs. and enjoy this city and community alot.I have seen some good changes in our community, but yet alot of bad changes or descisions made by the county and the city. We need all the programs for the kids and adults that we can get. We need to stop taking away from the community and keep this community growing. We have one city near us that is losing everyday and yet another that is growing everyday ........ lets not be the city that is going down the losing path.

Thank You,

Ken P Kaufman
---

Dave Rogers




Dave Rogers is a former editorial writer for the Bay City Times and a widely read,
respected journalist/writer in and around Bay City.
(Contact Dave Via Email at carraroe@aol.com)

More from Dave Rogers
---
Send This Story to a Friend!
Letter to the editor
Link to this Story
Printer-Friendly Story View
---
--- Advertisments ---