City-County Water Authority Proposed; May Tap Lake Huron, End Disputes
Manager Says Costs Include $26 Million in Upgrades to Present Plant
March 14, 2010 1 Comments
By: Dave Rogers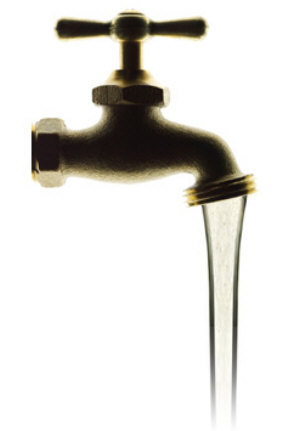 The long-discussed idea of establishing a city-county water authority and partnering with Saginaw-Midland may be on tap
What goes around, comes around. But in Bay County it may take four or five decades.
The long-discussed idea of establishing a city-county water authority and partnering with Saginaw-Midland to bring deep Lake Huron water from Whitestone Point may at last be, (no pun intended), on tap.
The plan would bring together, at long last, the city, the county, Essexville and Hampton Township in a water authority representing the 14 townships of the county.
It also would address longstanding water quality issues from the close-in Saginaw Bay source. The poor quality of bay water requires high costs of treatment to remove impurities.
City commissioners Monday night will consider a proposal from a consultant to evaluate costs of a transmission main for raw water from the Saginaw-Midland line to the Bay City Municipal Water Treatment Plant.
City Manager Robert V. Belleman will pose two options:
1-Purchase raw water from S-M for treatment in the city plant;
2-Purchase treated water from a new S-M membrane treatment plant.
The membrane plant would be operated by S-M on behalf of the Bay County consortium, should it come to pass.
"Creation of a water authority would establish a business model whereby previous disagreements would either be eliminated or severely reduced because of the common ownership and interest in maintaining the highest quality of finished water at the lowest cost," wrote Mr. Belleman.
The manager has been meeting regularly with Ken Miller, director of the Bay County Department of Water and Sewer, and Tom Paige, assistant director, to discuss the proposal.
Several consultants would be employed, under the manager's plan, to advise the city on forming the water authority, transferring of assets through a sale to the proposed authority and other issues of common ownership and usage.
This idea has been at least 40 years in the works, since Bay County voters in 1971 turned down a merger plan. The plan was severely crippled by ballot wording in which a "no" vote actually meant the voter approved the merger idea and a "yes" vote meant opposition.
Members of the Bay City Junior Chamber of Commerce, headed by Charles Curtiss the late William Boutell, and this columnist as strategist, were active in the campaign for approval of the merger.
After that defeat, several proponents of a merger, including Hubert Gorney and the late Mike Studders, tried to re-activate the plan through contacts with the understandably shy S-M board.
Now, after passage of nearly four decades without progress, a possibility exists that local officials will at last come together to insure a quality clean water source.
If it happens, celebrations will absolutely be in order. Let's all toast with a nice big glass of water! ###
---
"The BUZZ" - Read Feedback From Readers!
nameman Says: On March 19, 2010 at 10:09 AM

"establish a business model"?

Don't tell me that Belleman is trying to take credit for creatng a "model". As you correctly indicate, this type of "model" has been in the works for decades, and is a solid model used all over the country.
---

Dave Rogers




Dave Rogers is a former editorial writer for the Bay City Times and a widely read,
respected journalist/writer in and around Bay City.
(Contact Dave Via Email at carraroe@aol.com)

More from Dave Rogers
---
Send This Story to a Friend!
Letter to the editor
Link to this Story
Printer-Friendly Story View
---
--- Advertisments ---