Kirk Timm Awarded Knight of the Legion of Honor Medal by French Government
Gratitude and Remembrance Come Nearly 66 Years After Normandy Landing
March 28, 2010 2 Comments
By: Dave Rogers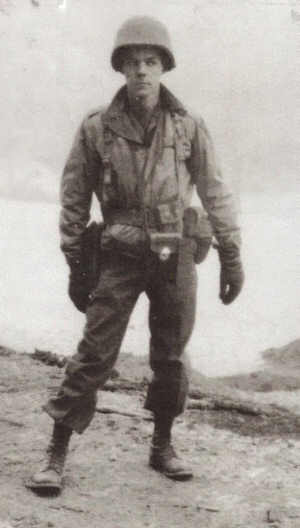 Sgt. Kirk Timm stands on a Normandy beach during the Invasion of France in 1944.
Kirk E. Timm, 86, of Bay City, Michigan, faced two especially fearsome situations among many he braved as a 20-year-old First Sergeant in France in World War II.
Timm reminisced as he held one of the highest honors the French government can bestow, the Chevalier (Knight) of the Legion of Honor, received by FedEx on Friday, March 26, 2010.
"You gave your youth to France and the French people; many of your fellow soldiers did not return, but they remain in our hearts,' wrote Sidy Diallo, French Consul General in Chicago.
Sgt. Timm participated in campaigns in Normandy, Northern France, Ardennes, Rhineland and Central Europe. From the U.S. government he was awarded the Bronze Star, Purple Heart, European, African, Middle Eastern Theater Ribbon with five Bronze stars, the Combat Infantryman Badge, World War II Victory Medal, Distinguished Unit Badge and Meritorious Unit Award.
Besides the Normandy Invasion Sgt. Timm saw action in the Battle of the Bulge/Ardennes Forest, South Loire, Brittany, Luxemburg, the Hurtgen Forest and the drives to the Rhine and Elbe rivers.
The high French honor comes nearly 66 years after his U.S. Army 83rd Infantry Division landed at Normandy in France on the second day of the largest military invasion in world history, June 7, 1944.
Besides the chaotic and deadly conditions on the beach, probably next in his amazingly sharp memory was a face-to-face encounter with aged Volkstrumm (People's Army) soldier pointing a shotgun right at him.
Second was a face-to-face confrontation with the legendary, and volatile-tempered Gen. George Patton, considered the most successful field commander in the U.S. Army.
Kirk E. Timm and his wife, Ardath, admire the French Legion of Honor medal received Friday from the Consulate General of France, Chicago.
(MyBayCity Photo by Dave Rogers)
The first occurred as Sgt. Timm and his unit crossed a small bridge while cleaning out snipers in the Harz Mountains. The enemy included crack Panzer troops and fanatical Hitler Youth to old men in the uniform of the Volkstrumm.
In command of a platoon, Sgt. Timm recalled, "we were advancing down a dirt road, approaching a small village. as we came up on a bridge, and a small creek, and not having seen any enemy troops all that day, I guess it is safe to say we let our guard down. At least I did.
"From under this small bridge jumped a German soldier, estimated 60 years old. He had an arm band that was printed "Volkstrumm" (People's Army). He was armed with a shotgun, leveled it at me, and pulled the trigger. Thank God, the ammo was old and faulty, and the gun clicked only." He cracked in nervous humor: "It was time for me to change my underwear."
Sgt. Timm recalled learning later that his battalion (the 330th Infantry of the 83 Infantry Division) had captured 2,526 German prisoners during this episode.
Second in dramatic recollection was his face-off with Patton. Here's how it happened, Sgt. Timm recalled, calling the adventure "Bank Robbing 101.":
The Germans had collected large amounts of American dollars in Reichbancs in small towns along the Brittany coast. The dollars were being transferred to U-boats for use by Nazi commandos intending to land (and some did) in the U.S., with Long Island the main target.
"We found that the local population had certain items we were attracted to, especially their food, wine and 'other items' that were appealing," he said with little necessity for elaboration.
The American troops had been issued francs printed by the U.S., but the natives in Normandy, Brittany and throughout the Loire Valley would not accept them. Sgt. Timm's unit got intelligence about the stash of dollars and authentic francs in the Reichbancs.
A former classmate from Riverside College, Gainesville, Georgia, was Col. Bob Sowell, an artillery commander. A bank at Caretan, on the Norman coast, was identified as the financial headquarters of the German military.
Timm explained the unusual series of events: "A call was made to Bob Sowell, with his cannon weapons, and he set up in the town square one 37 millimeter cannon. One armor-piercing round, sometimes two rounds, and the bank vault hinges surrendered to Sowell's expert accuracy.
"With minimum effort we were able to un-deposit whatever funds, German marks, French francs and American dollars, needed for our troop requirements.
"The money went to our troops that were getting passes for Paris and the Riviera, Cannes and Nice. That way we saved our GI's money for their own pleasures. This was really high finance 'toot sweet.'"
The system worked well all throughout the campaign in France. "Every man in our outfit came off pass with a huge smile on his face."
Relieved of the necessity to make the normal $100 per month pay to each soldier, the command, including paymaster First Sgt. Timm, "red-lined" their pay. That meant the regular payroll money from the U.S. government would be saved for later lump sum payment.
When Patton and his Inspector General saw the extensive red-lining, the General himself appeared at the unit and Sgt. Timm was summoned before Patton. "What was your rank before this conversation," Timm recalls Patton saying.
Private Timm walked away from his only meeting with Gen. Patton, but the unit was soon transferred to Gen. William Simpson's Ninth Army, part of Gen. Omar Bradley's 12th Army Group, and his rank was quickly restored plus another stripe. Patton had irked Bradley, and other top brass, with high-handed methods, including the infamous slapping of a battle fatigued soldier that brought headlines in the U.S.
The theme of American soldiers robbing a bank to obtain German gold was followed in the 1970 film, Kelly's Heroes. Clint Eastwood and Telly Savalas engineer the bank robbery. Of course, the German Army robbed the treasures of Europe, including $520 million in gold, proving the old saying "all's fair in love and war."
Sgt. Timm also collaborated with another Bay Cityan, Capt. Elford A. Cederberg, in obtaining souvenirs for visiting dignitaries from the U.S. government. From division headquarters, Cederberg would deliver good Scotch whiskey in exchange for German pistols, bayonets and other coveted gear that was given to eager visitors. When Cederberg's jeep driver was picked off by a German sniper, the ashen-faced officer informed Sgt. Timm they would have to find another exchange system.
Cederberg later was a popular Bay City mayor, 1949-53, and Member of Congress from this area for 25 years. He ended his career as a lobbyist living in Virginia and died in Florida at age 88 in 2006.
Mr. Timm, retired former chairman of the board of the Jennison Hardware Co., is writing his "Memoirs of An Old Soldier - 1939 to 1946" that include exploits such as these and many others.
Thus the saga that started with rifle training in the Boy Scouts under leader George Harris at Trinity Episcopal Church, and Howe Military School in Indiana, climaxed on the beaches of Normandy and the killing fields of France. The whole story has the quality of a movie script, don't you think? ###
---
"The BUZZ" - Read Feedback From Readers!
jchowell Says: On March 29, 2010 at 08:34 AM

Thank you very this very thoughtful and interesting article. We sure have some great people living amongst us, don't we? I'm glad Mr. Timm is telling his story.
tom Says: On April 05, 2010 at 11:05 AM

very nicely written David.
---

Dave Rogers




Dave Rogers is a former editorial writer for the Bay City Times and a widely read,
respected journalist/writer in and around Bay City.
(Contact Dave Via Email at carraroe@aol.com)

More from Dave Rogers
---
Send This Story to a Friend!
Letter to the editor
Link to this Story
Printer-Friendly Story View
---
--- Advertisments ---