ITC executive Tom Vitez points out a key statement on a presentation at the presentation at Lumber Barons last Friday.
---
ITC Holdings Aims to Connect Green Energy From Thumb to Hemlock HSC, Grid
Bay Area Chamber Members Hear Planning V-P Describe Project Goals
May 2, 2010 1 Comments
By: Dave Rogers
(EDITOR'S NOTE: Because of the complexity of the subject and the large volume of information necessary to explain it, the speaker's remarks were supplemented with explanatory material provided by ITC corporate.)


Tom Vitez, vice president-planning for ITC Holdings, Inc., Novi, told the Bay Area Chamber of Commerce how his company is riding the tail of a "green giant."
The giant is the growing capacity for energy generation through the wind and other alternative sources like gas turbines, solar, mine mouth coal and geothermal.
The title of his presentation was: "Electric Transmission: The Key to Unlocking Renewable Energy."
Chamber President/CEO Michael D. Seward said $6 billon in planned energy developments put this area in national and state leadership in the field. He again stressed the need to build the Consumers Energy Karn-Weadock proposed $2.3 billion expansion and support the ITC efforts to transmit energy to other facilities.
"We'll hook up to any generating facility," said Mr. Vitez, who explained that an independent transmission company provides advantages in cost and delivery benefits over a company that both owns generating and transmission facilities, which he called "an inherent conflict of interest."
He outlined the challenge: "How can we connect renewable energy to the grid in a reliable, efficient way?" he asked rhetorically.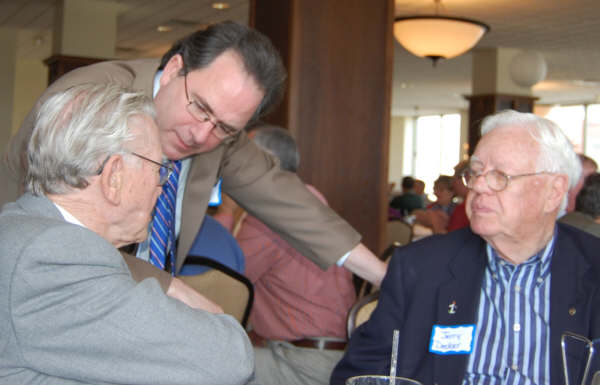 Regional wind energy investors Paul Wendler, of Saginaw, left, and Jerry Decker, of Midland, confer with County Executive Thomas L. Hickner about their projects in the Thumb.
(MyBayCity Photo by Dave Rogers)
Alternative energy projects in the Thumb and this area have applied to add considerable power generated by the wind to the electric transmission grid, said Mr. Vitez.
ITC has proposed a 345 KV double-sided loop, all overhead wires, through the Thumb at an estimated cost of $10 million. The project would require expansion of the existing rights of way, he said.
In the Midwest region, projects generating about 300,000 megawatts have applied to join the power grid.
The firm decided to have a Bay County location as one of its strategic points across the state and "to give us an opportunity to be closer to its assets," said Mr. Vitez. The firm has invested $1.1 billion in Michigan and is continually looking for opportunities here.
The company has a reimbursement program to generating facilities to encourage locations here and make Michigan more attractive to industry, he added.
And, renewables are seeing exponential growth, adding about 10,000 megawatts every year, he said. "The fundamental opportunity is in jobs, and Michigan is way ahead of the curve and is very serious about becoming a major player in the renewable energy field," he commented.
"We need to make sure the transmission system is in place," he told the crowd of more than 100 chamber members and guests.
The meeting was co-sponsored by County Executive Thomas L. Hickner, Bay Future, Inc., and Saginaw Valley State University, in addition to the chamber.
The program was opened and closed by Michael D. Seward, chamber president and CEO, and the keynote speaker was introduced by Mr. Hickner. Mr. Vitez was graduated from the University of Cincinnati and earned an master's degree in Business Administration (MBA) from the University of Michigan, Ann Arbor. He has spent 25 years in electrical engineering and planning.
ITC, through subsidiaries ITCTransmission and Michigan Electric Transmission Company, LLC (METC), owns and operates more than 8,100 miles of high voltage electric lines, transmission stations, and substations serving approximately 9.8 million people throughout Michigan's Lower Peninsula.
ITC has a warehouse in the former Central Michigan Lumber Company facility in Kawkawlin and a new 345-to-138 kilovolt (kV) transmission station, the Midland Project Station.
ITC was formed in 2003 when investors purchased the transmission assets of the Detroit Edison Co. The management team has its roots in Detroit Edison. In 2007 the firm, that is listed on the New York Stock Exchange, acquired Interstate Power & Light with facilities in Iowa, Missouri and Illinois. Plans are to expand to Kansas and Oklahoma.
The company will run a new 138 kV transmission line between this new station and the Hemlock Semiconductor Company (HSC) industrial complex; and ITC is building a new 138 kV switching station on HSC property at Orr Road.
ITC is in the process of making significant investments in the state's transmission grid to improve its reliability and stability, reduce congestion, address demands for more power and facilitate the participation of renewable resources, like wind energy, on the electric transmission grid.
ITC's Midland Project has been undertaken in response to long-term reliability concerns in the Saginaw Bay region of the state. A study of the area's transmission capabilities, in tandem with a request from Hemlock Semiconductor Corporation (HSC) for more power at its industrial complex in Hemlock, found that the existing transmission infrastructure would not be adequate to maintain future electric reliability in the region. The Midland Project involves three significant system upgrades:
Midland Project Station: The Midland Project Station will be laid out with three separate electric yards in order to serve 345, 230 and 138 kV transmission lines. ITC will build the 345 and 138 kV yards first.
138 kV Richland to Orr Road transmission line: The new 138 kV line will be roughly 3 miles in length depending on the exact route chosen for the new line.
Orr Road Switching Station: The Orr Road Station has two main functions. The first function is to connect the new loads at HSC to the transmission grid. The second and more critical transmission function of the new station is to electrically tie all of the transmission lines that enter the HSC property together to make a cohesive transmission grid to reliably serve the electric load in the area.
The $46 million Midland Project is one of many capital improvements being undertaken by ITC. The company has invested more than $650 million in capital improvements and maintenance in Michigan's electric infrastructure since 2003. These investments are ensuring that the state's transmission grid is capable of meeting the energy demands of Michigan residents and businesses now and in the future.
Electricity is the foundation of ongoing economic development and prosperity in Michigan; ITC is maintaining the strength of that foundation, said Mr. Vitez.
The following Q&A provides more detailed answers about this project:
Q. Why is ITC putting in more transmission lines and stations in the Saginaw Bay region?


A. Reliability studies undertaken by ITC indicate that the transmission grid serving the Midland-Saginaw Bay area is not capable of reliably addressing growing power demands. Industrial and residential electric use is increasing. In order to prevent potential reliability issues in the future and address current power requirements, ITC needs to make significant infrastructure improvements in the transmission grid in this region. The need for this project is also being driven by an increasing demand for power from industrial customer Hemlock Semiconductor Corporation (HSC.)
Q. But didn't the company just complete infrastructure improvements in the Saginaw Bay-Midland area last year? Why the need for more?


A. ITC and its subsidiary Michigan Electric Transmission Company LLC (METC) conducted initial system studies in the Midland- Saginaw Bay region in 2005. Based on those study findings, ITC implemented system upgrades, including the addition of a new 15 mile 138 kV line from Tittabawassee station to HSC, the addition of two new breakers at HSC station to facilitate the connection of the new line, and the reconfiguration of two existing 138 kV lines through the construction of a new 2 mile double circuit line. Those upgrades were completed at the end of 2007. In June 2007, however, HSC announced it would need more power by 2011 than it had projected in 2005. This increased demand, coupled with increasing demand for electricity, has required ITC to invest in further system upgrades to maintain electric reliability in the region.
Q. Who is paying for this project?


A. The cost of all transmission projects are assessed to the ratepayers. Transmission services represent about 7 percent of a resident's utility bill.
Q. How do we know this line will be far away enough from people to be safe?


A. The National Electric Safety Code (NESC) specifies safe distances from power lines and this line will be constructed in conformance with all applicable safety codes and standards including the NESC.
Q. What will the poles look like?


A. The poles will be single circuit steel poles with standoff insulators similar to the new 138 kV lines constructed in 2007.
Q. Why isn't HSC being asked to pay for this project? Doesn't it benefit HSC?


A. Transmission infrastructure improvements benefit everyone. The power requirements that HSC has indicated it will need through 2011 are only one factor in ITC's decision to invest in system upgrades in the Saginaw Bay-Midland region. Ultimately, current and anticipated future Midland Project upgrades will maintain electric reliability for the entire region. Regional electric reliability is critical to long-term economic development and regional prosperity.
---
---

Dave Rogers




Dave Rogers is a former editorial writer for the Bay City Times and a widely read,
respected journalist/writer in and around Bay City.
(Contact Dave Via Email at carraroe@aol.com)

More from Dave Rogers
---
Send This Story to a Friend!
Letter to the editor
Link to this Story
Printer-Friendly Story View
---
--- Advertisments ---